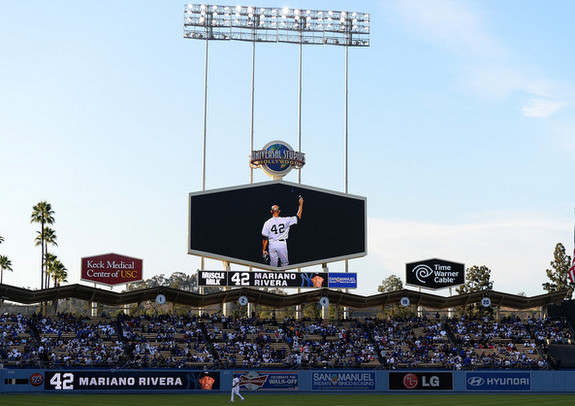 So last night was pretty awesome. The Yankees mounted that hugely important come-from-behind win against the White Sox, the Pirates clinched their first non-losing season since 1992, and … I guess that's it. Still a pretty great night. Anyway, I have some thoughts, so I will share them with you:
1. Now that the swap is official, I really have no idea what to expect about of Phil Hughes as a reliever and David Huff as a starter. Huff has pitched well in long relief against some bad teams (Blue Jays twice and the White Sox once) and his track record as a starter is ugly, but at this point the Yankees have to give him a chance. There's just no way they could justify running Hughes out there every five days if they are serious about winning. I do expect Huff's leash to be short however, which is easy to do with a nice big September call-up filled bullpen. All it takes is five decent innings to be an upgrade at this point.
Hughes, meanwhile, has never not been awesome out of the bullpen, but he hasn't done it regularly since 2009. He did have a nice showing as a reliever late in 2011, but that was only a handful of outings. The Yankees don't need him to be great since David Robertson, Shawn Kelley, and Preston Claiborne have the right-handed setup thing locked down, but it would be awesome of Hughes got back to being dominant in relief. He still gets an above-average amount of swings and misses on his fastball as a starter (9.46% according to Brooks Baseball), so hopefully that jumps a notch in relief (it was 11.97% in 2009). Hughes could be a nice middle innings weapon, especially since he's stretched out enough to go two full innings and wouldn't have to worry about turning a lineup over.
2. In an Insider-only piece, Jared Cross used pitch-framing data to examine the MVP candidacies of Yadier Molina and Jonathan Lucroy yesterday. Molina is a legitimate MVP candidate even without the pitch-framing stuff in my opinion, but I digress. Here's a table from Cross' article:

That doesn't includes yesterday's games but I doubt it would change the data all that much anyway. Chris Stewart ranks fourth in the league with 17 runs saved via his pitch-framing — third on a per game basis, at least among those five players — which works out to roughly 1.8 WAR based on this year's runs-to-WAR conversion factor. That's an awful lot of value stemming from just catching pitches. FanGraphs had Stewart at 0.5 WAR yesterday, which includes everything but pitch-framing. So offense both at the plate and on the bases as well as catcher defense stuff like throwing out attempted base-stealers and blocking balls in the dirt. Add in the pitch-framing and he's at 2.3 WAR for the year. I wish we had the pitch-framing numbers for the entire league to see where that ranks overall, but we usually have to wait until after the season for that.
A 2.3 WAR player is more or less league average … if you take the pitch-framing numbers at face value. There still a lot of work to be done in that area. I'm looking forward to seeing umpire-adjusted pitch-framing data, personally. Maybe Stewart's even better than 1.8 WAR at framing, who knows? Stewart's overall contribution has been okay, but he's been so terrible at the plate lately (29 wRC+ since the All-Star break) that Austin Romine should get the majority of the playing time behind the plate. He's supposed to be quite the pitch-framer himself, I hear. The Yankees showed they were serious about winning by replacing Hughes with Huff, and now they need to do it with Stewart and Romine.
3. Do you want to know what really, really sucks? There are only eight weeks left in Mariano Rivera's career at the absolute most. It hit me when he entered last night's game that holy crap, this could be the last month of his career. We might only get to see him pitch another eight or ten times if the Yankees miss the postseason. That's heartbreaking. Yankees fans have been through some sad goodbyes over the years — Don Mattingly, Paul O'Neill, Andy Pettitte (the first time), Jorge Posada, etc. — but those won't be anything close to Rivera for me. He's by far my all-time favorite Yankee and probably my all-time favorite player overall. (I had it real bad for Darryl Strawberry growing up as a kid and it only got worse when he came to the Yankees.) It's cheesy and cliche and all that, but Mo is definitely the kind of player I'll sit around and tell the grandkids about one day. The Yankees will find someone to replace him, someone to pitch the ninth inning and close games and maybe even throw the last pitch of four World Series, but there will never be another Mariano. He's truly one of the kind.