The Yankees might not qualify for the postseason when it's all said and done, but these games right now definitely have a playoff feel to them. Nerve-wrackingly awesome. Some ninth inning heroics gave the Yankees their second straight come from behind win over the Orioles on Wednesday night, this one by the score of 5-4.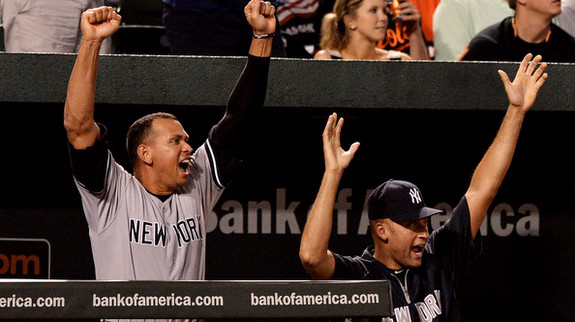 That's Why He'll Make The Big Bucks
Might as well start from the end. The score was tied at three heading into the ninth inning, and with both David Robertson and Shawn Kelley having already been used, the Yankees were in the danger portion of their bullpen. Robinson Cano, who could be (but unlikely is) playing his final games in pinstripes, made the second tier bullpen dreck a moot point. He got a hold of a hanging Tommy Hunter changeup for a solo homer to center field to leadoff the inning, giving New York a late lead in a hugely important game. Someone is going to pay Robbie a ton of money in a few weeks because he can change a game like this in an instant. Huge homer.
That wasn't the end of the inning, though. Curtis Granderson whacked a triple off the center field wall — I seriously thought it was a pop-up off the bat, I have no idea how it carried all the way to the wall — before Lyle Overbay plated the insurance run with a two-out infield single (!) off a left-hander (!!!). It was a well-located ground ball into the hole between shortstop and third base, and he barely beat the throw to first. I thought Joe Girardi should have pinch-hit for Mark Reynolds one batter earlier — you need contact with a man on third and less than two in the ninth inning of a one-run game, so someone like Ichiro Suzuki or Eduardo Nunez would have been a better option — but Overbay picked him up following a three-pitch strikeout. That run turned out to be rather important.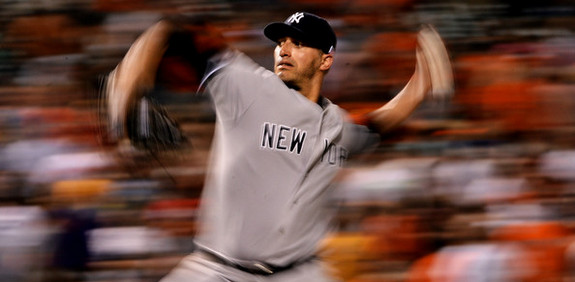 Pitch Count? What Pitch Count?
It looks like the plan to limit Andy Pettitte to 85-90 pitches is a thing of the past with less than three weeks remaining in the season. Girardi let Pettitte throw a season-high 109 pitches in 6.1 effective innings on Wednesday, his seventh straight start (ninth out of the last ten) with three runs or fewer. The Orioles did touch him up for nine hits and one walk — he put the leadoff man on base four times in the seven innings he started — but three well-timed strikeouts and two double plays limited the damage. Vintage Andy, really.
Chip, Chip Away
The Yankees have trailed at some point in each of their previous four wins, and this game made it five straight. The Orioles were up 3-1 when New York started to chip away in the fifth … well, they didn't exactly chip away, they more or less broke out the sledgehammer and knocked down the whole wall. Granderson hit a solo homer onto Eutaw Street to make it a 3-2 game in the fifth, then one inning later Alex Rodriguez tied it up with a solo homer to right field. They were both bombs.
After ARod touched home, he turned to 2 guys behind home plate who were heckling him as well & did the "zip your lips" pose and blew a kiss.

— Kris Jones (@RavenManiac) September 12, 2013
Leftovers
After recording four stress-free outs for the save on Wednesday, Mariano Rivera allowed a run on back-to-back two-out hits in the ninth. That's why the insurance run Overbay drove in with his infield single was so big. Rivera has been shaky these last few weeks but the Yankees are going to rely on him this next 2+ weeks. A lot. I expect to see a a few more saves of more than three outs before it's all said and done.
In his first game back from a shoulder issue, Robertson allowed two singles in a scoreless eighth inning. The first was a legit single, the second was more of a ground ball that scooted under Brendan Ryan's glove. More on that in a sec. Robertson escaped the jam and gave the middle of the lineup a chance to do damage in the ninth. Kelley relieved Pettitte and got two outs while facing one batter thanks to a caught stealing. Chris Stewart made a real nice throw and Nate McLouth got a poor jump.
The Yankees scored their first run without the benefit of a hit. Brett Gardner led the game off with a walk, stole second, moved to third on a ground ball, then scored on a ground ball. Three of the team's six hits were solo homers and two others were Granderson's triple and Overbay's infield single. Cano singled to center for the other hit and Gardner drew their only two walks. That's it, that's all the offense. It was just enough, thankfully.
Ryan's debut in pinstripes was mostly nondescript. He did make one real nice play ranging to the the second base side of the bag for an out, but he also whiffed on the ground ball to his right in the eighth. Ryan was there, he just lifted his glove too early. He also went 0-for-4 at the plate and struck out on a pitch that hit him in the back foot. That's pretty much the Brendan Ryan experience right there.
The win was Girardi's 557th as Yankees manager, moving him past Billy Martin and into sole possession of sixth place on the franchise's all-time wins list. Ralph Houk is fifth all-time with 944 wins, so it'll be a while before Girardi jumps over someone else.
Box Score, WPA Graph & Standings
MLB.com has the box score and video highlights, FanGraphs some other stats, and ESPN the updated standings. The Red Sox beat the Rays again, so the Yankees are now just two games back of Tampa in the loss column for the second wildcard spot. Two! They're tied with both the Orioles and Indians in the loss column but ahead by percentage points. Cool Standings has New York's playoff chances at 20.8%. They haven't been that (relatively) high in a long, long time.

Source: FanGraphs
Up Next
This four-game series will finally come to an end on Thursday. Phil Hughes, not David Huff, will get the ball. Left-hander Wei-Yin Chen will be on the bump for the Orioles.