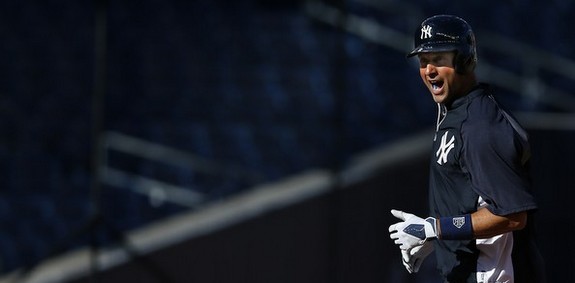 The Yankees have placed Derek Jeter on the 15-day DL with continued left ankle problems, the team announced. Brian Cashman confirmed the Cap'n is done for the season and won't return even if the Yankees manage to qualify for the playoffs. Bummer.
"It's very disappointing not to be able to play, especially this time of year. This is when I want to play the most," said Jeter. "This entire year has been pretty much a nightmare for me physically, so it's kinda fitting that it ends like this."
"This was a much more difficult rehabilitation situation than we ever expected," added Cashman. He acknowledged the DL move was made to protect both Jeter and the team from rushing things, and also said they weren't planning to shut him down as recently as yesterday.
Jeter, 39, played just 17 games this year with a series of leg problems, including quad and calf issues. Dr. Robert Anderson, who performed the ankle surgery last October, said Jeter needs to strengthen the area around the ankle and there simply isn't enough time to do so at this point.
"I haven't been able to work out my legs since October of last year," said Jeter when asked about returning next season. "I truly believe that with a full offseason working out how I'm used to working out, I can return to doing what I normally do."
The Yankees acquired Brendan Ryan from the Mariners last night to bolster their shortstop depth. He is not eligible for the playoff roster, however. If they manage to get that far, Eduardo Nunez will be the guy.