Best win of the season? I know I've said that like ten times before, but this is definitely up there. Top five at least, probably top three. There's no shame in getting shut down by Chris Sale, he might be the best pitcher in the league, but the Yankees can't afford to get shut down by anyone at this point. They waited Sale out before jumping all over the White Sox bullpen for a huge and dramatic and hugely dramatic 6-4 win on Tuesday.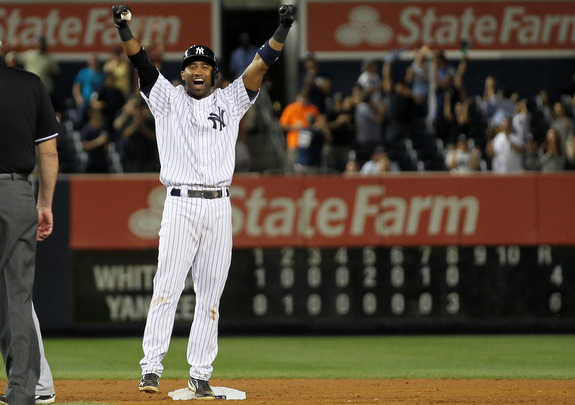 Never Say Die
Like I said, there's no shame in getting shut down by Sale. I do think he's the best pitcher in the AL and one of the four or five best in all of baseball. For 7.1 innings, he completely befuddled the Yankees with mid-90s fastballs and silly backdoor breaking balls to right-handers that were just unhittable. The Bombers only had five hits against the ChiSox southpaw and two of them came from the last two batters he faced. The last was a booming opposite field double by Robinson Cano, just the third extra-base hit Sale has allowed to a left-handed batter this year (all doubles). Holy crap.
Those back-to-back hits to end Sale's night paved the way for the eighth inning rally. The Yankees came into the frame down three runs and had runners at second and third with one out when Alfonso Soriano laced a single to center in an 0-2 count to score both runs. They were the 38th and 39th runs Soriano has driven in in 36 games since rejoining the Yankees. Alex Rodriguez followed that with a full count single to center to put runners at the corners for pinch-hitter Curtis Granderson, who tied the game with a single to center against lefty specialist Donnie Veal to plate Soriano. The Grandyman laid off some real tough breaking balls down in the zone earlier in the at-bat.
It looked like the rally would be cut short when Mark Reynolds struck out for the second out — it was a tough eight-pitch at-bat, to his credit — but Eduardo Nunez picked him up by hooking a 1-1 fastball into the right field corner for a two-run double. I don't even think the pitch was a strike; it looked to be off the plate both down and in. The only thing Nunez does exceptionally well is make contact, and that skill was on full display with his game-winning hit. It was only the team's 12th biggest hit of the season by WPA (+.345), but WPA lacks context and can't account for how big an impact a loss would have had on the team's playoff chances. I don't think the hit was a season-saver, but it was damn close.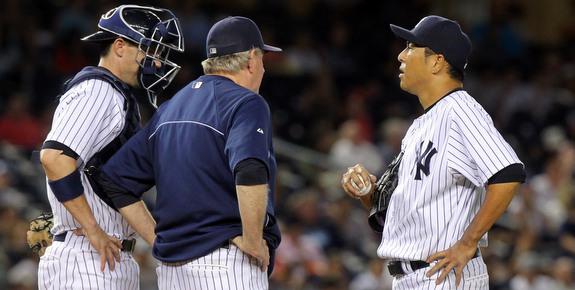 New Routine, Same Result
If he had been facing any team other than the worst offensive team in the AL, Hiroki Kuroda would have gotten absolutely clobbered on Tuesday. The White Sox tagged him for four runs on seven hits and two walks in 6.1 innings, and several of their outs were hard hit as well. Perhaps the most damning number is ten. Chicago is the most impatient team in the league in terms of walk rate (6.7%) and pitches seen per plate appearance (3.74), but ten of the 28 batters they sent to the plate against Kuroda saw at least four pitches. He had a lot of trouble putting guys away.
Kuroda changed up his routine and skipped his between-starts bullpen in an effort to stay fresh — he was also pitching with an extra day of rest thanks to last Thursday's off-day — but the results were the same. A lot of pitches leaking back out over the plate and a lot of damage. I'm guessing you wouldn't feel any better if I told you this start actually represents the best of his last four starts, but it does. After carrying the team for pretty much the entire first half, the Yankees are winning in spite of Kuroda right now. Not because of him. He really needs to turn things around and soon.
Leftovers
Oh yeah, the Yankees scored their first run of the game when Vernon Wells stole home. You can see the video above (link in case the embed doesn't work), but here's the quick version: ChiSox catcher Josh Phegley threw down to second when Nunez attempted to steal with men on the corners. Wells took off as soon as the throw went to second and simply beat the return throw home. It's a set play — the Yankees tried it a few weeks ago (I think in Texas against the Rangers?) and it didn't work — and was a fantastic call considering the punchless Chris Stewart was at the plate with two outs. They wouldn't have scored otherwise.
Six of New York's nine hits came in the span of seven batters in that eighth inning. Derek Jeter and Nunez had two hits apiece, as did the Wells/Granderson right field spot. Brett Gardner went 0-for-4 with two strikeouts and looked just awful at the plate, but he faced Sale all four times and gets a free pass from me. That dude is tough to hit, especially if you're a lefty. Sale retired 17 of 20 at one point and stranded a leadoff double in the fifth. That was annoying.
Three relievers — Preston Claiborne, Boone Logan, and Mariano Rivera — combined to retire all eight men they faced following Kuroda. Just one of the final 15 White Sox to bat managed to reach base, and that was Alejandro De Aza's seventh inning solo homer to knock Kuroda out of the game. He hit a ball just foul that had more than enough distance to leave the park earlier in the at-bat. Rivera reached 40 saves for the ninth time in his career, tying Trevor Hoffman for the most such seasons in baseball history.
According to Katie Sharp, this was the team's eighth win at home when trailing entering the seventh inning, the most in baseball. Late-inning comebacks are awesome, but I'm hoping the Yankees don't keep cutting things so close down the stretch.
Box Score, WPA Graph & Standings
Now that is a graph I can get behind. The box score and video highlights are available at MLB.com. FanGraphs has some other stats and the updated standings are at ESPN. The Yankees jumped over the Orioles and into third place in the AL East with the win. Depending on the outcome of the late game, they'll either be two games (Rays lose) or three games (Rays win) back of the second wildcard spot in the loss column. Well within striking distance, which is pretty amazing when you consider where they were about a month ago. Cool Standings has their playoff chances at 18.7% at the moment.

Source: FanGraphs
Up Next
The Yankees will go for the sweep on Wednesday night, when CC Sabathia gets the ball against rookie right-hander Erik Johnson. The September call-up will be making his big league debut. Check out RAB Tickets if you want to catch the series finale live. Based on this game, there are plenty of seats still available.