After getting torn apart by the Red Sox last weekend and losing the first game of this series to the Orioles, the Yankees needed to win these last three games to more or less save their season. They did just that. New York won their third straight over Baltimore thanks to some ninth inning heroics/defensive hilarity. Thursday's final score was 6-5.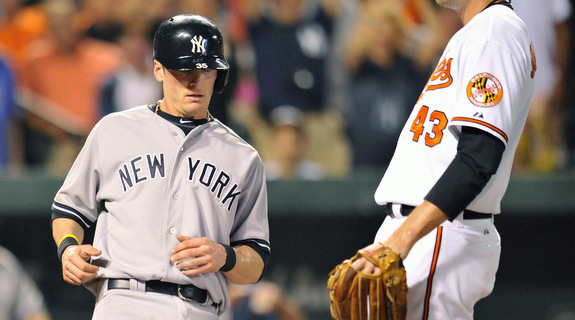 The No-Hit Shortstop Who Saved The Season
(Alternate Heading: Where Are Your One-Run Game Gods Now?)
When Derek Jeter had to be shut down with continued left ankle soreness, the Yankees went out and acquired Brendan Ryan to help out at shortstop for the duration of the regular season. Ryan is as good a defender as you'll find, but the man can't hit. He can't hit at all, but on the rarest of occasions he will actually get on base. Ryan made his bi-weekly contribution to the offense in the ninth inning by lacing a leadoff single to right field in a 5-5 game. Whenever this guy does something at the plate, the Yankees have to take advantage. Take advantage they did.
Chris Stewart attempted to sacrifice Ryan into scoring position did, but it was a bad bunt and Jim Johnson had plenty of time to throw to second to get the lead runner. Too bad he threw the ball into center field. The Yankees actually caught a break when Ryan stumbled rounding second because he would have been out at third by a mile had he tried to advance on the play. Curtis Granderson bunted the two runners up for the middle of the order, but neither Alex Rodriguez nor Alfonso Soriano had to actually swing the bat to get the go-ahead run in. Johnson uncorked a (very) wild pitch that went to the backstop and allowed Ryan to score easily from third. A-Rod was intentionally walked and Soriano grounded into an inning-ending double play, so the insurance run(s) was never brought home, but they did get the first run in and that was most important. Brendan Ryan, offensive spark plug. How about that?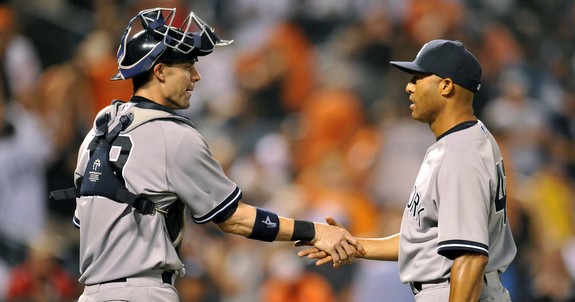 Bullpen On Parade
Any time the starter is lifted after three effective innings (more on that in a second), it's going to take more than a few relievers to piece together the final 18 outs. David Huff took over for Phil Hughes and allowed just one run in three innings of work. The run was a solo homer by Nick Markakis, which ended Huff's evening. Adam Warren replaced him and allowed two of the four men he faced to reach base before Cesar Cabral retired pinch-hitter Mike Morse for the final out of the seventh. That's 12 of the 18 outs right there. Outs 13-15 didn't go so well.
Fresh off an 18-pitch outing on Wednesday after missing about a week with shoulder tendinitis, David Robertson got the ball in the eighth and completely imploded. Manny Machado led off the inning with a solo homer … except Soriano made a fantastic jumping catch to bring the ball back. Defensive play of the Yankees season kinda stuff. I had no idea he still had ups like that. After Robertson struck out Chris Davis for the second out of the inning, four straight Orioles reached base. Adam Jones singled, Markakis singled, then Danny Valencia jumped all over a first pitch fastball for a game-tying three-run homer. Robertson went from having a three-run lead with the bases empty and two outs to giving up the game-tying dinger in the span of ten pitches. That happened fast.
After the Yankees retook the lead in the ninth, Joe Girardi gave the ball to Mariano Rivera for the third straight day and fourth time in five days. Mo had to be running on fumes — he threw two innings on Sunday, 1.1 innings on Tuesday, and one inning on Wednesday. Can't imagine there was much fuel left in that 43-year-old tank. The ninth was no problem though; Rivera retired the side on ten pitches without a ball leaving the infield. He actually looked better than he did on Wednesday, or at least his command seemed to be a little more fine. There were nothing out over the plate, everything was on the corners. It was a welcome sight. As important as these games are, it's hard to think Mo will be available on Friday.

Quick Hook
When it was announced Hughes would start this game over Huff, I figured Girardi would have a quick hook. And he should have had one. Hughes has been pretty awful all season and these games are all incredibly important. I just didn't think the quick hook would come as soon as it did, after Eduardo Scissorhands muffed a routine ground ball to lead off the fourth inning. It was mighty quick. Remember, Girardi let Hughes face Davis (!) with a man on base and two outs the prior inning. He was good enough to pitch then but not good enough after getting a routine grounder to start the next inning? Weird.
Anyway, Hughes allowed just one Stewart-assisted run in three full innings of work, so it was basically the same outing Huff gave them in relief. The run was Stewart-assisted because, as usual, he was unable to keep a ball in the dirt in front of him. Yes, technically it's a wild pitch, but at some point it would be nice if he got all defensive catchery and actually kept one of those in front of him and prevented the runner from moving up 90 feet. It seems like every ball in the dirt scoots away from Stewart and allows the runner to advance. It's annoying. Phil struck out three, walked none, and allowed three singles while throwing 50 pitches in those three innings. Short but sweet, as the kids call it.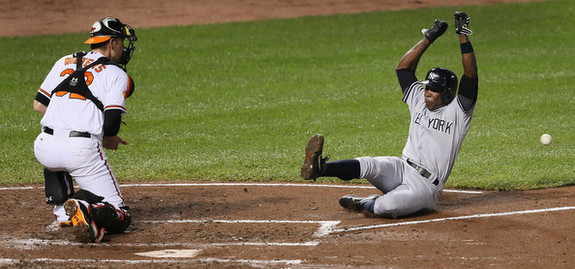 Leftovers
The Yankees jumped out to a 4-0 lead thanks to a pair of two-run hits. Mark Reynolds swatted a two-run dinger in the second inning, then Vernon Wells drove in two with a bases loaded single in the third. Left-hander Wei-Yin Chen settled in after that and retired 13 straight before Curtis Granderson hit a solo homer with one out in the seventh to end Chen's evening. The Bombers hit ten homers in this four-game series after hitting ten homers in July. Like, the whole month.
Girardi rearranged his defense in the late innings, replacing Wells with Ichiro Suzuki in right and sliding Reynolds from first to third to replace Nunez. Lyle Overbay came in at first. Yes, Reynolds took over for Nunez defensively. The worst part: it was the right move. Both guys are terrible with the glove but Nunez is actually worse. Hard to believe. Because that's not funny enough, Eduardo was allowed to hit for himself in the previous inning, showing how little faith Girardi has in Ichiro at the plate.
Because Stewart is not infuriating enough, he struck out on two strikes in the second inning. He took the first pitch of the at-bat for a ball, fouled off the second pitch, then swung and missed at third for what he thought was strike three and walked back to the dugout. You'd think a catcher would be especially cognizant of the count, right? Even while batting just out of habit, no? Embarrassing.
Last, but unfortunately not least, the Yankees lost Brett Gardner to a left oblique strain in the very first inning. He apparently hurt himself on a check swing and will head for an MRI tomorrow. Considering how tricky obliques are, this could very easily be a season-ending injury. That would be a major, major blow.
Box Score, WPA Graph & Standings
MLB.com has the box score and video highlights, FanGraphs some other stats, and ESPN the updated standings. The Rays managed to beat the Red Sox, so the Yankees remain one back of the second wildcard spot in the loss column. They're four back of the Rangers for the first wildcard spot, in case you're wondering. The Indians clobbered the White Sox and are tied with New York in the loss column. The Orioles are tied with the Royals and one back of the Yankees and Indians. Five teams within three games for that second wildcard spot. Craziness. Cool Standings gives New York a 22.9% chance to make the postseason at the moment.

Source: FanGraphs
Up Next
This four-game series if finally over. The Yankees are heading up to Boston for a three-game weekend series with the Red Sox, which will hopefully look nothing last last weekend's series. Hiroki Kuroda and John Lackey kick things off on Friday night.