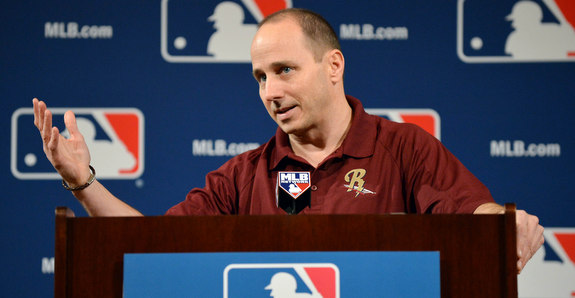 Brian Cashman held his annual end-of-season press conference on Tuesday afternoon and, unsurprisingly, there were no announcements made. Not even a minor one. He fielded questions for about an hour and in typical YankeeSpeak, the GM said a lot of words that had little substance. The team's higher-ups have a knack for dodging questions and giving vague answers while talking a whole bunch. Anyway, let's recap the presser:
On Joe Girardi
Cashman confirmed he met with Girardi "for a while" yesterday and will meet with agent Steve Mandell tomorrow to continue talks. "After tomorrow, I think I'll get a real good feel for where we're at," he said. "I think he likes it here. We're going to give [Girardi] a real good reason to stay."
"His effort and his efforts in pre-game preparation for each series and how he runs Major League Spring Training … he's been consistently tremendously at it," said the GM while also crediting Girardi for working with such a poor roster this season. "[His] job as a manager is to make sure these guys compete on a daily basis … I thought he did a great job, him and his staff."
Cashman would not comment when asked if the Cubs (or any other team, for that matter) had contacted the team to ask for permission to speak to Girardi. His contract expires November 1st.
Cashman closed the press conference with a preemptive "no comment" about how things go (went?) with Mandell tomorrow. He told the media not to bother to reach out for an update because he won't give one. It was kinda funny.
On Robinson Cano
"We'd love to have Robbie back," said Cashman "Not much more for me to say about that … He has received — or will receive — a significant offer to stay. He's been a great Yankee. If he stays I think he has a legitimate chance to experience what we saw with Mariano Rivera [last week]."
Interesting point: Cashman mentioned Cano could be the first player born in the Dominican Republic to wind up in Monument Park. Wonder if that is on Robbie's mind at all.
On Alex Rodriguez
"I'm not in position to talk about the Alex stuff," said the GM. "Not much to say about it … I'm not a participant in any of it. It's not something that's in our control, I'm not focused on it … I have Alex plugged in unless I'm told something different."
The appeal hearing for A-Rod's 211-game suspension started yesterday and will continue this week.
On Derek Jeter
"I certainly hope to get Derek to the Derek we're all used to," said Cashman. "He'll have some time to back off, get some rest, get some more flexibility back, and get every aspect of that ankle in line as far as the kinetic chain … He'll be in a position to have a typical offseason."
Cashman said they consider shortstop and DH the only options for Jeter — they aren't considering asking him to change positions. No surprise there. They plan to rotate Jeter and others through the DH spot.
On CC Sabathia
"Based on the year he just had velocity-wise, I'm going to assume he's going to pitch at the current velocity he settled into," said Cashman. He basically said he doesn't anticipate the big left-hander coming to camp with some more oomph on his fastball.
Cashman said the team hopes Sabathia's homer problems "were an aberration," and he noted his strikeout and walk rates were in line with the last few years. "The pitchability is still there," said the GM. "The hope and expectation is that he can pitch to the front of that rotation."
On the 2013 season in general
"We got derailed this year by decision-making as much as injuries," said Cashman. "This was a tough year. This year was my responsibility as General Manager and I take full responsibility for that."
Did ownership give the Cashman and his staff enough resources? "Yes," he replied, very flatly.
"We didn't get to where we wanted to be," Cashman added. "Obviously it was a struggle all year. A lot of disappointments … We didn't get to where we needed to be and there are a lot of reasons for it. I appreciated the effort [of the players and staff] … I never saw that being an issue."
Cashman joked that, despite all the waiver claims this year, he would have had a lot more "if teams with higher priority hadn't popped some guys we claimed."
On the upcoming offseason
"We have a lot of work to do," said Cashman, stating the obvious. "We've got a lot of problems that we need to attack. Starting rotation is an area that we need to look at. There's questions on the left side of the infield — three of the four spots on the infield really because of the free agency of Cano."
Cashman added: "There's a lot of areas to focus on, this winter more than previous winters … We will attack [the problem areas] … None of the people here are afraid of that reality … It's going to take some time. Some of it might be fixed sooner than later, some might take some time."
Meetings with the pro scouting staff will begin on Monday, which is when the team will "line up the wish list." Cashman said they will be careful not to put all their eggs in one basket, meaning they want to have plenty of options this winter.
"It's our responsibility to always look for better than what we have," he added.
On ownership and the plan to get under the $189M luxury tax threshold
"The intent is there, the ownership interest [in being competitive] is there," said Cashman. "Their intent is always compete for a championship. What took place this year — it could have been easy to give up — they had no interest in doing that. They have every interest in keeping us relevant."
The plan to get under the $189M luxury tax threshold next year is "certainly a goal, it's not a mandate." He must have said "it's a goal, not a mandate" a dozen times. "We'll operate as we look at the goal, but every option, every opportunity that comes my way, I will always present to my owners and team president for evaluation."
As for the exact benefits, Cashman said: "I don't focus on that aspect of the business, so I'm not necessarily the best person to answer that … There's significant benefits but I'm not focused on what they are."
"No, it's the same," said the GM when asked if the whole championship-or-bust mantra has changed.
On the farm system and player development staff
"In terms of changes, we're always looking at that type of stuff. If we have changes to make, we'll make them and deal with them," said Cashman, who confirmed they started to evaluate their decision-making process "two months ago."
"We have struggled [to produce players]," he added. "We're going through that process [of internal evaluation]. We haven't had as fruitful results from the draft as we hoped and anticipated."
Cashman also acknowledged that "in terms of development … [the] last two years our players have gotten injured or gone backwards."
On injuries
"We've been really fortunate for a long time to avoid what happened this year," said Cashman. "We've stayed relatively healthy [over the years]. What happened this year has happened to other clubs."
Michael Pineda was healthy when he was shut down late in the season. He had been pitching and rehabbing for more than a year straight and he simply time to rest. Cashman confirmed he will complete for a rotation spot in camp, and if that doesn't work out, "he has options" to go to the minors.
Mark Teixeira is expected to be fully healthy for Spring Training.
Ty Hensley, the team's first round pick last year, had "double hip surgery" earlier this year. We heard he had a bone impingement and a torn (hip) labrum repaired earlier this year, and I guess the injuries were in two different hips. Hensley is on a throwing program and recently completely physical therapy.
Miscellany
On the drop in homeruns: "Definitely significantly affected by injuries … It's not easy to find power out there, especially [during the season]."
Cashman reiterated that he prefers power hitters — "I love the big long ball," he said with a straight face — and high on-base guys. They knew power would be down coming into the season, but the Teixeira and Curtis Granderson injuries were too much.
Cashman confirmed that Dellin Betances, who will be out of minor league options next year, will come to camp and compete for a bullpen job. Not a surprise. Betances can't go back to the minors without passing through waivers, which wouldn't happen. Someone would grab him.
The rest of the coaching will become free agents on October 31st. "I would like to have our coaches back if Girardi comes back," said Cashman. "Manager has to get decided first."
A member of the Japanese media asked Cashman to evaluate Ichiro Suzuki, and he said: "Tremendous defender. Singles hitter, great athlete, steals bases, he can certainly disrupt the defense." Pretty much the nicest possible way to say "he sucks."
On Hiroki Kuroda: "He's a free agent … I don't what's going to happen. Of course we'd love to have him back. He was our ace."
On getting younger: "You'd love to have as much young [talent] as you can … as long as it's good."