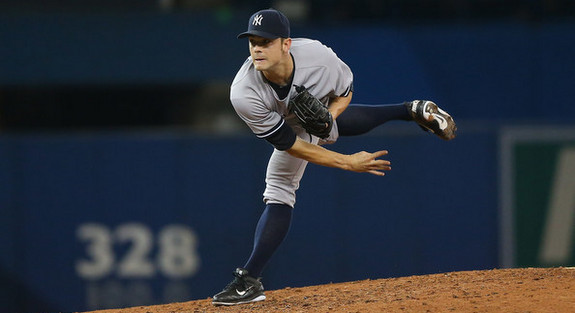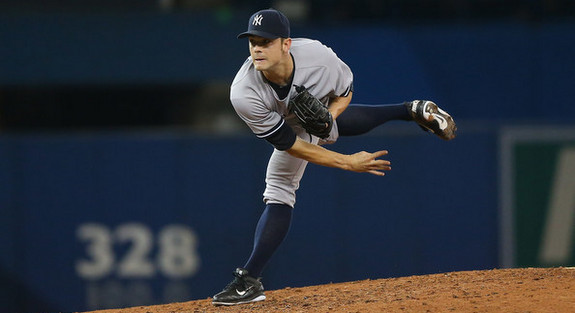 David Robertson has emerged as both the Yankees' top setup man and one of the best non-closing relievers in baseball these last three years, and 12 months from now he will become a free agent. That non-closing part figures to change in 2013 with Mariano Rivera headed off to retirement. With the obvious caveat that New York could go off and sign an established closer, Robertson is the obvious candidate to take over the ninth inning.
Matt Swartz's model projects Robertson to earn a healthy $5.5M next season, which is pretty close to top of the market dollars for a setup reliever. The pay scale for closers is considerably different though. Saves pay a ton even though they're far from the best way to evaluate performance. Even through free agency, guys with lots of saves tend to get more than a comparable reliever who never held a ninth inning job. It's not exactly fair or wise, but that's the reality of baseball's salary structure.
Despite payroll being slashed in the name of not paying the luxury tax, the Yankees still employ their silly and outdated "no extensions" policy. Even if payroll wasn't coming down, it's still a bad idea to have this umbrella policy that prevents the team from signing players at below-market rates early in their career. To their credit, the Yankees broke their policy to sign Robinson Cano way back when and they were willing to do the same to re-sign Russell Martin two years ago, but those are the only exceptions to date. Robertson should be the third.
The idea is simple: sign Robertson to a setup man contract now before he racks up a bunch of saves next summer and earns a closer contract next winter. We're not talking about saving a little bit of cash here. The difference between a great free agent setup man and even a slightly above-average free agent closer is still a couple million bucks in average annual value. The Yankees want to keep payroll under the luxury tax threshold and signing Robertson now would help accomplish that while keeping an elite arm in the bullpen.
Believe it or not, a decent amount of setup relievers have signed contract extensions one year prior to free agency in recent years. Some pretty great ones as well. Teams are locking their best young players up to multi-year contracts more than ever before and that includes relievers, the most volatile position in the game. With an assist from MLBTR's Extension Tracker, here are three setup relievers who signed long-term extensions one season prior to free agency in recent years:
| | Robertson | Ryan Madson | Sean Marshall | Santiago Casilla |
| --- | --- | --- | --- | --- |
| Platform Year fWAR | 1.6 | 1.1 | 2.6 | -0.4 |
| Previous 3 Years fWAR | 5.9 | 2.1 | 5.0 | 0.6 |
| Platform Year bWAR | 2.4 | 1.1 | 1.6 | 0.5 |
| Previous 3 Years bWAR | 8.1 | 2.2 | 5.8 | 3.6 |
| Career Saves | 8 | 5 | 7 | 37 |
| Years | ? | 3 | 3 | 3 |
| Dollars | ? | $12M | $16.5M | $15M |
WAR is certainly not the best way to evaluate past performance — or project future performance, for that matter — especially when it comes to short relievers. The leverage component still needs work. WAR works just fine for this exercise though because we're only trying to get in the contract ballpark, not pin down exact numbers. We just want to be close.
Madson's contract is not a great comparable because he signed it prior to the 2009 season. It's a bit outdated. The Marshall and Casilla contracts are a bit more relevant since they were signed prior to 2012 and 2013, respectively. Casilla is a good example of the earning power of saves — he's been rather average overall but had piled up some saves before signing his contract, including spending a half-season as closer for the Giants immediately prior to signing his extension. Saves pay, man, and that's what the Yankees should be trying to avoid with Robertson.
Robertson's performance over the last three years is clearly a notch above the other guys, but his platform year performance (the year immediately prior to signing a multi-year contract) is in line with Madson's and especially Marshall's. Three years sure looks like the standard length here, meaning the Yankees would be buying out Robertson's final year of arbitration-eligibility as well as two years of free agency. Since he's projected to earn $5.5M in 2014 — a higher average annual value than Madson and Casilla and equal to Marshall's contract — the team will have to offer their setup man a little bit more. At the very least, Robertson's agent should ask for a bit more.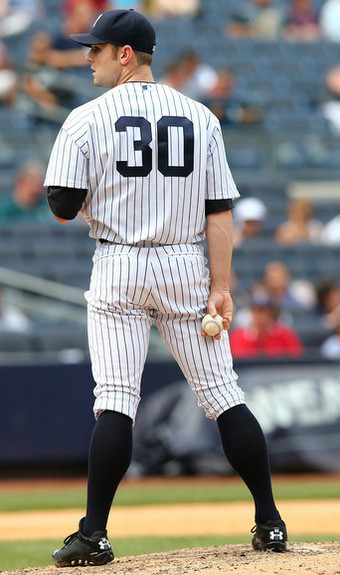 Here's the complicated part: Robertson and his agent aren't stupid. They know his earning power will skyrocket in the next 12 months if he establishes himself as a legitimate closer, so why would they settle for setup man dollars right now? I suppose Robertson and his family could really value the financial security that comes with signing right now, but even then there would have to be some compromise. The Yankees are planning to move Robertson into a more prominent role and at this point of his career, he's earned the right to be paid accordingly. If the team doesn't feel that way, then they could wait and get involved in the bidding way next winter.
Based mostly on the recent contracts but also considering things like performance and inflation, my guesstimate is that three years and $21M might be amenable to both the team and Robertson. That's an average of $7M annually — they could structure the salaries something like $5M in 2013, $7.5M in 2014, and $8.5M in 2015 — which would be the record for a non-lolownership Rafael Soriano setup man. It would also be mid-range closer dollars, on par with guys like Jonathan Broxton and (the good version of) Brian Fuentes. Robertson would surely get more on the open market with a strong closer season under his belt, but remember, he'd be trading maximum earning potential for security by signing an extension.
Relievers are the riskiest investments in baseball but teams still need them. Robertson is an upper-echelon reliever and the Yankees know pretty much everything there is to know about him. They know his work ethic, his mechanics, his stuff, his medical history, his family, the whole nine. All of that is important when deciding whether to commit to someone long-term. The Yankees might not like the idea of signing Robertson for multiple years, it's possible they think he's an injury risk or whatever, but if they do want to keep him around well into the future, then they should look into signing him this winter before he racks up a ton of saves and the price tag goes way up.