Got six questions this week, so I tried to keep the answers short and go rapid fire. If you want to send us questions or links or complaints or whatever, the Submit A Tip box in a sidebar is the best way to go.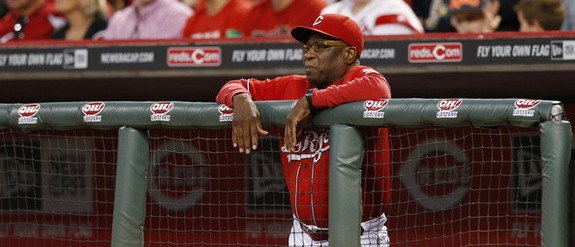 Joe asks: If Joe Girardi leaves who would be on your short list of replacements?
I don't even know where to start. There are no great candidates out there. You'd need someone familiar with being in a big market just because it's completely chaotic, or it can be if the manager lets it. Bench coach Tony Pena seems like an obvious candidate and I guess the just-fired Dusty Baker is as well. Triple-A Scranton manager Dave Miley and Double-A Trenton manager Tony Franklin seem like long shots. I want no part of Mike Scioscia (if he's fired) or Don Wakamatsu, who has big league managerial experience (with the Mariners) and works in the Yankees front office. I don't see a ton of obvious candidates out there. Pena is clearly the best at this point.
Joey asks: B.J. Upton and Dan Uggla are both well-paid and under-performing for Atlanta. If the Braves cover most of the salary, do you think the Yankees would be interested in either player and would think its a good idea?
I don't think the Braves would eat a ton of money to move Upton after just one year. Not with his brother still on the team and a roster that still managed to win 96 games despite his terribleness. As for Uggla … I don't think I'd touch him. He hit .179/.309/.362 (91 wRC+) with 22 homers in 537 plate appearances this season, and he's also 33 years old (34 in March). That's right around the age second baseman tend to fall off the cliff. This sums up where his career is heading:
Go look at Uggla's graph page on FanGraphs and notice how pretty much everything has been trending in the wrong direction for three years now. The Braves left him off their NLDS roster and they own him $13M in each of the next two years. Yeah, the Yankees could use him as a backup corner infielder/DH, but even if Atlanta eats so much money that he's a $4M a year player, I wouldn't touch him. The Bombers already have one Vernon Wells, no need to add the infield version as well.
Anthony asks: Say #HIROK decided to retire, could the Yankees still offer him a qualifying offer and get a pick?
The only way the Yankees would get a draft pick for Hiroki Kuroda (or any other player who turns downs a qualifying offer) is if they sign a Major League contract with one of the other 29 times before next summer's draft. That's it. They don't get a pick if the player retires, goes to Japan, or signs a minor league contract.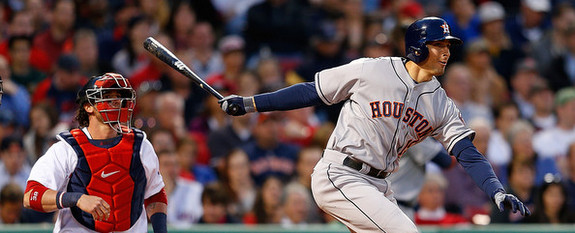 Mr. Fish Fingers asks: Any interest in/chance of acquiring Jason Castro this off-season or (more likely) at some point in the season? Got to cost an arm and a leg, but he had a nice season in Houston and is under team control.
Theoretically, the Astros would want to build around Castro going forward, right? He just turned 26 and hit .276/.350/.485 (130 wRC+) with 18 homers this season, plus he's a standout defender behind the plate. That's a cornerstone player. If you're a rebuilding team, you keep him. That said, the Astros seem to have completely given up on being competitive and are instead focused on having a strong farm system, so who knows. I'd take Castro in a heartbeat — he is arbitration-eligible for the first time this year and can't become a free agent until after 2016 — and would open up the farm system to give Houston whatever they want. Gary Sanchez and Rafael DePaula? Sure thing. You hope that in six years, Sanchez will be what Castro is right now. Slade Heathcott and J.R. Murphy? Tyler Austin and Mason Williams? Done deal. No-brainer for me. I think Castro is the one guy the Astros will keep, however.
Jon asks: MLBTR got me thinking about Asdrubal Cabrera as a possible 2014 shortstop target. If I remember, Brian Cashman was hot on him previously, only one year left on contract and coming off a down year. Possible buy low, would the Yankees want the Indians to kick some money in to offset $10M '14 Salary? What would it take in prospects?
Cabrera would make sense as a shortstop target if he was actually a shortstop. The 27-year-old is an awful defensive player — pick any defense stat and it'll say he's been terrible for several years running now — and to make matters worse, he isn't hitting all that much either. Cabrera put up a .242/.299/.402 (95 wRC+) line with 14 homers this year, which is way better than what the Yankees got from the position this year but way below what his reputation would lead you to believe. He's better than Eduardo Nunez, but we're not exactly setting a high bar there. Is he so much better that it justifies the massive salary and a trading away a prospect or two? Asdrubal is someone worth looking at more in-depth if he actually ends up on the block at some point. My short answer is: meh.
Elliot asks: If Derek Jeter declines his option (crazy talk) do you see a situation where he wants a longer contract guaranteed, but will spread out the cost over more years and help the team get under $189 million?
I don't know if Jeter will want that, but there is a scenario in which opting out and signing a multi-year deal would help the Yankees get under the luxury tax threshold. Right now his option is worth $9.5M and can be worth as much as $16.5M with awards-based incentives. The team would have to treat him as a $16.5M player in 2014 — you can't plan on him costing only $9.5M and then have him blow the whole thing up by finishing fifth in the MVP voting or something. They could, I suppose, guarantee the extra $7M (instead of basing it on incentives) and spread it out over multiple years. Instead of a one-year deal worth $9.5M and potentially $16.5M, it could be a three-year deal worth $16.5 guaranteed. That would lower the average annual salary (and his "tax hit") from at least $9.5M and possibly $16.5M in 2014 to $5.5M flat. It's worth considering, but remember, it takes two to tango.