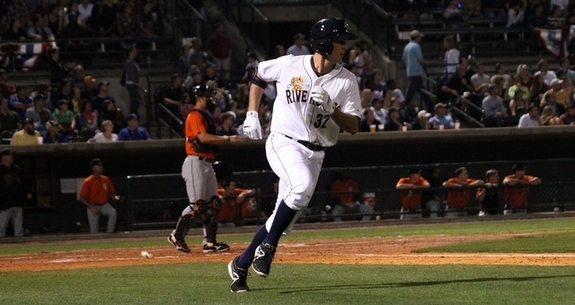 Greg Bird | 1B
Background
Bird hails from Grandview High School just outside of Denver, where he played with current Orioles right-hander Kevin Gausman. As scouts flocked to Colorado to see Gausman, Bird benefited from the increased exposure. He was named the state's High School Player of the Year after hitting .533 with a dozen homeruns as a senior. Bird committed to Arkansas.
Prior to the 2011 draft, Baseball America (no subs. req'd) ranked Bird as the best prospect in Colorado but not as one of the 200 best draft prospects in the class. He was generally considered the type of player who would benefit from three years in college before turning pro. The Yankees felt differently and selected Bird with their fifth round pick, the 179th overall selection. They bought him away from the Razorbacks with a $1.1M bonus on signing deadline day, the largest bonus they gave to a draftee in 2011.
Pro Career
Bird played in only four games with the Rookie Gulf Coast League affiliate after signing, going 1-for-13 (-22 wRC+) with four strikeouts. Nagging back pain limited him to only 28 games following Extended Spring Training in 2012, during which he hit .337/.450/.494 (~180 wRC+) in 109 plate appearances split between the GCL squad and Short Season Staten Island. Bird broke out this season with Low-A Charleston, hitting .288/.428/.511 (170 wRC+) with 20 homers and 107 walks in 573 plate appearances across 130 games.
Scouting Report
Bird is a bat first — bordering on bat only, really — prospect who will go only as far as his left-handed swing takes him. He hits from a slight couch and has shown he can consistently get loft and backspin on the ball. His swing does not qualify as short or compact, but it is direct to the ball and he allows pitches to travel deep in the zone before attacking, giving him the ability to drive the ball to the opposite field for power. Bird is a very disciplined and patient hitter who will take his walks but jump all over a pitch he likes. He's a very smart and instinctual hitter, not just a brute masher.
Pre-draft concerns about Bird's ability to catch long-term proved not to be unfounded when the Yankees moved him out from behind the plate following his back trouble in 2012. He is now a full-time first baseman who has a strong arm but is still learning the ropes around the bag. Bird's range and quickness in the field is limited, unsurprisingly. He is listed at 6-foot-3 and 215 lbs. and won't wow anyone with raw athleticism. He's not that type of prospect. The Yankees, as always, rave about his makeup and work ethic, which is why they were willing to give him an opportunity to stay behind the plate before the back injury.
Video
There is plenty more video on MiLB.com and some on YouTube, but the latter is mostly interviews and high school footage.
2014 Outlook
Bird will start next season at first base and in the middle of the lineup with High-A Tampa. There's very little question about that. A midseason promotion to Double-A Trenton wouldn't be a surprise if he mashes again, but the Yankees were patient and left him at the same level all summer this past year. They may decide to do that again in 2014.
My Take
The bar for first base prospects is pretty high and I am a bit skeptical of Bird. He's patient and has done pretty much nothing but hit since turning pro, but I'm going to cop out and say I want to see him do it at the upper levels before I fully buy in. His margin for error is very small — if his power doesn't fully develop or his patience turns into passivity, there won't be any value to extract. Bird is very intriguing and I'm excited to see what he does as a follow up in 2014, but I'd like to see him do it again.