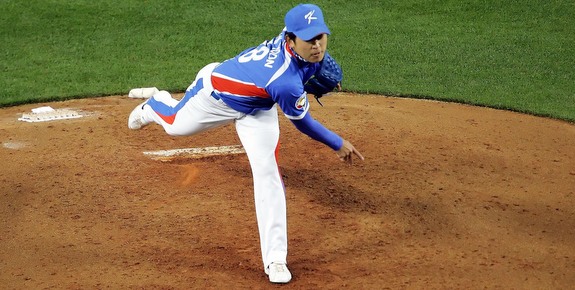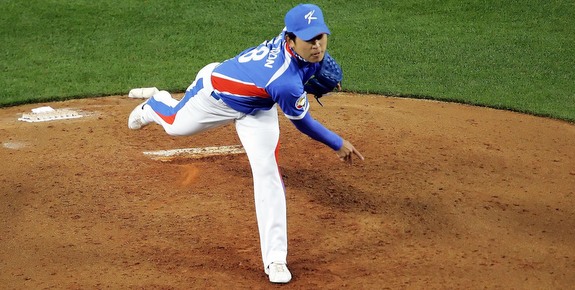 The Yankees are reportedly "going to be serious players" for Japanese-born right-hander Masahiro Tanaka this offseason, but he might not be the only Asian pitcher on their radar. Jee-Ho Yoo reports New York has interest in South Korean righty Suk-Min Yoon, who will be a true free agent this winter. Scott Boras told George King he plans to discuss the right-hander/his client with Brian Cashman this coming week.
Yoon, 27, is currently going through the status check process required to be eligible to sign with a Major League club. His team, the Kia Tigers of the Korea Baseball Organization, declined his requests to be made available to big league teams via the posting process after both the 2011 and 2012 seasons. The Twins are among the other clubs that are said to have interest in the righty.
In 87.2 innings spread across 30 appearances this year, Yoon had a 4.00 ERA with 76 strikeouts (7.8 K/9 and 20.4 K%) and 28 walks (2.87 BB/9 and 7.5 BB%). He has had on and off shoulder problems over the years, including an issue that limited him to relief work this season. Yoon was named the league MVP in 2011 (2.45 ERA in 172.1 innings) and he has a ton of international experience, both in the Olympics and World Baseball Classic.
"He's a 91-92 guy. He's a good pitcher … not an overpowering arm," said Boras to King. Baseball America and Jeff Passan says he backs up the low-90s fastball with a hard slider and "what one scout deemed an above-average changeup." Yoon is listed at 6-foot-0 and 187 lbs., and he's been the second best pitcher in South Korea behind current Dodgers lefty Hyun-Jin Ryu the last half-decade or so. There's plenty of video on YouTube.
Everything I know about Yoon is in this post, so I don't know if he's worth a Wei-Yin Chen contract (three years, $11.1M) or a Ryu contract (six years, $36M). The history of shoulder problems scares me and given how much higher the level of competition is in MLB compared to KBO, I wonder if he's a long-term reliever over here. There's nothing wrong with that, relievers are people too, but you know Boras is going to be pushing him as a starter and asking for big bucks.