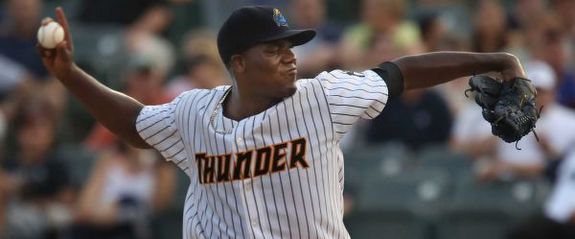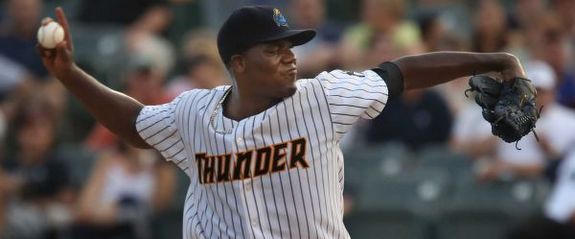 It has now been two full seasons since the trade, and Michael Pineda has yet to throw a single meaningful pitch for the Yankees. A torn labrum required surgery in May 2012 and sidelined him until July 2013, when he was activated off the DL and optioned to Triple-A for more seasoning. He was sidelined with shoulder stiffness a handful of starts later and was shut down for the year. That labrum injury is a career-changer.
"Michael Pineda finished healthy," said Brian Cashman during his end-of-season press conference. "The biggest and most important thing [was] to allow Michael after, say, a 13-month rehab — or between rehab and pitching and stuff for well over a year straight plus — that the rest was the biggest thing that he'd benefit from. So obviously we shut him down as a healthy player in the end."
Pineda will turn 25 in January and at this point, the Yankees have absolutely no idea what he can provide at the big league level. Andy McCullough spoke to a scout who saw Pineda in the minors this year and labeled him a "back-end" starter with a "sluggish demeanor" and "unreliable command and mechanics." Was that the result of being exhausted after pitching and rehabbing for a year straight? I hope so, but I'm not very optimistic he will be able to get back to the form that allowed him post historically great strikeout and walk rates for a rookie pitcher in 2011.
"I was very happy with everything he did, so I certainly see him being able to [contribute in 2014]," said minor league pitching coordinator Gil Patterson, who watched over Pineda's rehab this summer, to McCullough. "I was happy with the way he located his fastball, with some life on it. He threw some good, sharp breaking balls. [He threw his] changeup with good depth and hand speed."
In ten minor league games this year — two with High-A Tampa, two with Double-A Trenton, six with Triple-A Scranton — Pineda struck out 41 (23.8%) and walked 14 (8.4%) with a 3.32 ERA (~3.75 FIP) in 40.2 innings. Promising, no doubt about it, but you can't really take too much from minor league games for a rehabbing pitcher. As the scout said to McCullough, Pineda often had to lean on his slider quite a bit to put away minor leaguers. If you want to see what he looks like these days, here's video of his July 6th start with the RailRiders, his first start after being activated off the DL and officially optioned to the minors:
Minor league video isn't exactly plentiful, so that's the best we have. Here's the rest of his 2013 video archive if you're interested — it's mostly interviews and fielding plays and one-batter clips. Still better than nothing I suppose. Pineda did throw a few nice sliders in the video above, for what it's worth. Not much really; definitely not enough to make me feel any more confident in his ability to help the big league team next season.
"He'll compete for a job in Spring Training." added Cashman. "He's got options and I don't think it's healthy for anybody to guarantee anything, so I'm not going to sit here just because he's Michael Pineda and we have high hopes and say 'hey, we can pencil him into our rotation.' He's got to obviously show that he can stay healthy, and that he's effective while he's pitching. We certainly hope that's going to be the case, but I'm not going to sit here and guarantee anything on that either. It certainly would go a long way towards solving some problems if that was the case."
Given the injury and how he finished the season, I think the Yankees have to go into next season expecting nothing from Pineda and taking whatever he gives them as a bonus. That was pretty much the case this year — it would be nice if threw a ton of innings and was effective, but they shouldn't count on him to provide that. It seems likely the club will have at least one rotation spot up for grabs in camp, with guys like Pineda and Vidal Nuno and Adam Warren all competing for the job. If Pineda wins it, great. But he can't stop them from looking for pitching help or be considering any kind of solution at this point.