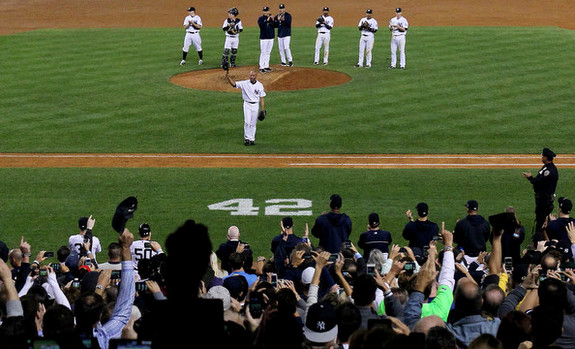 You know what sucks about the winter? I can't give these "thoughts" posts a half-decent title. "Thoughts following the off-day" or "thoughts following the big win over the whoevers." No nothing. "Thoughts on a random day." Hate the winter.
1. I would very much like Hal Steinbrenner & Co. to shut up about the plan to get under the $189M luxury tax threshold. It's going to happen. I know it's going to happen, you know it's going to happen, and ownership knows it's going to happen despite the silly "it's a goal, not a mandate" comments. It's going to happen. Now just shut up about it and stop reminding everyone at every opportunity. Very simple request. No ownership group in any sport has ever spoken this much and this openly about slashing payroll. I know the media asks about it and all that, but for once just say "I've said already I've had to say about it" and move on, please. No need to go through the rigmarole once a week. It's very off-putting.
2. The playoffs have been incredibly entertaining so far, much more than usual for the LDS round, I believe. Watching all the young pitching — most notably Sonny Gray, Alex Cobb, Gerrit Cole, Michael Wacha, and the still-only-25 Clayton Kershaw — has been simultaneously awesome and depressing. Awesome because, well, they can really pitch and it's fun to watch. Depressing because the Yankees have nothing close to a guy like that. Ivan Nova's had two good really second halves in three full years as a big leaguer now. Big whoop. David Phelps is alright but clearly not on the same level as those other guys. He's not a notch below, he's like five notches below. Amazing how the game has so clearly gravitated towards young players and yet the Yankees continue getting older and older.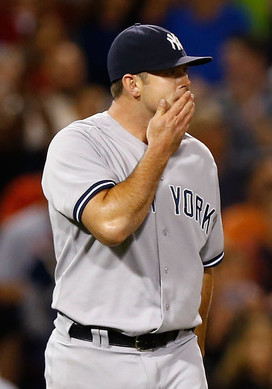 3. This is worth a full post (a series of full posts, most likely) at some point, but I'm really curious to see how the bullpen shakes out next season. You know David Robertson will be in there in some capacity, either closer or setup man, plus we can probably pencil Dellin Betances into a spot. I can't imagine the team won't carry him on the Opening Day roster unless he's just awful and out of shape and whatever else in camp. Adam Warren would wind up as the long man again, assuming he isn't needed in the rotation. That still leaves four three spots (forgot about Shawn Kelley) up in the air without a whole lot of options. Cesar Cabral and Preston Claiborne? Okay, what about the other two spots? Does Matt Daley survive the offseason? Does it even matter if he does? I'm sure Brett Marshall will be the sixth starter in Triple-A rather than a reliever in the big leagues, but we shouldn't rule him out of the bullpen mix just yet. The Yankees are going to have to actually spend money on relievers (plural) this winter, which is something they haven't really done in recent years (Rafael Soriano aside).
4. I was talking to Joe about this yesterday, but I'm legitimately surprised the Yankees have kept the entire front office intact. There is still plenty of offseason left and changes could still come obviously, but usually teams like to get these things out of the way early so they can proceed with everything else on the agenda. If they're going to replace some people (amateur scouting and player development staff, hint hint), it should happen soon. The longer they wait, the longer it takes for any philosophical changes to be implemented and take affect. I guess this is more of a follow-up to item #3, but whatever. I'm surprised and pretty bummed no changes have been made. The lack of farm system production has been an ongoing problem for too long and apparently the Yankees are happy maintaining the status quo.