The 2013 season is over and now it's time to review all aspects of the year that was, continuing today with a young right-hander who didn't make much (if any) progress in 2013.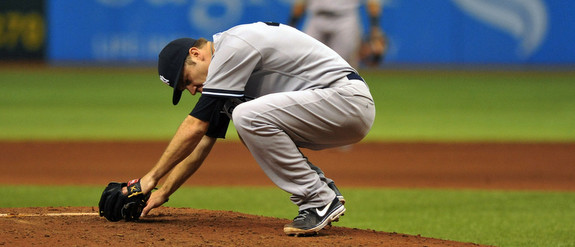 It seems silly after seeing how everything went this season, but the Yankees actually started the year with a nice amount of pitching depth. They had three veteran starters at the front of the rotation (CC Sabathia, Hiroki Kuroda, Andy Pettitte) plus two younger, kinda sorta established types in the fourth and fifth spots (Ivan Nova and Phil Hughes). There was also some optimism Michael Pineda would be able to rejoin the team in the second half.
David Phelps, meanwhile, opened the season in the bullpen as the long man/sixth starter in a round about way after impressing in a swingman role last summer. He was expected to start the season in that same swingman role before being moving into the rotation when Hughes suffered a back injury in Spring Training and had to open the year on the DL. Phelps never did make that first start because the Yankees, in need of a fresh arm, activated Hughes earlier than expected.
In six April relief appearances, Phelps allowed 11 runs (5.29 ERA) and 27 base-runners (1.47 WHIP) in 17 total innings (3.75 FIP). He moved into the rotation in early-May after a triceps problem sent Nova to the DL, and in the rotation is where Phelps stayed for the next two months. Nova's generally rough first half and Pettitte's strained trap deserve an assist for that. It was as much a necessity as it was an earned job.
Phelps pitched very well in his first five starts, posting a 3.27 ERA and 3.11 FIP in 33 innings in May. The Mets clobbered him for five runs in just one-third of an inning in his final start of the month, but Phelps rebounded to allow just one total run in his next two starts. Phelps got roughed up in his next four outings, allowing 19 runs (8.41 ERA) and 40 base-runners (1.97 WHIP) in 20.1 innings across his next four starts. Those would be his final four starts of 2013.
On July 6th, the Yankees placed Phelps on the 15-day DL with a forearm strain. An MRI showed no structural damage and he was shut down for ten days, but ten days became ten weeks when Phelps suffered the #obligatorysetback in early-August. The setback was technically a new injury — a second forearm strain in a different spot. There was still no structural damage, thankfully.
The injury was originally expected to end Phelps' season, but the Yankees were in full-on panic mode late in the year as a postseason berth faded away. He was activated with two weeks to go in the season and made four relief appearances — three good, one not so good — to close out the schedule. Phelps' overall season performance was right in line with last year in some respects but wildly different in others. To the chart:
| | Innings | ERA | FIP | BABIP | K% | BB% | GB% | HR/FB% |
| --- | --- | --- | --- | --- | --- | --- | --- | --- |
| 2013 | 86.2 | 4.98 | 3.81 | 0.321 | 21.0% | 9.3% | 42.5% | 8.9% |
| 2012 | 99.2 | 3.34 | 4.32 | 0.258 | 23.2% | 9.2% | 42.9% | 13.6% |
The strikeout, walk, and ground ball rates are very similar between the two years, but Phelps allowed fewer homers while surrendering more base hits overall. With no significant change in his batted ball profile, the 63-point jump in BABIP can likely be attributed to poor overall team defense (especially on the infield) and a simple return to normalcy after last season. A sub-.260 BABIP in nearly 100 innings for a pitcher like Phelps — good stuff and command but not great stuff and command — doesn't strike me as sustainable (I could be wrong, obviously), so it's no surprise it jumped in 2013.
The near-5.00 ERA is one reason Phelps was part of the problem this season (hence the "what went wrong" tag), but the bigger concern for me is the injury. In addition to the general scariness of an arm injury (two, really), he missed a ton of time and the Yankees didn't get much of an opportunity to evaluate him and his place on the team going forward. Did he stink in late-June and early-July because he was hurt? Or did league catch up to him? The answer remains unclear. With no statistical steps forward aside from homer rate and the still unknown lingering effects of the two forearm injuries, this was not a good or encouraging year for Phelps.