The 2013 season is over and now it's time to review all aspects of the year that was, continuing today with an injury replacement who missed more days than the guy he replaced.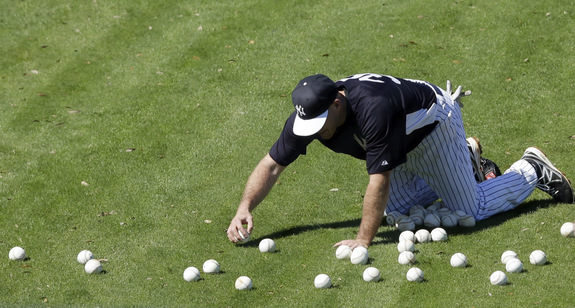 Even though it happened five months before Opening Day, Alex Rodriguez's left hip injury and eventual surgery left the Yankees scrambling. They had just lost their starting third baseman and a middle of the order bat, two things that are tough to replace even in the dead of winter through free agency. With no obvious internal replacement, the team was left … well, scrambling.
The best available option was a familiar face and former bitter enemy. The Yankees wound up signing former Red Sox third baseman Kevin Youkilis to a one-year contract worth $12M, and in the process he reportedly declined a two-year, $18M offer from the Indians to reunite with manager Terry Francona. It was a risky move given Youkilis' history of back problems and declining production (103 wRC+ in 2012).
A monster Spring Training (.280/.339/.800 in 56 plate appearances) and stories of a revamped swing courtesy of hitting coach Kevin Long had pretty much everyone thinking Youkilis was primed to be a big contributor for New York. He was further away from his injuries and the Yankees had success with reclamation project hitters like Eric Chavez in recent years, so it wasn't all blind faith. Just mostly blind faith.
When the season started, it looked very much like Youkilis had found the fountain of youth. Or at least a way to stave off age-related decline for the time being. He doubled on Opening day, had two hits the next game, doubled again in the third game, then homered in the fourth game. In his first nine games with New York, Youkilis went 14-for-33 (.424) with four doubles, two homers, (.727 SLG), three walks, and two hit-by-pitches (.500 OBP).
Obviously that's not something you'd expect any player to sustain over a full season, but any fear Youkilis was just a washed up ex-Red Sox crony brought in for name value had started to be assuaged. Then, just a week later, Youkilis was sidelined with back stiffness. He missed a week before returning to the lineup at first base, and in his first game back, he slide into the bag on a defensive play and re-injured himself. The official diagnosis was a lumbar strain and it was much more severe this time around.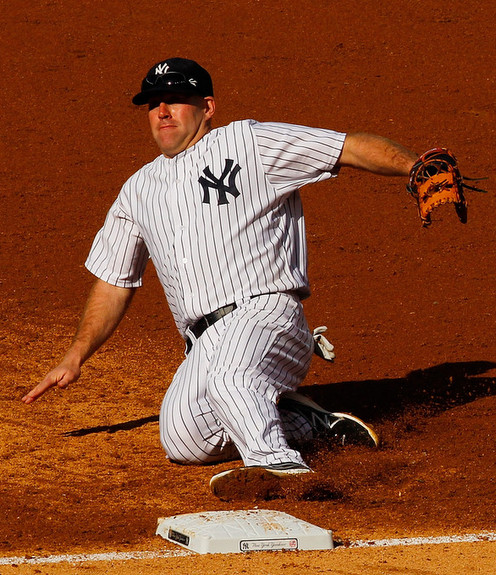 Youkilis needed an epidural even though his MRI came back clean. He spent a month on the DL before returning in late-May, the same time as Mark Teixeira. Youkilis went a weak 6-for-41 (.146) with 13 strikeouts (28.3%) in eleven games after coming back before, yet again, his back started barking. Another lumbar strain landed him on the DL on June 14th, but just four days later the Yankees announced he needed season-ending surgery to correct whatever needed to be corrected. There was always a small chance Youkilis would get healthy in time to rejoin the team in late September and the postseason, but that never happened. Both the getting healthy part and the postseason part.
All told, Youkilis played in only 28 games and received 118 plate appearances this past season. A-Rod, the man he replaced, batted 181 times in 44 games after returning from hip surgery in August. David Adams even managed more games (43) and plate appearances (153) thank Youkilis after coming up from the minors in mid-May to serve as what amounted to the replacement for the replacement. For their $12 investment, the Yankees got a .219/.305/.343 (78 wRC+) batting line and an awful lot of medical bills out of Youkilis.
As I wrote in What Went Wrong: Injuries, it would have been surprising if Youkilis didn't land on the DL at some point this season. Backs very rarely get better — ask David Wells or Randy Johnson, for example — at best they get more manageable. Youkilis had two back-related DL stints as well as several day-to-day type problems from 2010-2013, so the surgery was a long time coming. It seemed inevitable and the Yankees were left holding the cards when the time came. The team was in desperation mode after A-Rod's injury and they wound up wasting a huge chunk of change for very, very little return.