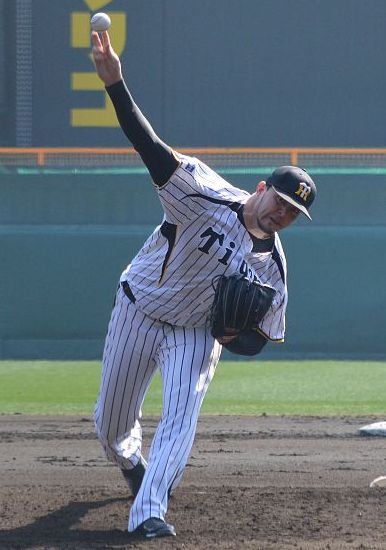 The Yankees need pitching and quite a bit of it this winter. CC Sabathia and Ivan Nova are the only pitchers on the roster guaranteed rotation spots come Opening Day and both come with question marks following 2013. New York will reportedly go all out to land Masahiro Tanaka, but he alone won't solve their issues. They're going to need some back-end help as well, cheaper arms to fill out the rotation and provide a safety net for David Phelps and Adam Warren.
Obviously back-end fodder is plentiful and cheap in the offseason — Chris Capuano, Jason Hammel, and Mike Pelfrey stand out from the free agent crowd at first glance — but the trick is finding guys who will actually be effective. The Yankees have been hit (Bartolo Colon, Freddy Garcia in 2011) and miss (Sergio Mitre, Garcia in 2012) with this stuff in recent years like almost everyone else. These pitchers are pretty unpredictable. If they weren't, they'd be getting much larger contracts.
An outside-the-box rotation option this winter is 32-year-old right-hander Randy Messenger, who flunked a big league trial with three teams as a reliever (4.87 ERA in 184.2 innings from 2005-2009) before joining the Hanshin Tigers in Japan and dominating as a starter (2.75 ERA in 543 innings from 2011-2013). Obviously there is much more to life than ERA. From Jeff Passan:
After reinventing himself as a starter in Japan with the help of a split-fingered fastball, the 6-foot-6, 260-pound Messenger has thrived. He led the Central League in innings pitched and strikeouts this season with 196 1/3 and 183, and his 2.89 ERA was fifth among starters. It was his third straight sub-3.00 ERA season, though with run-scoring up across NPB this season, it marked Messenger's best year compared to the rest of the league.

Scouts this season saw Messenger's fastball reach up to 96 mph, though one said he sits closer to 92-93. His splitter and slider give him a strong enough off-speed complement that the scout believes he could be a back-end major league starter.
That's not much, but it's better than nothing. The addition of the splitter — a commonly taught and heavily used pitch in Japan and Korea — provides a tangible reason for the improvement. If there was no new pitch, I'd be inclined to think Messenger's success stemmed from moving to the easier league more than anything. Colby Lewis and Ryan Vogelsong are the most notable recent examples of pitchers who flamed out in the big leagues, found success in Japan, then carried it over when they returned to MLB. It's not unprecedented.
Brian Cashman has an affinity for physically huge pitchers like CC Sabathia and Michael Pineda — "I'm addicted to those big, hard throwers," said the GM in February 2012 — so if nothing else, Messenger's size* figures to grab their attention. They've apparently been scouting Asia pretty heavily — in addition to Tanaka, they also have interest in Korean righties Suk-Min Yoon and Seung-Hwan Oh — so I'm sure they've seen him a few times in person as well. Given their pitching needs, they should be considering all options, including unconventional ones like Messenger.
* Between the mound, being 6-foot-6, and that over-the-top delivery (check the photo), Messenger must release the ball from like ten feet in the air. Geez.
Now here's the problem. According to Passan, Messenger has a standing three-year offer worth up to $15M from the (Hanshin) Tigers and has set a November 15th deadline to entertain offers from MLB teams. That's one week from tomorrow. He is reportedly seeking a two-year deal in the $8-10M range to return to the States and, according to agent Matt Sosnick, he has only received one-year offers so far. One team offered one year plus an option. It's unclear which teams made those offers. The price is reasonable and he's obviously willing to take a discount to pitch back home.
The Yankees won't know exactly how much money they have to spend this winter until Alex Rodriguez's appeal hearing is wrapped up, but there does appear to be $5M or so available for non-Tanaka pitching help. If Messenger can't hack it in the rotation, they could always stick him in the bullpen and let him air it out with the fastball and splitter. There's a need for relief help as well. I am very intrigued by Messenger but I wish we knew more — I can't even find video of the guy from his time in Japan. His aggressive signing timetable doesn't jibe with New York's situation, which could remove him from the pitching picture entirely.