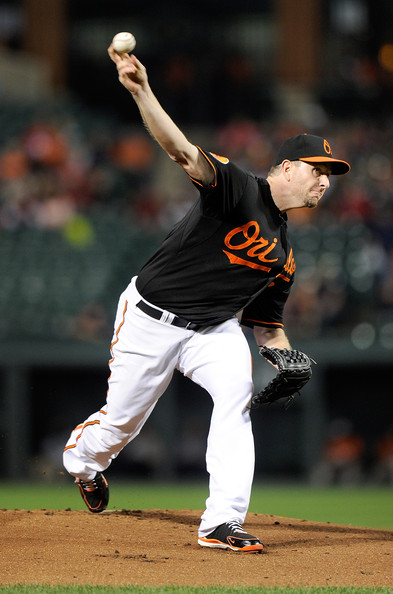 It's no secret the Yankees have a lot of roster questions to answer this winter. Re-signing Robinson Cano is the biggest item on the agenda, but, in terms of the overall big picture, rebuilding the rotation is probably the most important. As of now, the starting staff includes CC Sabathia, Ivan Nova, and three big questions marks. Heck, both Sabathia and Nova are question marks following the seasons they just had. Fixing the starting staff is a huge priority for the coming weeks.
"We've got a lot [of needs]," said Brian Cashman to Andy McCullough at the GM Meetings earlier this week. "I don't know if I can separate any of them. I think I need to import 400 innings for the rotation … We've got a lot of work ahead of us."
When he says "400 innings," Cashman means they need to add two starters. They're not going to sit down and literally count projected innings totals until they add up to 400 or anything like that. The club need two starters to replace Hiroki Kuroda and Andy Pettitte, that's what he's saying. They need to find some quality arms to replace those 400 innings (really 386.2!), but I don't think they should stop there. The Yankees should look to add an extra 200 innings on top of that.
By saying they're looking to add two starters, Cashman is implying the team can replace Phil Hughes with internal options. That's possible, Hughes wasn't exactly good last year, but the GM is showing an awful lot of faith in guys like Adam Warren, David Phelps, and Vidal Nuno. Guys who have never made it through even half-a-season as a starter in the big leagues. I suppose Cashman could be counting on Michael Pineda as well, but that would be beyond silly at this point. He's smarter than that.
Overall, the Yankees' rotation ranked 18th in baseball with a 4.08 ERA (3.88 FIP) in 2013, and that includes a generally excellent season from Kuroda. This isn't a "if we can just replace what we had last year, we'll be fine" rotation. This is a "oh crap we need to replace what we had last year and improve upon that" rotation. Perhaps some of that improvement will come in the form of a rebound from a Sabathia and a full, consistent season from Nova. That's not as silly as expecting Pineda to contribute, but it's not exactly something you can take to the bank either.
There's a chance, maybe even a good one, that some combination of Phelps, Warren, and Nuno can replace Hughes and be an upgrade in 2014. That is very much up for debate though. I am a firm believer in expecting nothing from unproven kid starters and letting them be in a position to surprise rather than be relied upon. Catch my drift? I'm sure you do. The Yankees don't have to go out and sign the three best free agent starters or anything (they're welcome to do that!), but adding Chris Capuano to the PhelpsWarrenNuno mash-up (for example)? Would something like that be too much to ask? Maybe it is given the limited payroll space.
The Yankees have a lot on their plate this winter. They've got to fix their offense regardless of whether Cano re-signs and they've got to add a whole bunch of pitchers, starters and relievers. Asking for one more rotation option might be very Spoiled Yankee Fan™ of me, but I am so in favor of adding as many arms as possible. We saw the importance of depth this past summer. Adding two starters and relying on a bunch of kids in the fifth spot might be the best New York can do this winter, but that leaves them very vulnerable if injury (or continued ineffectiveness from Sabathia, continued unpredictability from Nova) strikes.