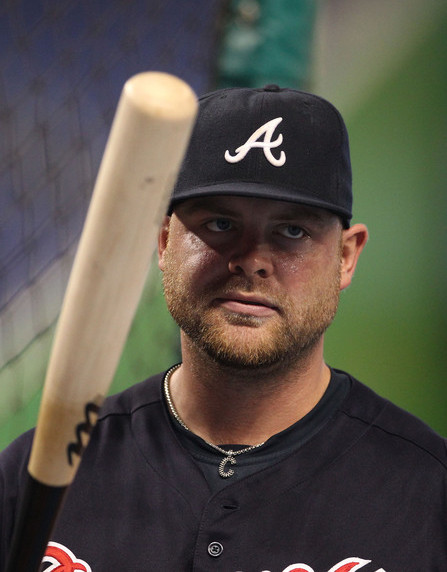 At some point soon — probably next week — the Yankees are going to finalize their agreement with catcher Brian McCann. They will add one of the best backstops in baseball at a substantial cost, reportedly $85M across five years with a vesting option for a sixth year. They're clearly expecting big things out of him and why wouldn't they? He's been one of the most productive hitters of the last decade or so, especially relative to his position. Catchers who hit like this are rare.
Because the Yankees invested so much in McCann, they're likely to look for ways to control his workload behind the plate in an effort to get as much out of him as possible. They want him to catch for all five years of the contract because that's where he's the most valuable — McCann is just another guy at first base or DH — even though it may not be realistic. He turns 30 in February and a five-year contract covers the years when most catchers turn into pumpkins, especially guys who have been starters for a long time. All that squatting behind the plate and all those foul tips take their toll.
McCann was a workhorse throughout his career with the Braves. He made his big league debut at age 21 and was an everyday catcher by age 22. From 2006-2012, his age 22-28 seasons, he started at least 113 games behind the plate each year and led all of baseball with 944 games caught total. He was limited to 91 starts at catcher this past season only because he missed April following offseason right shoulder surgery. That's a lot of wear and tear and the team knows it. They don't want their new addition to be a full-time DH by year three of a five-year deal.
Thankfully, that DH spot gives the Yankees a little bit of flexibility. It allows them to keep McCann's bat in the lineup while getting him out from behind the plate for a day. Obviously other players like Derek Jeter will need to rotate through that DH spot — I really don't like the rotating DH in general, but it's a necessity for this roster at this point — but there should be enough starts available for McCann throughout the course of the season. Remember, he's going to be the catcher first and foremost. DH is just an alternative for a day, nothing more.
The Yankees faced between 52-61 left-handed starters in each of the last five seasons, so a straight platoon with presumed backup Frankie Cervelli would limit McCann to roughly 100-110 starts behind the plate next year. That's a bit below the 123 starts at catcher he averaged from 2006-2012 and it seems like a decent target to me. He could DH another 30-40 games — he will need some full days off of course, catching is hard — and that would get him in the lineup 140-ish times a year.
Sounds like a good plan, right? Well, platoons rarely work out as intended, especially for catchers. Blame injuries and hot/cold streaks and sorts of other unpredictable stuff. At some point next year the Yankees will face nine right-handed starters in nine days, something like that, and that will throw a wrench into everything. The Yankees also might not want to admit their shiny new $85M toy is a platoon player just yet. That stuff does happen. They could run McCann out there everyday against both righties and lefties at first just to see what happens. He did hit lefties from 2010-2012 (104 wRC+), maybe 2013 (72 wRC+) was a blip.
There's an awful lot of stuff to consider when laying out a plan to keep McCann productive and behind the plate over the next half-decade, including his preferences. McCann might hate being the DH and that would be a factor in how they use him. Ultimately, the team owes him big bucks over the next five years and they should figure out the best way to keep him at catcher for as many of those year as possible. I think that 100-110 starts behind the plate number sounds pretty good because he would still get the majority of the games at catcher while having his workload reduced a bit from recent years. Coming up with a plan that works will be much easier said than done and it will be important. McCann's going to be here for a while. The Yankees have every reason to look after his long-term well-being.