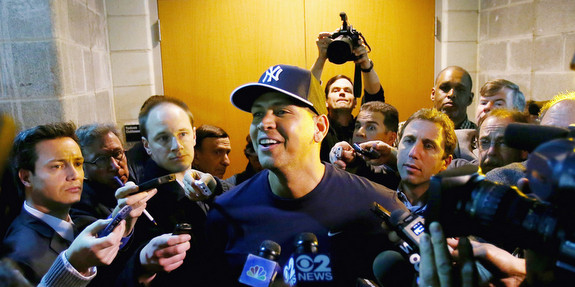 The appeal of Alex Rodriguez's record 211-game suspension is scheduled to resume on Monday, so let's round up the latest news courtesy of Ken Davidoff, Steven Marcus, Mike Fish, and Joel Sherman:
When the hearing resumes, it will continue for ten consecutive days if necessary. They won't take weekends off and will work right up until Thanksgiving in order to get this thing wrapped up. Arbitrator Frederic Horowitz is expected to take three or four weeks to hand down a ruling once the hearing is over.
A-Rod will miss a scheduled interview with MLB on Friday because he's sick and stuck in California, unable to travel according to doctor's orders. It's nothing serious and it will not delay the proceedings next week. The interview is required before he can take the stand, however (convenient timing, no?).
Rodriguez, commissioner Bud Selig, and Yankees team president Randy Levine could all be called to stand to testify at some point soon. MLB is likely to try to prevent Selig and Levine from talking, however. I guess that's something they're allowed to do.
The Florida Department of Health says MLB impeded their investigation of Biogenesis chief Anthony Bosch by purchasing stolen clinic documents earlier this year. The documents were originally intended for DOH, so the state was forced to limit the scope of their investigation and Bosch's eventual punishment ($5,000 fine that was reduced to $3,000). Long story short: MLB said too bad, their investigation was more important.
Even if A-Rod is suspended for all or part of next season, he could still be around the team in Spring Training. The Joint Drug Agreement says a suspended player has all the rights of a regular player except he can't play in regular season or postseason games. One of those rights is Spring Training, apparently. If the Yankees try to stop him from showing up to camp, A-Rod could file a grievance and create even more headaches. What a world.