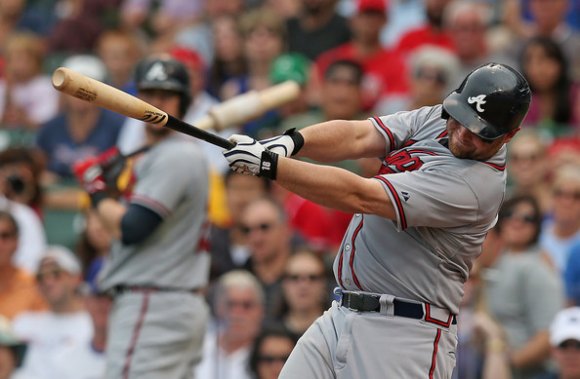 Do you really need the numbers to grasp how poorly the Yankees performed at catcher in 2013? In case you did: .587 OPS, which ranked 12 out of 14 in the AL, nearly .080 points lower than the next-highest team. They did have a few bright spots, including Francisco Cervelli's productive month and Chris Stewart staying hot for a bit, but by the end of the season the Yankees' catchers were cooked. Stewart, a backup at best, was run down from starting, Austin Romine had gotten hurt (again), and J.R. Murphy was what you'd expect from a late-season call-up.
Tonight, the Yankees addressed their most glaring need, signing Brian McCann to a five-year, $85 million deal that includes a sixth-year vesting option that could make the deal worth $100 million. McCann, 30 in February, will add some much-needed pop at catcher, perhaps recreating the days of Jorge Posada behind the plate.
The upgrade from Stewart, Romine, Cervelli, and Murphy to McCann speaks for itself. Last season, as McCann recovered from shoulder surgery, he produced a .796 OPS, 115 OPS+, in 402 PA. That lines up pretty well with his career numbers (117 OPS+). That OPS alone would have put the Yankees at third in the AL in OPS, behind only Minnesota (Mauer) and Cleveland (Santana). But that doesn't tell the entire story.
McCann, a lefty, pairs perfectly with Francisco Cervelli, a righty who has excelled against lefties. True, his entire career against lefties amounts to a hair under 200 PA, but he's more than done his job in those opportunities (.302/.402/.389). If he can squat behind the plate when the Yankees face left-handed pitching, it's the perfect catching combination. McCann not only saves the wear and tear of catching for a third of the season, but he'll be available to DH — and he's produced a .744 career OPS against lefties.
Left-handed power hitters are always welcome at Yankee Stadium, and McCann's swing appears tailor-made for the short porch. Even in his poor 2012 he produced a .344 wOBA when pulling the ball, and in two of the last three years he has just murdered the ball when pulling. Combine that with a difference in home parks — there's a huge right-center gap at Turner Field — and it seems like an ideal fit from an offensive standpoint.
The money involved has more than a few fans up in arms. At five years and $85 million, it's certainly a large outlay by the Yankees. It's tough to analyze this without knowing their intentions re: Plan 189. If they do plan to come in under the luxury tax threshold in 2014, it'll be even more interesting to see how they fill the roster. For the time being, let's just consider this the Yankees getting aggressive in order to nail their No. 1 priority. Who knows what else is at play? All we know now is that the Yankees have more money than any other team, and that they've spent it on a player that will make them considerably better.
Much of the outcry regarding McCann involves his age and his position. He turns 30 in February, which is not a good sign for a catcher, at least anecdotally. Again, if the Yankees can continue trotting out a backup who can hit left-handed pitching, they can limit McCann's exposure behind the plate, making up the PA at DH or even 1B, a position he said he'd be open to learn. He did suffer a shoulder injury in 2012 that sapped his production and kept him out during the first month of 2013, but it does appear he's recovered from that. Assuming he's healthy now, proper management could go a long way to keeping him on the field, and behind the plate, for the next five years.
It's difficult to understate how poorly the Yankees fared at catcher in 2013. Signing McCann provides the greatest upgrade they could have acquired this off-season. There are concerns, as there are with any free agent signing. But given the upside of the deal, and the Yankees' apparent ability to spend, this deal stands a decent chance of working out for them.
Discussion to be reconvened in January, when we see what else the Yankees have done to augment and upgrade the roster.