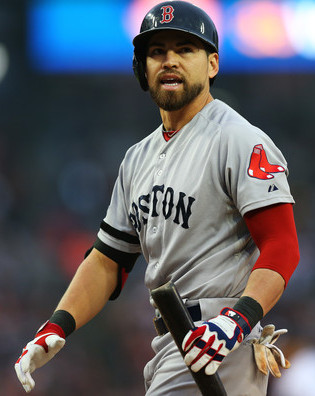 Assuming Jacoby Ellsbury and Kelly Johnson pass their physicals and their contracts become official, how many games would the current Yankees' roster win right now? I'm talking about the roster as it is today, with no Robinson Cano and a pitching staff that might be one of the worst in the league. Here's the depth chart in you need a reminder of who slots in where at the moment. How many games would that team win?
Eighty wins seems like a good number to me. The Yankees won 85 games this past season because they outplayed their run differential (by six wins!) thanks to baseball's very best record in one-run games. That 85-win/really 79-win team lost Cano, Mariano Rivera, Hiroki Kuroda, Andy Pettitte, Boone Logan, Curtis Granderson, and a bunch of lesser guys, which is somewhere along the lines of 17 wins worth of talent. (If you must know, it's 16.2 fWAR and 18.5 bWAR.) That baseline 68-win team added about a dozen wins in Ellsbury, Brian McCann, a full season of Alfonso Soriano, and what we hope will be full seasons from Mark Teixeira and Derek Jeter. I'm just spitballing here, don't get too caught up in exact numbers.
There are two points to this little exercise. You might think they're an 83-win team right now and someone else might think they're a 76-win team. Strong arguments can be made both ways, but the point is that we should all be able to agree the Yankees are not good enough to get back into the postseason as presently constructed. That's okay though! The offseason is relatively young and Spring Training is still two months and nine days away according to our handy countdown in the sidebar. The Yankees have plenty of time to re-sign Cano and fix their pitching staff and do whatever else.
That's the first point I was trying to make, that the team still needs to add pieces to get back to contention. The second and more important point has to do with where the Yankees sit on the win curve and the value of adding those necessary pieces. Forty-eight hours ago the Yankees were a baseline 75-win based on the numbers I just slapped together, but they added Ellsbury and now they're an 80-win team. That's a nice upgrade but, at the end of the day, they're still just an 80-win team and no cares about 80-win teams. They don't get anything, not even one of those little participation trophies they hand out in Little League. Eighty-win teams are afterthoughts.
Given where the Yankees are on the win curve right now, every move they make and every win they add to the roster going forward has a greater and greater impact on their postseason chances. Going from 75 wins to 80 wins with Ellsbury is nice but it doesn't really do anything as far as the playoff race is concerned. Re-signing Cano, however, would take them from 80 wins to about 86 wins and that's a huge, huge move up the win curve. Suddenly they're on the postseason bubble. Re-sign Kuroda and they're at 88 or 89 wins, which really puts them in the playoff picture. Add another starter (Masahiro Tanaka?) and a reliever or two on top of that and … well, you get the idea.
As we found out last night, missing the postseason can be very costly for the Yankees. Brian Costa reported the team saw a $58M decline in ticket revenue from 2012 to 2013 and they surely lost concession revenue on top of that. The value of adding wins 80+ to the ledger in the coming weeks is greater to the Yankees than it is any other club because the Yankees' brand is built on winning, and the brand suffers in a big way financially when they don't win. The Ellsbury signing (not so much McCann, in my opinion) shows the team is willing to overpay to add the wins they need to get back into the postseason because it will be too financially damaging if they don't. Remember, at the end of the day, the Yankees are still a for profit business.
"The financial payoff at this juncture, coming off a missed postseason, is way more than any other team stands to gain by improving themselves by three, four, five, six wins — whatever the number might be," president of SABR and consultant to MLB teams Vince Gennaro said to Costa. "The second-biggest problem the Yankees could have is overpaying for a free agent. The biggest problem is not getting the free agent they need to get back to the postseason and make a deep run into it … Let me tell you: If the Yankees were an 85-win team or an 83-win team for three or four years in a row, they would suffer financially orders of magnitude more than any other franchise."
The win totals I've been using in this post are trivial; don't get too caught up in the them. The point is that the Yankees were a mediocre team this past season and they got worse this winter because they lost several key players to retirement and potentially free agency. They improved a bit with McCann and Ellsbury but not enough to get back to being a serious contender. To do that, they need to add some pitching and (especially) re-sign Cano in the coming weeks. All the team has done so far this offseason is go from mediocre to bad to back to being mediocre. It's the next few moves that will be the most important because the value of an individual win and getting back into contention is so high.