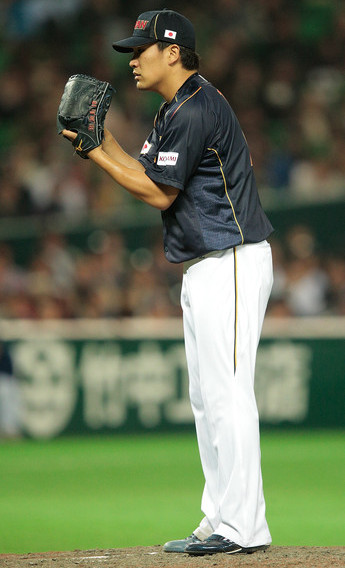 At some point very soon, MLB and NPB are expected to finalize a new posting agreement allowing Japanese players to come across the pond prior to qualifying for international free agency. Reports indicate the maximum allowable bid will be $20M, and any team who bids the max will be allowed to negotiate with the player. It's a really crummy deal for the Rakuten Golden Eagles, who were surely expecting $50M+ for ace right-hander Masahiro Tanaka this winter.
The new system essentially creates true free agency with a $20M tax. Only the team who signs the player has to pay the posting fee, so there's really no reason for any team not to submit a max bid for a player like Tanaka. There's always a chance he shows up to negotiations and says "You know, I've always wanted to pitch in Denver" or something like that. For small market teams who can't afford a player like Tanaka, such as the Rays or Padres or Athletics, there is some value in simply throwing your hat in the ring and making things slightly more difficult for your rivals.
For the Yankees, the new system makes Tanaka less desirable from a financial standpoint. That goes for all big market teams, really. The posting fee does not count against the luxury tax, so New York could have submitted a huge bid, then signed Tanaka to a below market contract (which does count against the luxury tax) because they had exclusive negotiating rights. The setup was great even if the Yankees weren't trying to get under the $189M luxury tax threshold. Now the posting fee will be relatively small and the contract much larger because the player will be on the open market.
As far as the luxury tax goes, the new system does hurt the Yankees. That said, Tanaka remains the best pitcher available this winter, at least in some ways. If you're looking to maximize 2014 impact, guys like Hiroki Kuroda and Bartolo Colon and Matt Garza are probably better bets. That first year always seems to be something of an adjustment period for Japanese hurlers. Long-term, the just-turned-25-year-old Tanaka seems like a better investment than the 30-year-old Garza and the soon-to-be 30-year-old (and spectacularly inconsistent) Ubaldo Jimenez, assuming he's as good as everyone says he is. Plus he won't cost a draft pick (Garza won't, Ubaldo will).
The Yankees were expected to make a very hard push for Tanaka before the posting system changes, so they obviously like him and think he can handle the transition into the AL East and a tiny home ballpark. The favorable contract and luxury tax system really made him a perfect fit. Does the new system change that? It doesn't change Tanaka as a pitcher, it just means he'll be more expensive if they go over the luxury tax threshold. The new system figures to actually lower the total cost — $70M posting fee plus $50M contract under the old system vs. $20M posting fee plus $80M contract under the new system, sound about right? — it just gives the majority of the money to the player rather than his former team in Japan.
The Dodgers, Cubs, Blue Jays, Rangers, Angels, and Mariners were expected to be in on Tanaka before the posting system changes and I assume they will remain serious bidders. I'm sure teams like the Orioles and Diamondbacks will submit max bids, but when push comes to shove, they don't stand much of a chance when it comes to offering a competitive contract. Wooing Tanaka will not be easy for the Yankees even if they throw a ton of money at him. I think the Dodgers are a very real threat because, in addition to all their money, there's a big Japanese community in Los Angeles and the travel back to Japan is way easier. Same goes for Seattle. If Tanaka is all about the money and will go to whichever team offers the most, the Yankees are in better shape to land him. They have every reason to overpay for guys right now.
Under the old posting system, Tanaka was a near perfect fit for New York. He was luxury tax friendly and, more importantly, they can really use a high-end 25-year-old starter. The plan to get under the luxury tax threshold was predicated on a young rotation built around Ivan Nova, Michael Pineda, and Manny Banuelos, but that hasn't materialized for many reasons. Under the new posting system, Tanaka remains just as good a fit on the field but won't come with the same luxury tax friendly cost. He is still the best available pitcher on the market and the Yankees should still make a very strong push to land him, it'll just be much more difficult now.
Update: Jerry Crasnick reports Rakuten president Yozo Tachibana said the team may simply hold onto Tanaka rather than pawn him off for $20M. "We have an obligation to explain to our stakeholders whether it's fair. There's a possibility we won't take the next step," he said. They could hold onto him for a year and post him next year if the posting agreement changes again.