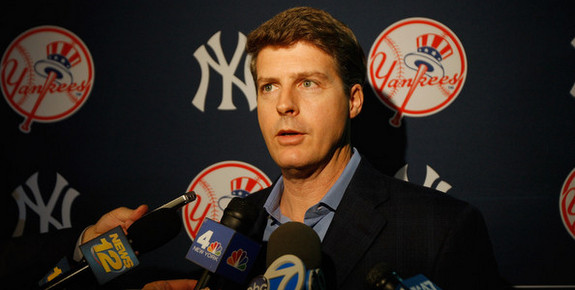 Despite a spending spree to open the off-season, the Yankees' roster still has plenty of needs. We can expect that they'll reach out to GMs and agents this week in an attempt to fulfill those needs and make the 2014 roster situation clearer. Nothing is guaranteed, as Brian Cashman will tell you until you're sick of hearing it. But the Yankees clearly have motivation to make their moves and get a better grasp of where they stand.
A few of the remaining free agents make sense. Omar Infante fits as a second baseman who plays acceptable defense and can hit for about league-average numbers. Masahiro Tanaka could get posted. Even if he doesn't the Yankees have needs in the rotation and could seek one of the free agent pitchers (about whom it appears teams are less than enthralled). However they choose to pursue additional players, it remains certain that they're needed for a robust 2014 roster.
They might not fill out the roster with any of the remaining free agents, or at least the household names. Joel Sherman quotes a "key-decision-maker" for the Yanks: "we are certainly done with the big free agents this off-season." So does that mean the Yankees will prioritize the trade route rather than the remaining free agents?
In a way it makes sense. Even if A-Rod's suspension stands, the Yankees are butting up against their $189 million payroll goal.* Letting off the gas at this point might make sense, especially considering that they've spent $299 million already this off-season. But on the other hand, why go gung-ho and then not finish the job? The Yankees have helped improve the club this off-season. There seems little sense in beefing up the roster, only to skimp when it comes to the complementary pieces.
*So it appears that they did spend money without regard to A-Rod. Neat.
This could be a bluff, of course. Then again, I'm not sure any team would buy a Yankees bluff at this point. Teams know that they're going to do what's necessary, and that could very well mean picking up another free agent. Sherman's source did say "big free agents," a term open to wide interpretation. Is Infante a big free agent? Is Grant Balfour? Raul Ibanez? Or are big free agents limited to guys like Shin-Soo Choo, Matt Garza, Ervin Santana, and Unbaldo Jimenez? If the latter is the case, sure, the Yanks appear out on those guys.
For two years we've heard about Plan 189, and for at least a year we've bemoaned moves, or lack of moves, that push the Yankees in that direction at expense of the on-field team. The Yankees restored some faith this off-season by spending some dough to beef up the roster and create a contender for 2014. But they're not done yet. They've pulled no punches to this point. Why not finish the job the way they started it?