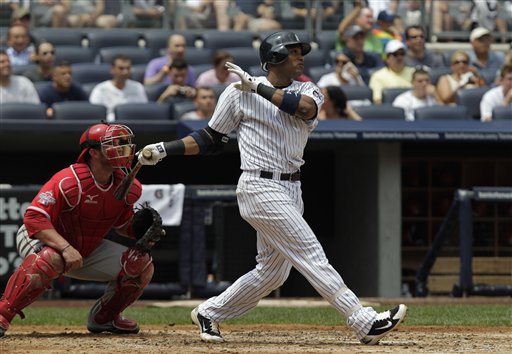 For what is probably the first time in franchise history, a homegrown star is leaving the Yankees as a free agent because the team was outbid. Robinson Cano has agreed to a ten-year contract worth $240M with the Mariners, reports Enrique Rojas and Jon Heyman. The deal comes only a few hours after it was reported talks had fallen apart over excessive demands. He will take his physical on Monday. New York will receive a supplmental first round pick in return.
Cano, 31, receives the fourth largest contract in baseball history, behind Alex Rodriguez's two contracts (ten years, $252M and ten years, $275M) and Albert Pujols' deal (ten years, $254M). It's the tenth largest contract in history in terms of average annual value. The Yankees reportedly held a hard-line and topped out at seven years and $175M, and there's just no way Cano could turn down an extra $65M. He'll also keep a ton of extra money because Washington has no state income tax.
The Yankees have been adamant about not pushing their offer to ten years and rightfully so given the A-Rod nightmare. They take a huge hit in the short-term — Cano is irreplaceable, they'll need to acquire about three players to make up the lost production — but will better off down the road, when they aren't saddled with another albatross contract. I don't blame them at all for meeting his asking price. It was excessive. This definitely has an A-Rod-to-Texas vibe, a great player joining a terrible team because they offered the most money. For his sake, I hope Robbie isn't looking for a way out in three years.
Cano leaves the Yankees as a .309/.355/.504 (126 wRC+) career hitter with 1,649 hits and 204 homeruns. Over the last four seasons, he's put up a .312/.373/.533 (142 wRC+) batting line while ranking first in baseball in bWAR (29.7) and second in fWAR (25.4). Robbie finished second in the 2005 Rookie of the Year voting (behind Huston Street) and is a five-time All-Star, five-time Silver Slugger, and two-time Gold Glover. He has received MVP votes in six seasons and finished in the top six of the voting in each of the last four years, plus he's missed a grand total of 14 games in the last seven years. There's no denying he is one of the five best players in the world right now.
Among Yankees second baseman, Cano ranks third in hits (1,649), first in doubles (327), first in homers (204), fourth in games played (1,374), and third in bWAR (45.1). He is obviously in the conversation for greatest second baseman in Yankees history, along with Tony Lazzeri and the perpetually underrated Willie Randolph. Among all players, Cano is ninth in franchise history in batting average (.309), eighth in doubles (375), tenth in hit-by-pitches (54), 14th in homers (204), and 14th in bWAR. The Yankees have had a lot of really good players over the years.
So where do the Yankees go from here? I don't really know. They've been connected to Omar Infante and he seems like a logical second base replacement. Mark Ellis is a lower cost alternative and they did just signed Kelly Johnson, after all. Dean Anna and Eduardo Nunez are the other in-house candidates. The Yankees have a nice chunk of change to spend now though, and I definitely expect them to spend it somehow. Adding pitching is a necessity and they definitely need to add another bat now, even after signing Brian McCann and Jacoby Ellsbury.
There's no way to sugercoat it: the Yankees lost their best player and take a huge hit with the Cano's defection to Seattle. They had an uphill climb this winter anyway after winning only 85 games in 2013 (79-win team by run differential) and now that climb will be much more difficult. Adding McCann and Ellsbury is a good start, but they need to do a lot more to get back to contention now. Cano was an elite player at a hard to fill position and he was a fan favorite. It's tough to believe he's actually leaving. The Mariners were nice enough to soften the blow with their huge offer; it's a little earlier to say goodbye considering how much they bid.