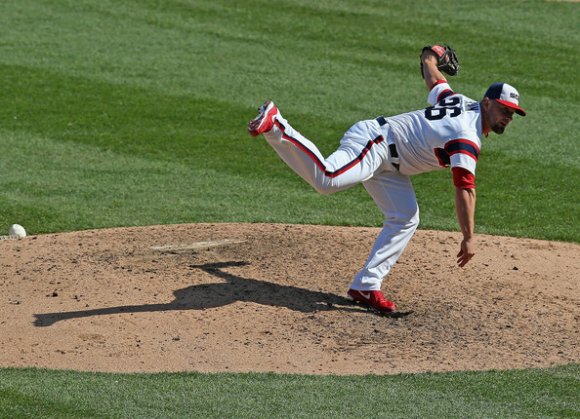 In the high and low search for bullpen depth, the Yankees should explore all angles. This includes closers, even though David Robertson is probably their best bet. It can also include guys like Joaquin Benoit, who can provide setup help and a safety net at closer. But adding just one arm, even a high-end one, probably won't be enough. The Yankees would do well to add a couple of arms for the bullpen.
Jesse Crain's name hasn't come up very often this off-season, and for good reason. After a superb first half of the season, Crain suffered a shoulder injury that kept him off the field for the remainder of 2013. The Rays traded for him, and even activated him from the disabled list, but Crain's shoulder just wasn't ready. He's now a free agent, for the second time in his career. The first time around he signed a three-year, $13 million contract that was roundly mocked at the time (as are essentially all reliever contracts, so pay no mind), but he pretty much lived up to it during his three years in Chicago.
Jon Morosi reports that Crain has multiple offers. Given their needs in the bullpen, it's possible the Yankees are among the interested teams.
Pros
Crain has pure strikeout stuff, and it has seemingly developed since moving from Minnesota to Chicago. His mid-90s fastball helps set up a quality changeup, which he uses sparingly but effectively.
Despite having just his second go-round in free agency, Crain is just 32 years old. He could help the setup corps for a couple of years if healthy.
At the same time, he'll probably only get a one-year guarantee, helping reduce risk.
Crain is absolute death to right-handed hitters, especially in the last two years.
During his three-year contract with the White Sox he produced a 2.10 ERA, 206 ERA+.
Cons
Crain's shoulder injury is certainly of concern. He didn't require surgery, which is a positive sign. This also isn't his first shoulder injury. In 2007 he underwent surgery on both his labrum and rotator cuff.
Then again, he had a 3.16 ERA (143 ERA+) before the surgery, and a 2.98 ERA (143 ERA+) since.
Then again again, he missed 22 games with a shoulder strain in 2012 as well, so his health history isn't looking great here.
In terms of production, the one downside is his walk rate, 3.5 per nine for his career. This is most pronounced against lefties: 4.55 BB/9 for his career, compared to 2.81 per nine against righties.
While Crain remains a risk due to his shoulder, he still warrants a look on a one-year deal. Even with his performances in the last two years and the demand on the market, it would take an especially crazy team to go beyond one year and a team option. That would seem to work for the Yankees, especially given 1) the weakness of the 2014 bullpen and 2) the probability that the farm system will soon produce some bullpen-ready arms such as Dellin Betances, Rafael DePaula, and Jose Ramirez. Crain could provide a nice one-year stopgap, albeit a risky one.