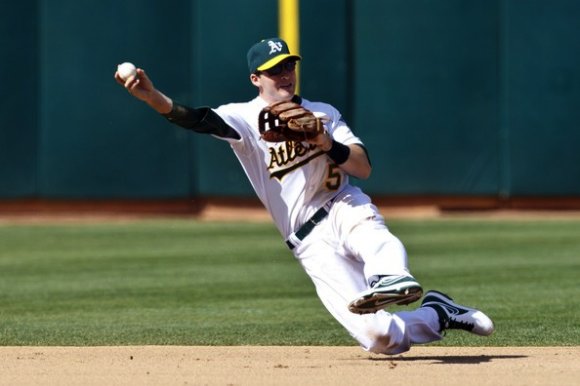 Drew waiting on A-Rod?
It's pretty clear that the Yankees won't add another position player until they know the fate of Alex Rodriguez. That could certainly cost them; players want certainty, and that means not waiting around for the Yankees if another attractive offer comes around. Yet one player could be waiting to see how this plays out.
In his typically cryptic manner, Peter Gammons says that Drew is "awaiting some further Yankee clarity" in making his decision. What this suggests is up to a wide range of interpretation, but it does indicate that the Yankees could have room for Drew in their infield plans if A-Rod is suspended for 100 or more games. Even if it's just a 50-game suspension, they could easily find 650 PA for Drew if he's willing to spend time at second, third, and short. On any given day he'd be the best option at one or more of those positions.
My one fear is that if Tanaka is not posted (or the Yankees don't sign him) and A-Rod is suspended for the entire season, the Yankees will go with some patchwork in the infield and on the pitching staff, sneaking in under $189 million. As Joel Sherman heard from someone in the organization, "We either have to be under $189MM or up over $200MM or more. Think how dumb it would look if we worked for a few years to get under $189 million and we didn't and we were at like $189 million and just missed. Either we go under or way over."
Here's rooting for way over.
No un-retirement for Pettitte
The Yankees still need another reliable starting pitcher, but after Masahiro Tanaka their options appear almost nonexistent. If anyone was thinking that they could convince Andy Pettitte to pitch one more year, that's out the window. "He has shut it down for good," said Brian Cashman. "That door is closed."
No one should have expected it to be open, either. Pettitte went out on top, pitching a complete game in front of family, friends, and Yankees fans in Houston. Not many pitchers get to finish the way Pettitte and fellow Yankee Mike Mussina did.
Youkilis headed to Japan
We know that Cashman talked to Kevin Youkilis about coming back, and we later heard that four AL East teams contacted him about playing in 2014. Apparently none of them offered much, because Youk signed a contract in Japan with the Rakuten Eagles. He earns $4 million guaranteed with chance at another million in incentives. Safe to say that no MLB team was willing to do that. Not after his 2013 season and general injury history.
Pitching head gear
MLB has taken another step towards player safety. A few weeks ago they banned home plate collisions. That wasn't easy, given that it's an ingrained part of the game, but it does make catchers safer. Their latest: headgear for pitchers. These special hats won't be mandatory, but will be available to interested pitchers. In the last few years we've seen guys like Brandon McCarthy and Alex Cobb take liners off the noggin. There has been many gruesome a scene involving a liner to the head (remember Matt Clement?).
Like the new batting helmets, many pitchers could opt against using the pitching headgear because of how it looks. That's a shame, though. As McCarthy said, "It should be strong and capable enough that literally if I got hit by the exact same ball, I would have been able to keep pitching in that game." Instead he suffered an epidural hemorrhage, a brain contusion, and a skull fracture.