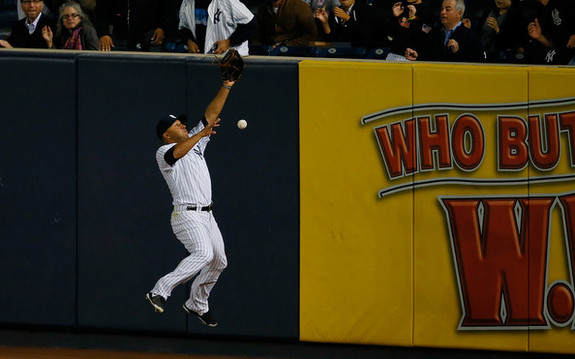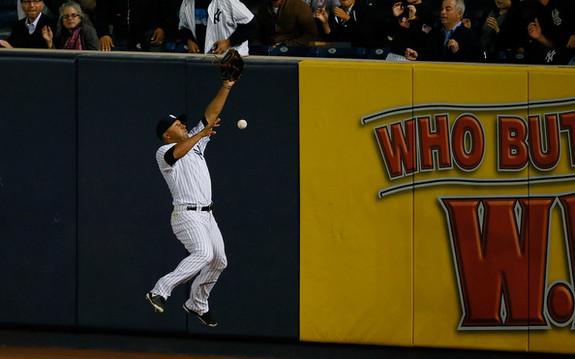 At some point very soon, perhaps today, the Yankees will formally announce the signing of Carlos Beltran. The 40-man roster is full at the moment, so someone will lose their spot when Beltran puts pen to paper. The same will happen when Brian Roberts becomes official. Ditto Matt Thornton and another starter and a third baseman and a reliever or two.
Needless to say, the Yankees are going to have some tough decisions to make regarding roster spots in the near future. There are more pending contracts and still unaddressed needs than obvious designate for assignment/release candidates. Let's sort through the roster (here's the 40-man for reference) and attempt to figure out who is most expendable when 40-man spots are needed in the coming weeks.
Definitely Safe (19): Jacoby Ellsbury, Brett Gardner, Slade Heathcott, Derek Jeter, Kelly Johnson, Shawn Kelley, Hiroki Kuroda, Brian McCann, J.R. Murphy, Ivan Nova, David Phelps, Michael Pineda, David Robertson, Brendan Ryan, CC Sabathia, Gary Sanchez, Alfonso Soriano, Mark Teixeira, Adam Warren
These nineteen players aren't going anywhere for obvious reasons. They're either key pieces of the big league roster or among New York's top prospects. If any of these guys are traded, they'll be traded for someone to help the big league team. Not a non-40-man roster candidate for a sake of clearing a roster spot.
It's Complicated (1): Alex Rodriguez
The day will come when the Yankees dump A-Rod off the 40-man, but that day is not imminent. Not as long as the ruling for his appeal hearing — a ruling that could save the team tens of millions of dollars — is still pending.
Now, that said, Rodriguez would not count against the 40-man roster if he is suspended, so he could win up opening a spot anyway. The ruling is expected sometime next month and there are indications the Yankees won't add another infielder until it comes down — makes sense since there is only one open position player slot on the roster at the moment — so either A-Rod or a player occupying his 40-man spot will man third come Opening Day. Like I said, it's complicated.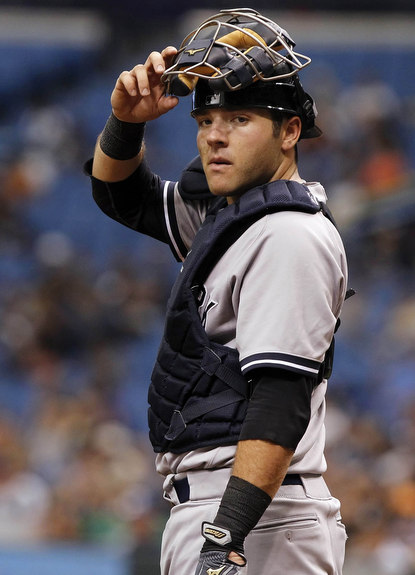 Probably Safe (12): Manny Banuelos, Dellin Betances, Cesar Cabral, Jose Campos, Frankie Cervelli, Preston Claiborne, Shane Greene, Bryan Mitchell, Eduardo Nunez, Vidal Nuno, Jose Ramirez, Austin Romine
I don't think you can say any of these folks are absolutely locked into the roster spots and untouchable, but it would be surprising if they were dumped to make room for someone else. Is it possible? Sure. Likely? Nah. There's no such thing as too much pitching or catching depth, and the Yankees are in a position to cut loose an infielder like Nunez at this moment.
On The Bubble (6): Zoilo Almonte, Dean Anna, Ramon Flores, Brett Marshall, Ichiro Suzuki, Nik Turley
These are the guys who could legitimately lose their roster spot in the next few weeks. Ichiro is a useful fifth outfielder at this point but he doesn't really have a role with the team outside of defensive replacement and pinch-runner. The Yankees have been shopping him in recent weeks and if the opportunity emerges to shed some salary, they'll probably jump all over it.
Flores and Marshall had disappointing 2013 seasons and that's probably enough to put them on the chopping block. They're okay but not great prospects, the kinda guys who could slip through waivers. Turley is a notch above those two on the prospect totem pole and since he's both left-handed and breathing, he'd definitely get claimed off waivers. He seems like an unlikely future roster casuality but I wouldn't rule it out completely if things get tight.
Almonte and Anna are the "next in line" depth players. If (and when, really) an outfielder gets hurt next summer, Almonte will be called up to take his place. When an infielder gets hurt, it'll be Anna. Maybe the Yankees feel comfortable with Heathcott and Nunez in those roles, but that MLB-ready depth is never a bad thing. Considering the current roster situation, it's not unreasonable to think one of these two could be in jeopardy come February or so.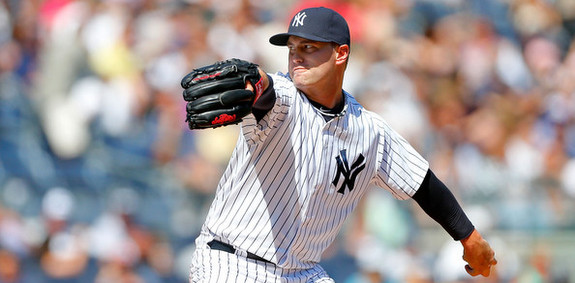 Front Of The Line (2): David Huff, Vernon Wells
These two guys stand out as obvious candidates to lose their spots. Huff had a nice run as a swingman late in the season but he has a) not been mentioned as part of any kind of Spring Training competition, and b) been replaced as the lefty out of the bullpen by Thorton. As a soft-tosser in a tiny ballpark in the AL East with no track record of big league success, he's exactly the kind of guy you want to dump too early rather than too late.
Wells, meanwhile, has been relegated to sixth outfielder status by the Ellsbury and Beltran signings. He doesn't hit lefties (89 wRC+ vs. LHP in 2013) and his power completely vanished in mid-May last season. He also doesn't play anything more than passable defense and isn't particularly versatile. Wells is a man without a role now that he's stopped hitting southpaws, making him a prime roster cut candidate. The fact that he counts as zero dollars against the luxury tax (the Yankees owe him $2.4M in real dollars next season) makes walking away a little easier to swallow.
* * *
Whenever the Beltran contract is made official, it would make sense that Wells would lose his 40-man roster spot as the corresponding roster move. The Yankees would still have Ellsbury, Beltran, Soriano, Gardner, and Ichiro at the big league level with Almonte slated for Triple-A. Cutting Wells for Beltran is so obvious and makes so much sense it probably won't happen. I wouldn't be surprised if they cut Huff instead.
Either way, both guys seem likely to lose their 40-man spots in the coming weeks given the roster crunch. After them, I would guess Marshall and Flores are most at risk of being cut. An Ichiro trade and/or an A-Rod suspension would both make life a little easier and give the team some added flexibility. Once Huff and Wells are gone, the Yankees are going to have to make some real tough decisions when it comes to fitting everyone on the roster heading into next season.