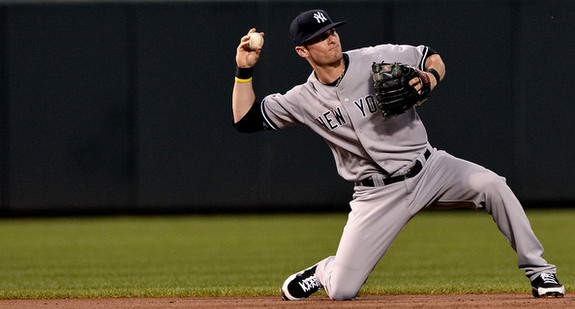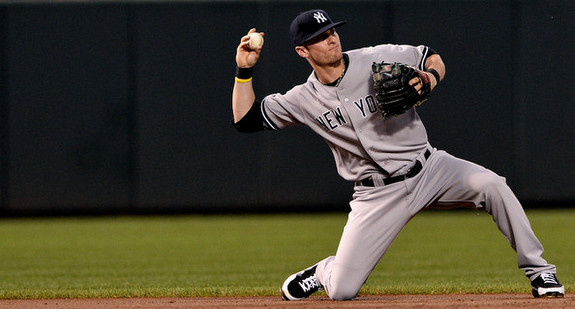 Dec. 2nd: Joel Sherman reports Ryan will earn $2M in both 2014 and 2015. There is a club option worth $2M for 2016, but if that is declined, Ryan will have a player option worth $1M. His luxury tax hit will be $2M for the next two years. Hopefully this is the last update.
Nov. 27th: Ken Rosenthal says it's a two-year contract worth $5M plus a mutual option for 2016 that could push the total value to $10M. Options are complicated, but I believe Ryan's luxury tax hit will be $2.5M since the mutual option does not exceed 50% of the potential total value of the deal. The contract is official according to Rosenthal, so the 40-man roster is now full.
Nov. 18th, 3:17pm ET: It's a one-year pact worth $1-2M or so, according to George King and Buster Olney. Not bad, pretty reasonable. The deal is not yet final, however.
1:00pm ET: The Yankees will have a legitimate shortstop on their roster next season. Jon Heyman reports the team has a deal in place with free agent infielder Brendan Ryan, though terms of the contract are unknown at this point. I can't imagine it'll be longer than one year. The two sides were said to have an agreement in place a few weeks ago, but Ryan had an unknown minor surgery after the season and his physical was delayed. The Yankees have not officially announced anything yet.
Ryan, 31, spent the end of 2013 with the Yankees after being acquired from the Mariners on September 10th. He hit .197/.255/.273 (44 wRC+) in 349 plate appearances overall and .220/.258/.305 (51 wRC+) in 62 plate appearances in pinstripes. There is little to like about Ryan's offensive game. He's never hit (career 71 wRC+ in over 2,600 plate appearances) and this past season he struck out more than the league average (20.9%), walked less than the league average (6.6%), showed little power (.075 ISO), and didn't steal bases (4-for-6). With all due respect, he's a zero at the plate.
Defensively, on the other hand, is where Ryan stands out. He is an elite defensive shortstop regardless of metric — +51 DRS, +26.5 UZR, +19.1 FRAA, and +19 Total Zone since 2011 — with ridiculous range, baby soft hands, and a strong throwing arm. The guy can really go get the ball.
Ryan is one of the best shortstop defenders in baseball and by far the best on the Yankees. Hal Steinbrenner recently told Derek Jeter that despite his new contract, the team intends to pursue a capable everyday shortstop following his injury-plagued season. I'm not a fan of players who can't hit (like, at all) but Ryan is an asset because of his defense and would contribute much more in a full-time role than Eduardo Nunez, whose only redeeming quality is his speed.
It has been a while since Ryan has played a non-shortstop position — last played second base in 2009, last played third in 2008 — but given his defensive ability, I don't think moving around the infield would be much of a problem. Jeter figures to play shortstop whenever possible because hey, he's Derek Jeter, but his time at DH is likely to increase this season. Ryan is an upgrade over Nunez and chances are he will be an oft-used bench player in 2014. The Yankees still have a number of roster questions to answer this winter, but backup middle infielder is no longer one of them.