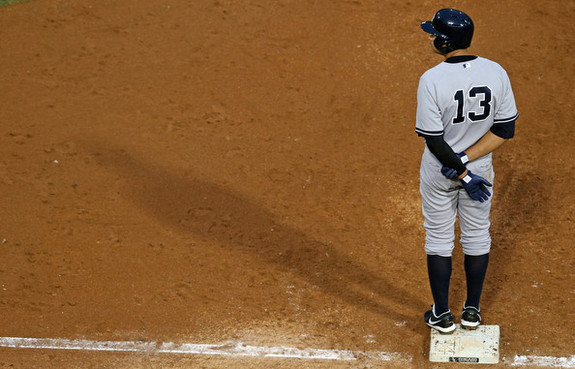 After weeks and weeks of waiting, we now know Alex Rodriguez has been suspended for the entire 2014 season. The team still owes him some salary and he will count a small amount against the luxury tax this year (as I explained earlier), but for the most part his massive $27.5M luxury tax hit has been wiped off the books. Plus they don't need to worry about his first $6M homerun milestone bonus. You can bet the front office and ownership are rejoicing.
With A-Rod suspended, it is once again time to look over the team's payroll situation. As a reminder, the numbers listed are luxury tax hits, not actual 2014 salary. The two can be and often are different. For reference, here are Part One (last January), Part Two (August), Part Three (November), and Part Four (December) of the series.
Under Contract ($153.766M): CC Sabathia ($24.4M), Mark Teixeira ($22.5M), Jacoby Ellsbury ($21.9M), Brian McCann ($17M), Hiroki Kuroda ($16M), Carlos Beltran ($15M), Derek Jeter ($12.81M), Ichiro Suzuki ($6.5M), Alfonso Soriano ($4M), Matt Thornton ($3.5M), A-Rod ($3.156M), Kelly Johnson ($3M), Brian Roberts ($2M), Brendan Ryan ($2M)
Arbitration-Eligible ($14.8M projected): David Robertson ($5.5M), Brett Gardner ($4M), Ivan Nova ($2.8M), Shawn Kelley ($1.5M), Frankie Cervelli ($1M)
Pre-Arbitration-Eligible: Zoilo Almonte, Dean Anna, Manny Banuelos, Dellin Betances, Cesar Cabral, Jose Campos, Preston Claiborne, Ramon Flores, Shane Greene, Slade Heathcott, David Huff, Bryan Mitchell, J.R. Murphy, Eduardo Nunez, Vidal Nuno, David Phelps, Michael Pineda, Jose Ramirez, Austin Romine, Gary Sanchez, Nik Turley, Adam Warren
Potential Bonuses ($10.1M): Jeter (up to $7M based on awards), Roberts (up to $2.6M in incentives), Kuroda (up to $500k based on innings)
Other ($12.085M): Benefits (approximately $12M), Kuroda's translator ($85k)
Roberts' one-year contract — Dan Connolly says it includes a $2M base salary plus $2.6M in plate appearance-based incentives — is not yet official but it will be very soon, so I'm including him. And yes, Kuroda's translator counts against the luxury tax according to Dan Martin and Ken Davidoff. So silly.
The 15 players who are on the 40-man roster but not on the active 25-man roster are typically estimately at $2M-5M, so let's go with $5M. Adding together everything above gives us a $195.751M payroll for luxury tax purposes for this coming season. If we say Jeter and Roberts are unlikely to trigger their bonuses but Kuroda will hit his, we're still at $186.151M. It's worth noting the players' union expects Gardner's salary to be "considerably higher" than projected by Matt Swartz's model. We're just going to have to wait to see about that.
That $186.151M gives the team just $2.849M to spend under the $189M luxury tax threshold. It also leaves them with this projected 25-man roster come Opening Day:
Catcher

Infielders

Outfielders

Rotation

Bullpen

McCann
1B Teixeira
LF Gardner
Sabathia
Robertson
2B Roberts
CF Ellsbury
Kuroda
Kelley
DH
SS Jeter
RF Beltran/Soriano
Nova
Thornton
Beltran/Soriano
3B Johnson
? (Phelps)
? (Warren)
?
?
Bench
?
C Cervelli
OF Ichiro
?
IF Ryan
?
Based on what we heard yesterday, that last bench ? is going to a low cost player like Nunez, Anna, Scott Sizemore, Corban Joseph, or Yangervis Solarte. Johnson's flexibility means he's the emergency fifth outfielder in any given game. Barring a surprise addition, the position player portion of the Opening Day roster is pretty much set aside from that forthcoming Spring Training competition.
The pitching staff is much more up in the air. We know the Yankees are pursuing Masahiro Tanaka but signing him is not a given. If they fail to sign him, Brian Cashman has indicated they could look for cheap starters a la Freddy Garcia and Bartolo Colon back during the 2010-11 offseason. What we do know is there will be a fifth starter competition in camp, so that guy will be cheap. I have Phelps in parentheses in the table just because he seems like the favorite for the job, but it could just as easily be Warren. I do expect both to be on the Opening Day roster though, one as a starter and one in the bullpen.
The last three bullpen ?s could all wind up going to cheap internal candidates and the Yankees have a ton of 'em. Huff, Betances, Claiborne, Cabral, Nuno, Robert Coello, Brian Gordon, Matt Daley, David Herndon, on and on it goes. I would love to see the Yankees add one (preferably two) relievers with some more big league pedigree, someone like Grant Balfour or Luis Ayala or even Joel Hanrahan, who isn't expected to return from Tommy John surgery until sometime in May or June. Cheaps bullpens are great, but a bullpen in which Kelley is the second best reliever makes me a wee bit nervous.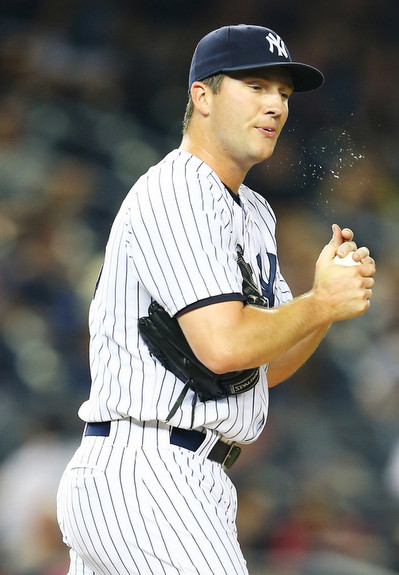 So let's say that out of those seven total ?s, five will be filled internally. Sizemore, Phelps, Warren, Huff, and Betances. Sound good? Good. Those guys will all earn something close to the league minimum, meaning another $3M or so added to the payroll. That brings us up to $189.151M total with one rotation spot and one bullpen spot still open. So the Yankees are already over the luxury tax threshold without a full roster or money set aside for midseason call-ups and waiver claims and whatever else.
There is obviously some leeway here — my $5M assumption for the 15 non-active roster players is conservative — but it's clear signing Tanaka will put the Yankees over the luxury tax threshold. No doubt about it. Going with a cheap starter and a moderately priced reliever like Ayala would also put them over the threshold. Heck, going cheap with that last rotation and bullpen spot still puts them right up against the threshold at the very least, if not over. And remember, Gardner's salary may end up larger than projected and they'll need to call guys up throughout the season. The only two ways the Yankees can realistically clear payroll is by trading Gardner or Ichiro, and they'd have to eat some cash to move the latter. Plus they'd have to pay players to replace them.
Even with A-Rod almost completely off the books, the Yankees are still going to wind up over the luxury tax threshold this summer. The only question is how much. As one team executive said recently, "We either have to be under $189M or up over $200M or more. Think how dumb it would look if we worked for a few years to get under $189M and we didn't and we were at like $189M and just missed. Either we go under or way over." Given their current payroll situation, it looks like they'll be way over. Hooray for that.