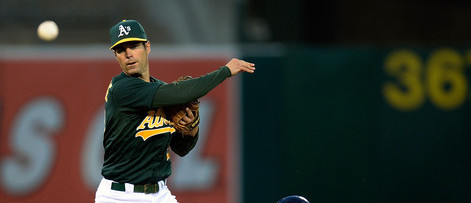 The Yankees have added to their infield depth. The Kens (Rosenthal and Davidoff) report the team has signed infielder Scott Sizemore to a minor league contract that I assume includes an invitation to Spring Training as well. He passed up two guaranteed Major League offers to sign with New York according to Joel Sherman.
Sizemore, 29, showed some promise with the Tigers and Athletics back in 2011, hitting .245/.342/.399 (109 wRC+) with 11 homers and a 12.4% walk rate in 429 plate appearances. He has played only two games these last two years after tearing and re-tearing his left ACL. Sizemore, who has primarily been a second and third baseman throughout his career, is expected to be ready in time for camp.
The Yankees need a third baseman in the wake of Alex Rodriguez's suspension and Sizemore is as good a candidate for the job as anyone currently in the organization. He would remain under team control as an arbitration-eligible player through 2016 and effectively replaces David Adams as a right-handed hitting second/third baseman who has shown promise with the bat. Could be a nice little signing if Sizemore gets healthy and shows his 2011 production was not a fluke.