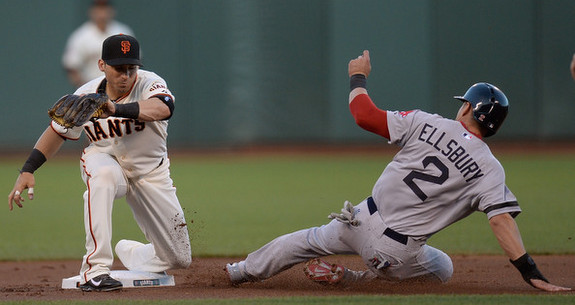 Thanks to the magic of free agency, the Yankees completely overhauled their offense this offseason. Brett Gardner is the only player from the 2013 Opening Day starting lineup who projects to be in the 2014 Opening Day starting lineup, but there's still a chance he will be traded in the coming weeks. All that turnover isn't a bad thing, of course. The Yankees had their worst offense since the early-1990s last year and they needed the overhaul.
As I mentioned last week, all the lineup turnover should lead to longer at-bats and more walks this summer. The Yankees were a pretty impatient club in 2013, especially by the team's usual standards. Patience and plate discipline aren't the only things that will change though. All the new faces will impact the team's running game as well. No one thinks of New York as a running team, but they've stolen at least 100 bases in seven of the last eight seasons (including last season) and have had a positive base-running value (per FanGraphs) in three of the last four years. Last year was the exception.
The 2013 Yankees ranked fifth in the league with 115 stolen bases and third with a 79% success rate. Only the Red Sox (87%) and Royals (83%) were better. Gardner and Ichiro Suzuki both topped 20+ steals while Eduardo Nunez and Jayson Nix were also in double-digits. Curtis Granderson and Alfonso Soriano managed eight steals apiece in their limited time. The team really lagged at taking the extra base, meaning going first-to-third on a single or scoring from first on a double. Stuff like that. They successfully took that extra base in only 35% of their opportunities, second lowest in the league (Tigers at 33%) and well-below the 39% league average. Here's how the regular lineup (using the guys with the most playing time at each position) fared on the bases:
| Players | 2013 SBA% | 2013 SB% | 2013 XBT% |
| --- | --- | --- | --- |
| C Chris Stewart | 4% | 100% | 19% |
| 1B Lyle Overbay | 1% | 100% | 23% |
| 2B Robinson Cano | 3% | 88% | 38% |
| SS Eduardo Nunez | 10% | 77% | 40% |
| 3B Jayson Nix | 11% | 93% | 36% |
| LF Vernon Wells | 7% | 70% | 39% |
| CF Brett Gardner | 14% | 75% | 45% |
| RF Ichiro Suzuki | 10% | 83% | 38% |
| DH Travis Hafner | 2% | 100% | 32% |
| TOTAL | 7% | 82% | 35% |
First things first, some definitions are in order:
SBA% or Stolen Base Attempt Rate: This is how often a player attempted to steal a base when presented with a stolen base opportunity. That is whenever they were standing on first or second base with no runner on the next base. The league average was 6%.
SB% or Stolen Base Success Rate: Pretty straight forward. How many times did you try to steal a base and how many times were you successful? The league average was 74%.
XBT% or Extra Base Taken Rate: I mentioned this above. It's the rate of which a player successfully took the extra base on a hit, meaning first-to-third on a single, etc. The league average, as I said, was 39%.
Simple enough, right? Last year's regular lineup attempted about an average number of steals relative to their opportunities, and they were usually successful. Nix was caught only once in 14 attempts and Ichiro was caught only four times in 24 attempts. Gardner was not nearly as prolific or successful stealing bases last year as he has been in the past, and my theory is that he often put on the brakes to make sure there was someone on base for Cano. When you struggle to score like the Yankees did, having men on for your best hitter is a necessity.
The slow guys like Stewart, Overbay, and Hafner managed to go a combined eight-for-eight in stolen bases attempts but those are anomalies. Usually when someone like that steals a base, it's on the back-end of a double-steal or because the pitcher completely stopped paying attention to them. The core base-stealers, the guys you expect to run like Nunez, Nix, Gardner, and Ichiro, were average or better on the bases in the three categories above. They carried the lineup to those strong overall marks, but most of those players are gone now. Either gone as in off the roster or gone as in relegated to a bench role.
Obviously, the club's biggest base-running addition this winter was Jacoby Ellsbury. He led baseball in both stolen bases (52) and FanGraphs' base-running value (+11.4 runs) in 2013, and those 52 steals came with only four (!) caught stealings. The guys was an animal on the bases. Ellsbury has three 50+ stolen base seasons to his credit and he's been successful in 84% of his career attempts. I don't think it's crazy to think he will be the Yankees' most dangerous base-running threat since Rickey Henderson way back in the day. Here's how the rest of the projected lineup has done on the bases these last three seasons:
| Players | 2011-13 SBO% | 2011-13 SB% | 2011-13 XBT% |
| --- | --- | --- | --- |
| C Brian McCann | 2% | 67% | 16% |
| 1B Mark Teixeira | 2% | 75% | 28% |
| 2B Brian Roberts | 7% | 77% | 42% |
| SS Derek Jeter | 5% | 71% | 33% |
| 3B Kelly Johnson | 8% | 76% | 29% |
| LF Brett Gardner | 21% | 77% | 48% |
| CF Jacoby Ellsbury | 19% | 83% | 49% |
| RF Carlos Beltran | 4% | 68% | 37% |
| DH Alfonso Soriano | 8% | 68% | 38% |
| TOTAL | 9% | 76% | 36% |
Teixeira and McCann are two of the very worst base-runners in baseball. Teixeira has never been fast and McCann has nearly 9,000 innings worth of squatting behind the plate on his legs. Amazingly, they might be downgrades from Overbay and Stewart on the bases, respectively. Thankfully they do almost literally everything else on a baseball field better.
Roberts and Jeter are almost complete unknowns due to injury. Roberts has barely played the last few years and Jeter missed almost all of last season due to a variety of leg and ankle problems. He wasn't a particularly good base-runner before that, as the table shows, but there's a chance he'll be Teixeira-esque on the bases this coming season due to his age and injuries. Roberts has been effective when healthy — a touch better than league average across the board in the table — but he's day-to-day at all times.
It's interesting that Beltran and Soriano had nearly identical success rates for stealing bases and taking the extra base from 2011-13, but the latter attempted twice as many stolen bases. Of course, Beltran's knees are a disaster while Soriano is perfectly healthy. That's a bit factor. Regardless of who is in right and who is at DH on a given day, they'll be a downgrade from Ichiro but an upgrade over Hafner. Ellsbury effectively replaces Wells and that's a huge upgrade. Johnson is solid on the bases — moreso while stealing bases than taking the extra base — but a downgrade from Nix.
The Yankees have a lot of age in their starting lineup (putting it lightly), so I think they're more likely to underperform on the bases compared to recent years than maintain the status quo. At least guys like Roberts, Beltran, Soriano, and Jeter. Ellsbury, Johnson, and Gardner should be fine, and in fact I think Gardner might go nuts and try to steal 50+ bases in his contract year. I would. Overall, given their rates these few years, the Yankees' rebuilt starting lineup may wind up stealing (substantially) more total bases in 2014 than 2013, but they may do so with less efficency and without doing a better job of taking the extra base on hits.