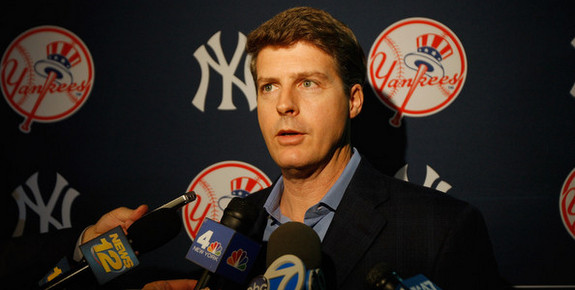 It has been four pretty chaotic days since Alex Rodriguez's record 162-game suspension was announced. Alex is suing pretty much everyone and doing his best to burn every last bridge. It's exhausting to follow, really.
Aside from a generic statement issued following the announcement of the suspension, the Yankees have not publicly discussed the matter. At least not until Wednesday. At the quarterly owners' meetings in Arizona, Hal Steinbrenner commented on A-Rod and his status with the team following the suspension. As you might expect, he didn't say anything too juicy. From Ken Davidoff:
"He's a great player," Steinbrenner said in the Yankees' managing general partner's first public comments since independent arbitrator Fredric Horowitz reduced Rodriguez's suspension from 211 games to 162 games. "I have not thought about 2015, nor am I going to right now. My focus has to be right now. But when he's on and when he's healthy, he's obviously an asset. We'll see what happens."

…

"Those of you that know me, I'm pretty objective in my thinking. This is business. I'm just focusing on the team, a player. Is the player an asset to the club or not? That's about as far as I look. I don't get personal … When Alex Rodriguez is healthy and himself, I think most objective baseball people would say he could be an asset to a club."
Hal didn't exactly say they would welcome A-Rod back following the suspension but he didn't completely take it off the table either. I don't expect them to bring Rodriguez back in 2015 — I do think they'll release him at some point, but what do I know — but there's no reason for Steinbrenner to come out and announce their plans now. Especially not with lawsuits pending and all that. There's nothing to gain.
One thing Hal did acknowledge was talking to MLB about a way to keep A-Rod away from the team during the Spring Training, or at least the intent to the talk to MLB. "We haven't even talked about it," he said. "Cross that bridge when we come to it kind of thing. We're going to reach out to [Major League Baseball], get their advice obviously, but haven't even addressed it."
The whole Spring Training thing is fascinating to me. I want to see how they'll keep him away or how the team will treat him during camp if there's no way to stop him from showing up in Tampa. Either way, I don't think it'll be easy or pretty. None of this has been.