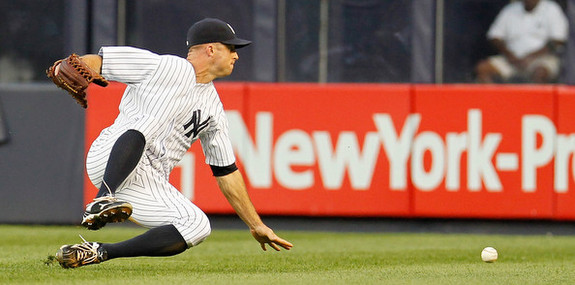 Thomas asks: Is there still any chance that the Yankees could trade Brett Gardner for a quality starting pitcher? Obviously the Yankees value him more than other teams but is Homer Bailey still an option if the Yankees were to throw in maybe Vidal Nuno and someone else?
In theory, yes, the Yankees still have plenty of time to trade Gardner for a starting pitcher. Spring Training is still six weeks away and Opening Day another seven weeks after that. They have three months to move him for a starter if they're so inclined. Time isn't the real issue here.
In order to trade Gardner for a starting pitcher, the Yankees have to find a trade partner that both needs an everyday outfielder and has a spare starter. There simply aren't many teams out there that fill the bill. I count three:
Red Sox
Twins
Reds
That's it. Maybe I'm missing someone obvious, but I don't think so. Those are the only teams I see that could use an outfielder and have extra pitching to trade.
A deal with Boston isn't happening for obvious reasons, but they are a fit on paper. Gardner could step right in to replace Jacoby Ellsbury in center (and give Jackie Bradley Jr. some more time in the minors) and the Red Sox also have six starters for five spots: Jon Lester, John Lackey, Clay Buchholz, Jake Peavy, Felix Doubront, and Ryan Dempster. Gardner for Peavy or Lackey (both have one year left on their deal with an option for 2015) seems reasonable enough, but again, it'll never happen.
As for the Twins, this is their outfield situation according to the team's official site:

Josh Willingham is listed as the everyday left fielder but he and his bad left knee are expected to see the majority of their time at DH. Oswaldo Arcia has promise and definitely should play everyday, plus they could give Aaron Hicks another opportunity, but otherwise that's a really thin outfield. Gardner would instantly be their top outfielder (and second best player behind Joe Mauer).
The problem with trading with the Twins is that the extra starters they do have pretty much stink. We're talking about guys like Samuel Deduno, Andrew Albers, and Scott Diamond. None are upgrades over David Phelps, Adam Warren, or Nuno. Trading Gardner for even two of those guys would make the Yankees weaker overall unless you think one of them is some kind of hidden gem, which would put you in the extreme minority. The Twins didn't spend over $80M on pitchers this winter to replace them for no reason. One more thing: why would they trade for one year of Gardner when they're so far away from contention?
The Reds have been the most popular rumored destination for Gardner because they need both a center fielder and a leadoff man after losing Shin-Soo Choo to free agency. Brett makes a ton of sense for Cincinnati, so much so that they already tried to acquire him (the Yankees said no to their offer of Brandon Phillips). Bailey is the name most often brought up because, like Gardner, he is a year away from free agency and in that "not great but better than he gets credit for" category. Both teams would be robbing Peter to pay Paul with that trade.
I think the Reds would have to re-sign Bronson Arroyo before trading one of their starters because their rotation depth isn't all that great. Tony Cingrani impressed last year and is now slated to be the fifth starter as Arroyo's replacement. If they deal Bailey, the internal replacement would be an unproven youngster like lefty David Holmberg or righty Chad Rogers, neither of whom is a standout prospect. They'd almost have to sign Arroyo or a comparable free agent to make trading Bailey work, and anytime there are that many moving parts to a deal, the less likely it is to happen.
Joe wrote about the difficulty of trading Gardner last month and nothing has changed. He probably has more valuable to the Yankees than anyone they could reasonably get in return. There is a lot of age (Alfonso Soriano, Carlos Beltran, Ichiro Suzuki) and injury risk (Ellsbury, Beltran, Gardner himself) in the outfield and dumping someone of Gardner's caliber doesn't make sense unless they get a very good starter in return. There could always be a surprise suitor — Peter Gammons says a half-dozen teams have called about Gardner, including the Phillies and Tigers — but right now it appears the best move is to hold onto Gardner and address the pitching staff through free agency.