Huge mailbag this week. Twelve questions and not a single one about Alex Rodriguez, thankfully. I tried to keep the answers short since there are so many of 'em. Remember to use the Submit A Tip box in the sidebar if you want to send us anything.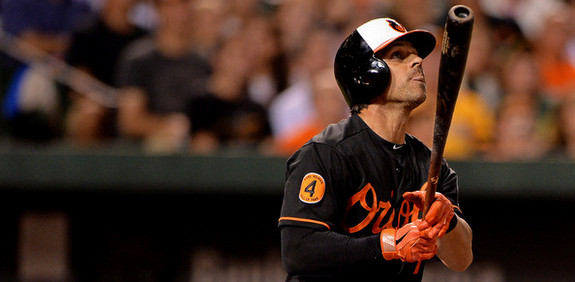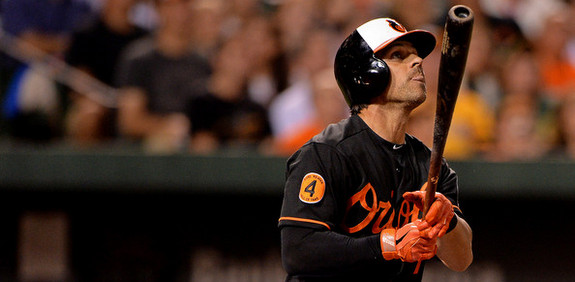 Jeff asks: What happened to Brian Roberts besides his problems with concussions and post-concussion sickness? I distinctly remember him being one of the best offensive second basemen in the mid-2000s. Is there even a minuscule chance he repeats anything close to it?
Roberts was awesome from 2005-09, hitting .294/.369/.451 (116 wRC+) while averaging 68 extra-base hits, 39 steals and 4.9 fWAR per 162 games. He missed more than three months with an abdominal strain in 2010 then suffered his first concussion later that year after whacking his helmet with his bat out of frustration. True story. He suffered his second concussion in May 2011 after hitting his head sliding into first base, and he dealt with post-concussion symptoms for several months after that. Roberts had surgery to repair his hip labrum in July 2012 and then missed three months last year after tearing his hamstring. That's a lot of serious injuries, especially the two concussions. Roberts was decent after returning from the hammy in late June (93 wRC+ in the second half) and that's probably the best we could reasonably expect out of him at age 36 and with all those recent injuries.
Manny asks: Suk-Min Yoon is planning on signing somewhere soon. Is Boras putting the cart before the Masahiro Tanaka-horse going to screw him here, or are they different markets for a guy like Yoon? Also, should the Yankees take note? From the little we've heard, he can start, he can close, he's useful and sounds like he could project something similar to a non-criminal Ace Aceves.
Everything you need to know about Yoon is in this post. The Yankees have had interest in the 27-year-old and he's a true free agent — there are no posting process hoops to jump through. Yoon is no Tanaka and he might not even be another Wei-Yin Chen — even Boras admitted he is "not an overpowering arm" — and the consensus is that he's more of a swingman/reliever than a big league starter. In fact, shoulder problems limited him to the bullpen for most of last year. Yoon will have no impact on the Tanaka sweepstakes whatsoever. I don't really have a grasp on what it would take to sign him and I'm not sure if he's an upgrade over in-house options like David Phelps and Adam Warren. The Yankees need relievers though, and if he's affordable, he might be an outside the box option to shore up the bullpen.
Ethan asks: The Giants would never do it because they don't have any other options at third, but would you do Brett Gardner for Pablo Sandoval in a vacuum?
Yes, I would. In fact, I wrote about Sandoval as a possible trade target earlier this offseason. He's a switch-hitter with power and surprisingly good defense, but weight and conditioning issues have hampered him his entire career. Both guys are due to become free agents next winter and given the team's needs, a Gardner for Sandoval trade would make a lot of sense for the Yankees. It would be risky — the one they call Kung Fu Panda has shed 42 points this winter (photo!) — but I think the potential reward is mighty big. It just doesn't make sense for San Francisco. Their outfield is full and they need Sandoval at the hot corner.
Dylan asks: Could we please have an update on Michael Pineda? I don't see too much about him recently in the news.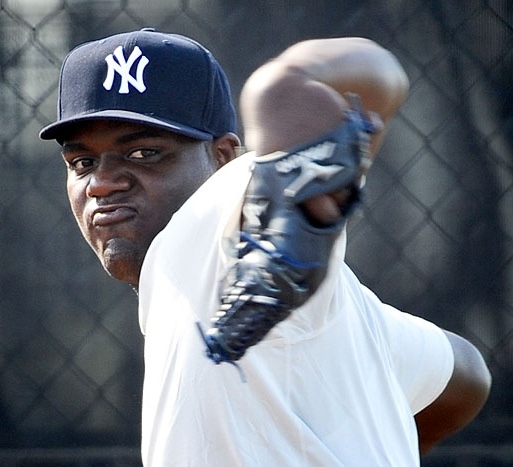 There is no real update on Pineda. At his annual end-of-season press conference, Brian Cashman said they shut him down late last year because he needed to rest after pitching and rehabbing for 15 months straight. "He is on a throwing program and healthy," said the GM to George King last month. "He is coming to Spring Training to win a spot in the rotation. He is a viable option." That's the update, I guess. No news is good news.
Mike asks: Given this story from MLB Trade Rumors: "Minor League Free Agents Finding Major League Deals" which highlights Jose Quintana, David Adams and others, could not "hating their own minor leaguers" be a new market inefficiency that the Yankees could exploit?
Heh. Letting Quintana walk was a massive blunder in hindsight. He could blow out his arm tomorrow and it still would have been a huge mistake. I would be surprised if the Yankees regret letting Adams go, especially since they've already replaced him with almost exactly the same player in Scott Sizemore. Those guys are a dime a dozen. Just about every team has given away an Adams or a Tyler Clippard or a Zach McAllister at some point, so the Bombers aren't all that different in that regard. None of their non-Warren minor leaguers impressed when called upon last year, so maybe they're right not to trust their own kids right now. The farm system isn't in great shape, especially when talking about MLB ready talent. Quintana was a huge mistake but I don't that's enough of a reason to give absolutely everyone a chance. He's an extreme outlier.
Billy asks: Ideally how many roster spots on the 40-man should be allocated towards players who will be of absolutely no help for the current season (Gary Sanchez, Jose Campos, etc.)?
I don't think there is an answer to this. It varies team by team and depends on a number of things, like the strength of their farm system and whether or not they are legitimate contenders. Every club is going to need to use a few spots on extra players, like extra bullpen arms and bench players. Guys you can send up and down without worrying about their long-term development. Is there a point where having a bunch of guys like Campos, who isn't expected to contribute to MLB at all in 2014, counterproductive? Sure. But that point is different for say, the Dodgers than it is the Astros.
Jeff asks: In the event that the Yankees don't sign Tanaka, would they be interested in Josh Beckett or Chad Billingsley if they're healthy and made available by the Dodgers?
I think the answer is no on Beckett but yes on Billingsley. Beckett was showing serious signs of decline — fading fastball and inability to put away lefties, mostly — before getting hurt and Thoracic Outlet Syndrome is no joke. It ended Chris Carpenter's career. Billingsley is still only 29, he's been rock solid for years (3.79 ERA and 3.42 FIP from 2010-12), and his contract includes an affordable ($14M) club option for 2014. He "only" had Tommy John surgery and is due back sometime around May. Billingsley is someone I think the Yankees should pursue with or without Tanaka. He makes sense for them both this year and next.


Dustin asks: Would you trade for Aramis Ramirez if he were available?
I said no back before the trade deadline but at this point, after seeing how the offseason has played out, I think I'd say yes. Ramirez would have to come cheap though, either in a pure salary dump trade (he's owed $20M in 2014 between his salary and the buyout of his 2015 option) or a deal involving one or two Grade-C prospects with the Brewers eating some salary. Grade-C prospects coming from the 21-30 range of a top 30 list, for example. Aramis is 35 with bad knees but he can still hit (12 HR and 132 wRC+ in 351 plate appearances in 2013) and his right-handed thump would fit the lineup well. It would be risky but even a half-season of Ramirez would be a big upgrade at the hot corner.
Ben asks: What do you think about the Yankees possibly trading for Jonathan Papelbon? Personality aside, I think he'd be a great addition to the bullpen, which is one of the last areas NY can throw money at to improve. What would it take to get him, a couple non- prospects (assuming NYY takes on the whole contract)?
I am anti-Papelbon and it has nothing to do with his personality or anything like that. He comes with a lot of red flags — I highly recommend this post by Jason Collette detailing those red flags — and he's owed $13M in each of the next two seasons with a vesting option for another $13M in 2017. I have no problem with paying big dollars for elite relievers, but I'm not very confident in Papelbon being elite or even comfortably above-average these next two years. The Yankees definitely need bullpen help, but I'd be careful about getting caught up in the name here. He's not the Red Sox version of Papelbon anymore. Read the linked Collette post, he breaks it down very well.
T.J. asks: Do you think the Yankees should go after Tommy Hanson? He had his best years in Atlanta with Brian McCann as his catcher. Of course, he could also be Phil Hughes 2.0.
There has been close to zero interest in Hanson this winter and I think that's very telling. We're talking about a 27-year-old who was one of the best prospects in baseball and an above-average starter as recently as 2010-11, yet no one wants him. Hanson has had a bunch of injury problems (with his shoulder, specifically) and it shows in the velocity in each of his pitches (via Brooks Baseball):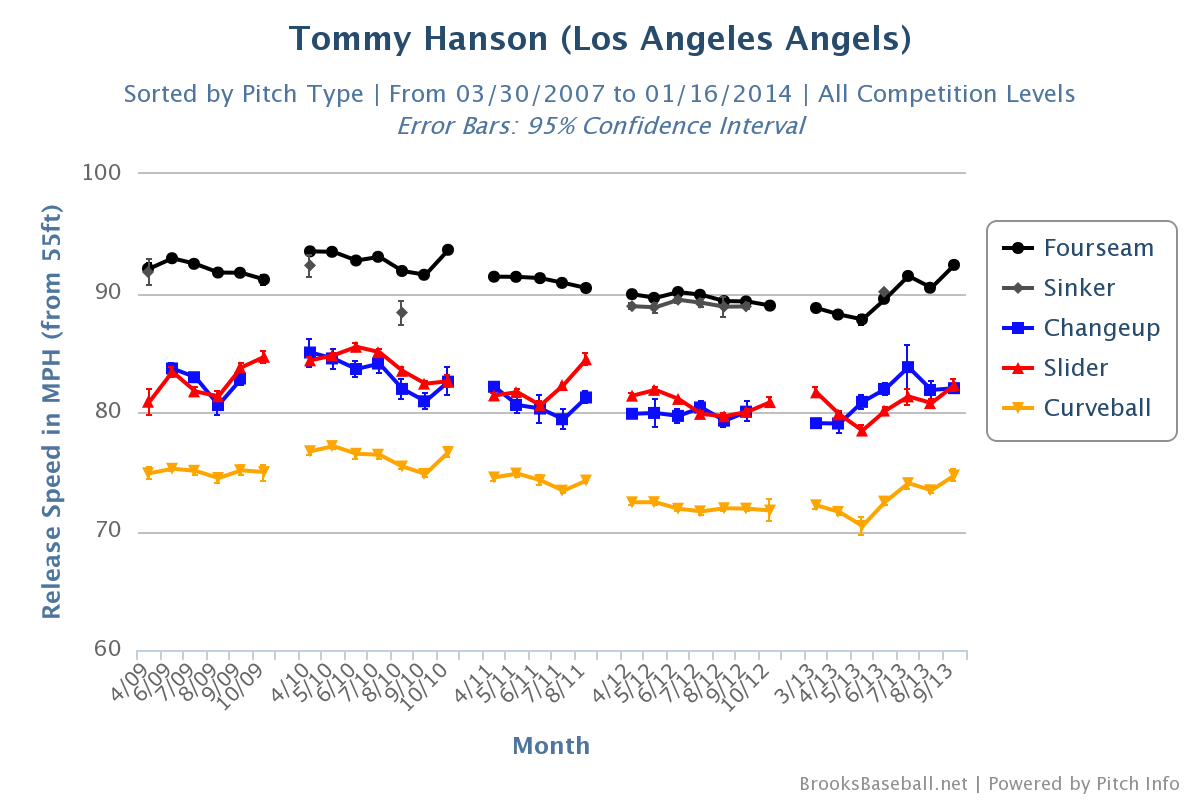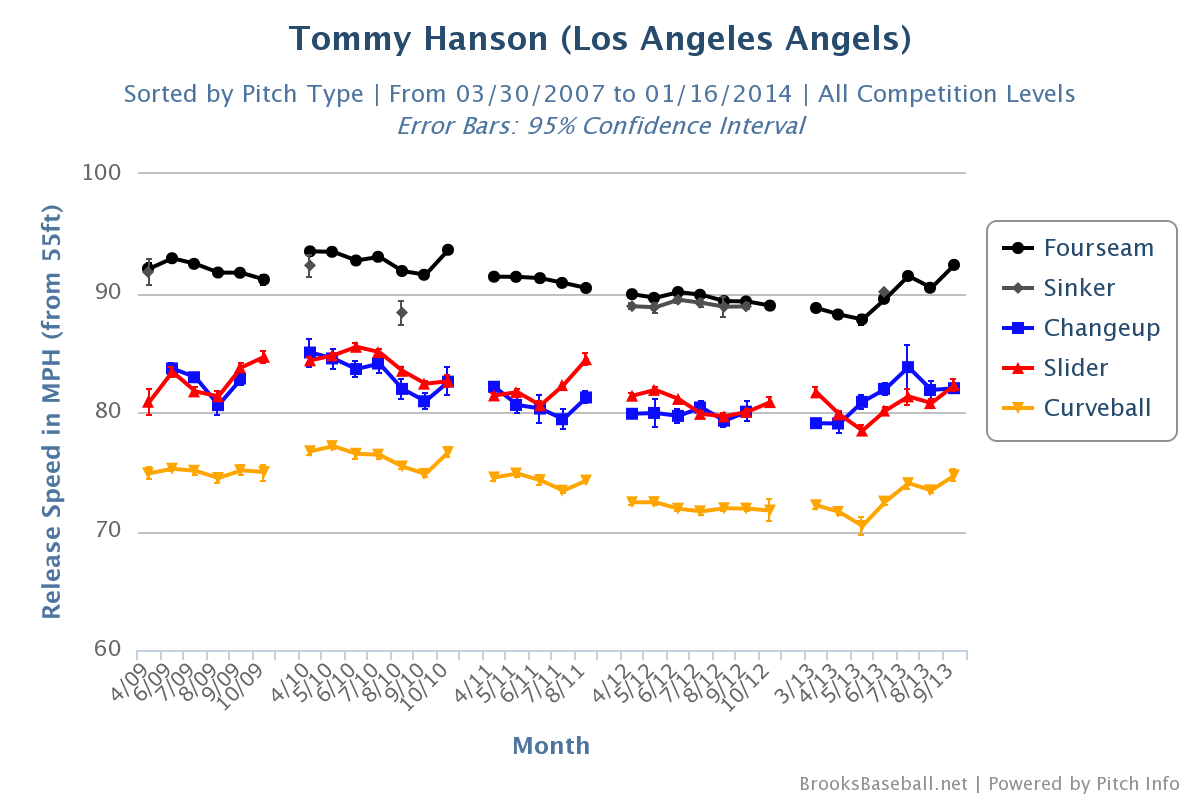 Don't get too excited about that uptick in velocity at the end of last year. Hanson made exactly two appearances in July, August, and September, and he was working out of the bullpen by the end of the year. It's not like he was making a start every five days and showing that velocity. Hanson was not been the same guy since his shoulder started acting up (4.76 ERA and 4.59 FIP from 2012-13) and I'm not sure throwing to his old batterymate McCann can help. I'd give him a minor league contract, sure. But I wouldn't count on him for anything. You'd have to treat him almost like you'd treat Johan Santana. Anything he gives you is a bonus.
John asks: What would it take for a team (not necessarily the Yankees) to land Jhoulys Chacin?
A lot. Chacin very quietly broke out last season, pitching to a 3.47 ERA (3.47 FIP!) in 197.1 innings while allowing only 11 homers despite pitching half his games in Coors Field. His bowling ball sinker explains that. Chacin turned 26 earlier this month and he's under team control through 2015. He's on the cusp of becoming the next dominant sinkerballer, a Tim Hudson or Derek Lowe type. Given the price of pitching, it'll take a boatload to get him. Two or three very good prospects/young minor leaguers at least. If I were the Rockies and the Yankees offered me Sanchez, Slade Heathcott, and someone like Phelps, I'd say no. Easily. Chacin's very young and very good.
Joe asks: I watched the 2013 World Baseball Classic, is there any chance that Kenta Maeda a right-hander will be posted?
Maeda, 25, has been the second best pitcher in Japan these last two years behind Tanaka. It's a big gap though — Ben Badler (no subs. req'd) says scouts view Maeda as a back-end starter while one international scouting director said "he could be a fourth starter at the big league level … he'll keep you in games." Not exactly a ringing endorsement. It's unclear if Maeda will be posted this winter but it is more and more unlikely with each week that passes. (The latest a player can be posted under the new system is February 1st.) More than anything, the takeaway from Maeda is that there won't be another Tanaka or Yu Darvish for at least a few years.