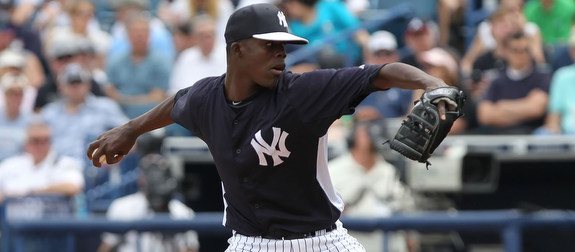 Jose Ramirez | RHP
Background
Ramirez is from the relatively small town of Yaguate, which is Michael Pineda's hometown and roughly 30 miles outside San Cristobal in the Dominican Republic. The Yankees signed him as a 17-year-old in 2007 to an unknown but small bonus. The size of the bonus wouldn't be unknown if it was anything substantial. He was a low-profile signing.
Pro Career
The Yankees kept Ramirez in the Dominican Summer League for his first pro season in 2008. He managed a 4.15 ERA (3.25 FIP) in 39 innings while walking 18 and striking out 39. The club brought Ramirez stateside in 2009 and he pitched to a 1.41 ERA (3.07 FIP) in 64 innings for their Rookie Gulf Coast League affiliate. He struck out 55 and walked 16, and even made a one appearance cameo with High-A Tampa.
Assigned to Low-A Charleston to begin the 2010 season, Ramirez posted a 3.60 ERA (3.04 FIP) with 105 strikeouts and 42 walks in 115 innings before being shut down due to shoulder fatigue in August. He simply ran out of gas. The Yankees moved him up to High-A Tampa to open 2011 but that was a disaster (8.14 ERA and 4.23 FIP in 24.1 innings), so he returned to Charleston for the remainder of the season. Ramirez had a 4.78 ERA (4.17 FIP) with 74 strikeouts and 32 walks in 79 innings in his second tour of duty with the River Dogs and was again shut down in August, this time with an elbow/forearm problem.
The Yankees sent Ramirez back to Tampa to start 2012 and he excelled: 3.19 ERA (3.28 FIP) with 94 strikeouts and 30 walks in 98.2 innings. He once again had some injury problems, this time a lat strain that sidelined him for a little more than a month. The Yankees added him to the 40-man roster after the season to protect him from the Rule 5 Draft even though he'd never pitched above Single-A ball.
Ramirez opened last season on the DL due to shoulder fatigue after pushing himself a little too hard during his first big league camp (six runs in 9.1 innings). He joined Double-A Trenton in late-April and was electric, pitching to a 2.76 ERA (4.26 FIP) in 42.1 innings before being agressively promoted to Triple-A Scranton, where he had a 4.88 ERA (5.05 FIP) in 31.1 innings. All told, he struck out 78 and walked 36 in 73.2 innings. His season ended in late-July due to an oblique problem.
Scouting Report
Tall and lean at 6-foot-3 and 190 lbs., Ramirez has arguably the best and most refined power stuff in the system. His fastball is lively, running in on right-handers at 92-94 mph while touching 97-98 regularly. A post-signing growth spurt and improved mechanics led to a significant increase in velocity a few years ago. He would have been a much higher profile amateur player back in the day if he had that heater.
A low-80s slider was his top secondary pitch when he signed, but Ramirez has since added a hard upper-80s changeup that fades down and away from lefties and rates as one of the best individual offspeed pitches in the system. Here's the obligatory changeup .GIF:
The slider now sits in the mid-80s and is inconsistent, but it's still a usable third pitch. The Yankees tried to teach Ramirez a curveball once upon a time but it didn't take because of his low three-quarters arm slot.
Injuries have obviously been a career-long problem, especially all the arm issues. Rather than progressively increase with age, Ramirez's innings totals have declined in recent years, from 115 in 2010 to 103.1 in 2011 to 98.2 in 2012 to 73.2 in 2013. He has yet to make it through a full, healthy season as a starter and he may wind up in the bullpen long-term because of it. Ramirez's delivery is a little herky jerky but nothing crazy, and his command will never be his strong suit. He's a stuff first guy, no doubt.
Video
That video is from Spring Training last year. There are some more feature clips at MLB.com as well as a bunch of video on YouTube and MiLB.com. You'll have to sort through some clips of Indians' infield prospect Jose Ramirez at the latter.
2014 Outlook
Given the state of the pitching staff, Ramirez figures to get a long look in Spring Training and could win a big league bullpen job. If not, he'll return to Triple-A Scranton. Chances are he will make his big league debut at some point this coming season.
My Take
I really like Ramirez — I'm a sucker for power stuff, especially power right-handed changeups — but I think it might be time to move him to the bullpen. He's been starting for six years now and has been unable to hold up physically. Stick him in the bullpen and tell him to turn it loose before he blows something out and you don't get anything from him. Ramirez is one of the few prospects who could legitimately have an impact at the big league level this year and I'm interested to see if he gets a serious opportunity to win a bullpen job in camp. I'm a fan but I can't help but feel like there are only so many pitches in that arm.