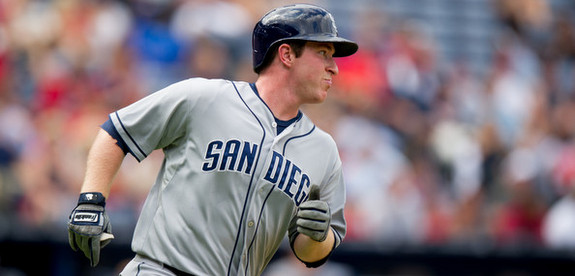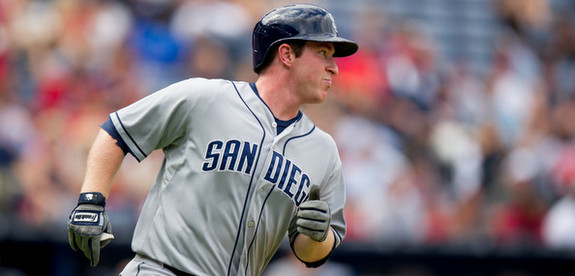 Unless the team changes course in the next few weeks, the Yankees are unlikely to add another infielder on a guaranteed Major League contract this offseason. They'll attempt to replace the suspended Alex Rodriguez with a bunch of scrap heap pickups and hope one of them sticks at some point. I don't like that approach but that's what the team seems to be doing. So be it.
While signing a player to a big league contract may be off the table, the Yankees could still trade for a 40-man roster player. They have a 40-man logjam of their own and would be able to clear a spot (or two) in a deal. Jon Morosi reported yesterday that New York called the Padres about their infield depth in the not too distant past, perhaps right after they learned A-Rod's fate. San Diego has so many extra infielders that they had no room on the 40-man for Dean Anna earlier this winter, so they shipped him to the Yankees for a Single-A reliever.
Do any of the Padres' extra infielders make sense for the Bombers? Surely at least one does, right? Let's look at what they have to offer.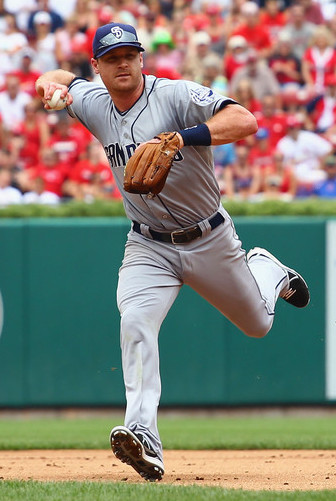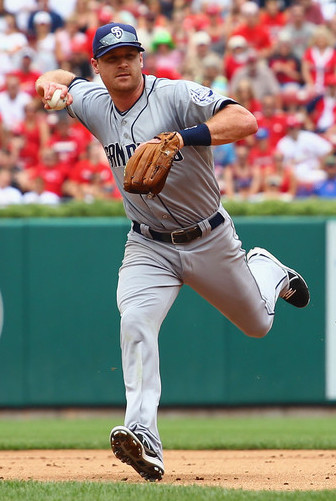 UTIL Logan Forsythe
Forsythe, who turns 27 today, is the reason for this post, really. Morosi mentioned he was the "most realistic target," but I don't know if that is him speculating or reporting the Yankees are targeting him. Either way, Forsythe definitely makes sense for a team in need of both second and third base help. He has extensive experience at both positions — his defense is okay at best, more likely below-average if he plays regularly — and he even started to mix in some corner outfield work last year as well.
Thanks to a year-long battle with plantar fasciitis that prevented him from playing at 100%, Forsythe hit only .214/.281/.332 (73 wRC+) with six homers and six steals in 243 plate appearances last season. Foot and knee problems have hampered him over the years. Forsythe did show a lot of promise during an extended stint as San Diego's everyday second baseman in 2012, hitting .273/.343/.390 (110 wRC+) with six homers and eight steals in 350 plate appearances. His career numbers in Triple-A are off the charts: .314/.446/.540 (154 wRC+) with 11 homers and 11 steals in 325 plate appearances.
"Forsythe is a natural third baseman who's below-average at second but is good enough to fill in there for a team without a clear in-house option, and his high contact rates give him offensive value even with his lack of power," said Keith Law (subs. req'd) following that strong 2012 season. Forsythe is a) still in his pre-arbitration years, b) a right-handed hitter who has mashed lefties in the show (124 wRC+), c) capable of playing two positions of need, and d) a buy-low candidate because his stock is down following the disappointing year and injury. If the Yankees aren't going to spend big on a third baseman, he makes an awful lot of sense as a low-profile trade target.
2B/3B Jedd Gyorko
Gyorko is probably the least available Padres infielder. The 25-year-old hit .249/.301/.444 (110 wRC+) with 23 homers in 525 plate appearances as a rookie last season while playing solid defense at second and third bases. Scouting reports and his minor league track record suggest the power is real and his walk rate will eventually come up. San Diego is going to build around Gyorko and they're more likely to sign him long-term than trade him for help elsewhere. His age, right-handed pop, and defensive versatility would be perfect for the Yankees. Acquiring him just isn't all that realistic, however.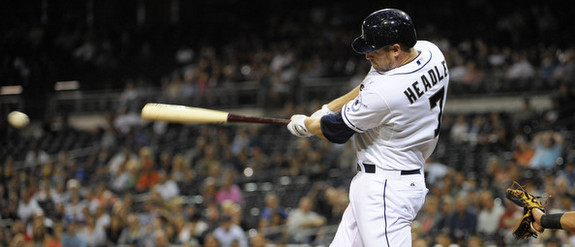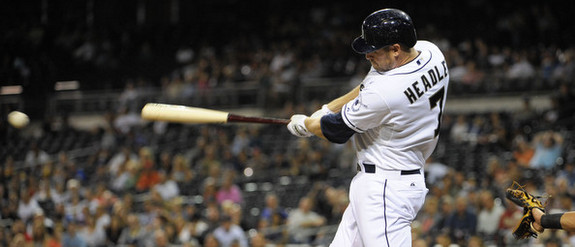 3B Chase Headley
The Yankees have been trying to trade for Headley for years, but the team's lack of viable trade chips has hurt their pursuit. He is entering his walk year and is projected to make $10M, which isn't all that pricey for the Padres anymore thanks to their local television deal as well as the new national television contracts. Signing him to a long-term extension is probably off the table though.
Headley, 29, was an MVP candidate in 2012, hitting .286/.376/.498 (145 wRC+) with 31 homers and 17 steals to go along with excellent third base defense. He dropped down to .250/.347/.400 (113 wRC+) with 13 homers and eight steals last year after breaking a thumb sliding into a base in Spring Training and coming back sooner than expected. A broken finger sabotaged his 2011 season, but otherwise Headley has consistently been an above-average hitter with double-digit homers, double-digit steals, and strong defense since becoming a full-timer in 2008.
I've always been a big Headley fan and think he'd be a pretty damn close to a star if you get him out of Petco Park. A switch-hitter with power and patience (11.8% walk rate since 2011) who steals bases and plays the hell out of third base? I'll take that player on my team everyday of the week. Trading for Headley would be an enormous boost for the 2014 Yankees but it doesn't seem like the two clubs match up for a deal right now. They'll have to wait and pony up nine figures in free agency next winter.
SS Ryan Jackson
The Yankees don't have much need for the 25-year-old Jackson, who is an excellent defender but can't hit a lick. They have the same player in the older and more expensive Brendan Ryan. The Padres would probably be much more open to moving Jackson than incumbent shortstop and stolen base machine Everth Cabrera despite his 50-game Biogenesis suspension. If the Yankees and Padres are going to get together for a trade involving an infielder, Forsythe is the most realistic target by far.