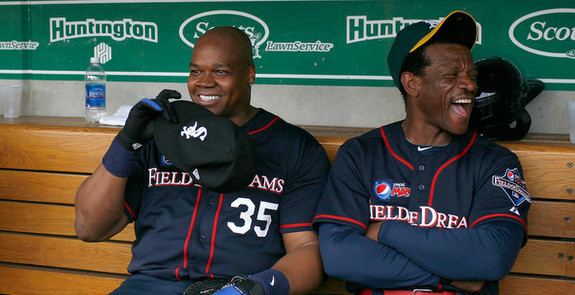 The 2014 Hall of Fame class was announced yesterday and three all-time greats were elected to Cooperstown: Greg Maddux, Tom Glavine, and Frank Thomas. The Yankees tried to sign Maddux as a free agent back the 1992-93 offseason, but he took less money to go to the Braves. New York wound up signing Jimmy Key instead, then Key beat Maddux in the decisive Game Six of the 1996 World Series. That was fun. Here are some random thoughts.
1. Mike Mussina is the first Hall of Fame candidate I am really invested in. (Jorge Posada will be the next when he hits the ballot in three years.) I love Don Mattingly and Bernie Williams as much as anyone, but I never did think of them as Cooperstown-worthy. I do think Moose is deserving and I'm really hoping he gets inducted at some point, even if he will almost certainly wear an Orioles hat on his plaque. Needless to say, I was disappointing to see him appear on only 20.3% of the ballots yesterday. That's a lot of ground to make up and the ballot isn't going to unclog anytime soon — Maddux, Glavine, and Thomas will be replaced by first-timers Randy Johnson, Pedro Martinez, and John Smoltz next year. It's going to be a few years before Mussina even gets close to the 75% requirement.
2. While we're on the subject of the Hall of Fame: how many future Hall of Famers are on the Yankees' 40-man roster right now? Derek Jeter is a lock and I think Ichiro Suzuki is as well. Alex Rodriguez has all the requisite stats but he'll never get in because of the performance-enhancing drug stuff. His admission in 2009 sealed his fate. Carlos Beltran has a very strong Hall of Fame case and these next three years could help push him over the top. CC Sabathia was on the Hall of Fame path for most of his career, but if last season is the new normal for him, he'll probably end up on the outside looking in. Alfonso Soriano and Mark Teixeira are Hall of Very Good players at best. Aside from Jeter, Ichiro, Beltran, and Sabathia, the Yankee with the best Hall of Fame chances might be Brian McCann. He's only 29 (30 next month), so if he takes advantage of the short right field porch these next five (possibly six) years and holds up physically for another year or two after that, he could wind up with around 300 homers and 45 fWAR. Those would be top five and top 15 marks, respectively, among catchers all-time. McCann has a ways to go but the Cooperstown foundation is in place.
3. Now that the Hall of Fame announcement has passed, the A-Rod ruling could be handed down at any moment. I suppose MLB may have asked arbitrator Frederic Horowitz to hold off until next week, after the new Hall of Famers do their interviews and all that, but he isn't under any obligation to follow along. Still, I think the ruling will be announced Monday at the earliest. (Now watch it be this afternoon.) Whenever it comes, it will be good to finally get that out of the way, regardless of whether the suspension is overturned or upheld or reduced or whatever. I'm sicking of hearing about it and waiting around for it. I just want the Yankees to move forward with their offseason — it's clear they're waiting for the ruling before making more moves — and get this roster settled. Especially the infield. It worries the heck out of me.
4. The bullpen worries the heck out of me as well, but I am more confident in the team's internal relief options than their infield options. By a lot. Unless the Yankees sign about three relievers these next few weeks, they're going to have some bullpen competition in Spring Training and I'm curious to see how much of a chance right-hander Jose Ramirez will be given to win a job. He threw 9.1 innings in camp last year (three starts and one relief appearance) but he had not yet pitched above High Class-A. Ramirez chucked 42.1 innings in Double-A and another 31.1 innings at Triple-A last summer, so he has some upper level experience. The problem is that he's been completely unable to stay healthy as a starter throughout his career — he's had arm trouble in the past, and last year he missed time due to fatigue and an oblique problem — so much so that it might be time to stick him in the bullpen and let him air it out. Ramirez will turn 24 in two weeks and he's got a really big fastball with a knockout changeup and a good slider. There's a chance he can be an impact reliever as soon as this year if given the opportunity.