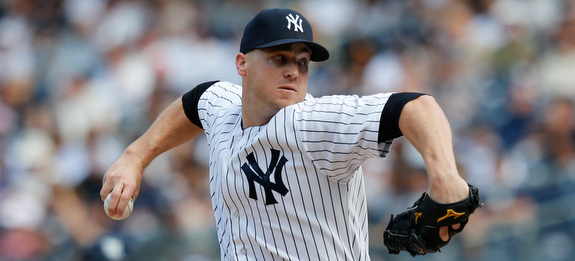 The Yankees have spent a ton of money and signed several premium free agents this winter, but I'm not sure any felt as important as yesterday's Masahiro Tanaka addition. Don't get me wrong, the Brian McCann signing was huge and both Carlos Beltran and Jacoby Ellsbury will help as well, but Tanaka felt like a true necessity. Without him, the team's chances of contending were small. Heck, they might not even make the postseason with Tanaka, but at least now it feels like they'll be dangerous.
Following the signing, Brian Cashman told reporters he doesn't think "there'll be more heavy lifting that can take place" in the weeks leading up to Spring Training. That makes sense; the Yankees have signed five players to contracts worth $15M+ annually this offseason and every team does have a limit, even teams worth more than $3 billion. The "heavy lifting" is done but that doesn't mean there aren't more moves to be made. It shouldn't mean that, anyway. The Bombers still have some questions left to answer.
"I think people want to see how the bullpen's going to shake out. People are going to want to see how the infield's going to shake out," added Cashman according to Dan Martin. "What's Brian Roberts going to be? What's Derek Jeter going to be as he comes back from his injury? What's Mark Teixeira going to be at first base as he comes back from his wrist [injury]? Can Kelly Johnson secure and handle on a consistent basis third base? … Speaking to the obvious questions that people would have every right to ask."
As the GM indicated, the biggest one of those questions is the bullpen. I feel like a broken record saying that, but I keep repeating it because it's true. The Yankees' second best reliever right now is Shawn Kelley and the bullpen as a whole could really undermine the entire pitching staff. Remember, the Yankees have been talking about scaling back CC Sabathia's workload and Hiroki Kuroda spoke about doing the same himself, plus I have to think they'll take it easy on Tanaka (at least as first) as he transitions to a five-day schedule. Who knows what the kid fifth starter will do as well?
Someone needs to eat up all those middle innings and right now they're slated to fall on the shoulders of Dellin Betances, Preston Claiborne, Robert Coello … guys like that. The Yankees almost have to hope someone like Adam Warren or Vidal Nuno turns into 2009 Al Aceves, a rubber-armed reliever who can throw four pitches or four innings on any given day. That's the kind of guy they need right now given the state of the bullpen. It's Kelley, David Robertson, lefty specialist Matt Thornton, and a whole lotta hopin' and prayin'.
There isn't much the Yankees can do for the infield aside from signing Stephen Drew or swinging a trade for Chase Headley at this point. Neither of those options seems particularly realistic either. The Yankees currently have a stars and scrubs roster and many of those scrubs are on the infield. Teixeira and Jeter might be awesome coming off their injuries, or they could be totally ineffective. Roberts is somehow even more of an unknown. The team seems resigned to filling out the infield with someone on a minor league deal and continue to look for upgrades at midseason.
The Yankees came into this winter with a lot of problems and, for the most part, they've addressed them. The lineup is much improved and the rotation was solidified, though I would love to see them add another starter — it would be awesome if Ubaldo Jimenez fell into their lap in March a la Kyle Lohse last year — to knock Davis Phelps & Co. down a peg on the depth chart, but I'm not counting on it. Tanaka might be the team's last bit of "heavy lifting" but he shouldn't be the last move. The infield needs work and the bullpen especially needs help.