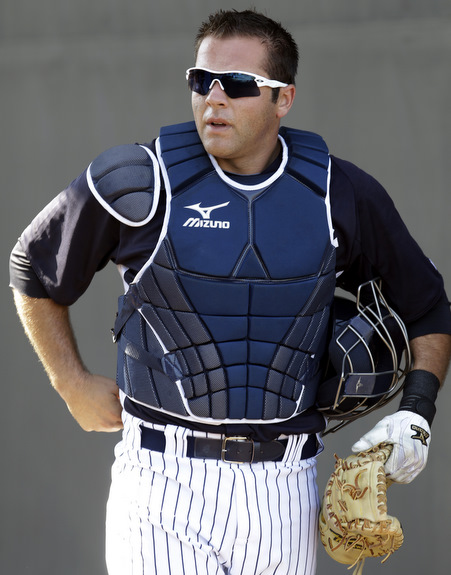 By the Yankees' own admission, last season was a terrible year for the farm system. Many top prospects either got hurt or underperformed (some did both), so much so that the Yankees' drafting and development strategy and personnel were re-evaluated. No one was fired, but several new instructors were added to the staff, including former big league managers Trey Hillman and Mike Quade. Procedural changes were made as well.
As a result of that down year, the Yankees have a lean system with almost no immediate help on the way. No impact players, anyway. Having three first round picks in last summer's draft helped keep them from the bottom of the various organizational rankings, plus the team is said to be planning a huge international spending spree this summer, so there figures to be a lot of talent added to the system during this 12-13 month span. They need it, that's for sure.
This is my eighth Preseason Top 30 Prospects List and the other seven can be found right here. As a reminder, this is my personal list and I am not an expert. I'm just a dude with a blog and some opinions. I have my own preferences and therefore I'm high on some players and low on others, compared to consensus. You're welcome to disagree with my rankings. We all value certain things (upside, performance, probability, etc.) differently and that's why there is no right way to rank prospects.
I use the rookie limits (50 innings or 130 at-bats) to determine prospect eligibility without any regard for service time because that's easiest. Service time is too much of a hassle to track. Preston Claiborne threw 50.1 innings last season, so he wasn't eligible. There has been a ton of turnover from last year's list, with seven players either graduating to the big leagues (Austin Romine, Adam Warren), leaving the organization (Brett Marshall, Corey Black, Melky Mesa, Ravel Santana), or both (David Adams). Another nine players dropped off the list due to injury, poor performance, or the numbers crunch as well. That means 16 players (!) on this year's Top 30 were not on last year's. Ridiculous.
As for sources, it's pretty much everything. Baseball America, Keith Law, and Baseball Prospectus, of course, plus smaller profiles from hometown newspapers and stuff like that. You can learn quite a bit about a pitcher from a random interview since they tend to talk about their repertoires and all that. There's also video as well. I'm no scout, but it doesn't take a genius to see if a guy has a long swing or a nasty slider. The list starts after the jump. Enjoy.

#30

CESAR CABRAL, lhrp

Born: February 11th, 1989 (Age 25)
Signed: Dominican Republic, 2005 by Red Sox
2013 Level: High-A, Double-A, Triple-A, MLB
2013 Line: 40.1 IP, 5.13 ERA, 3.52 FIP, 26.3 K% 12.4 BB%
The Yankees selected Cabral in the 2011 Rule 5 Draft (technically the Royals drafted him and traded him to the Yankees in a pre-arranged deal) and he nearly made the team out of Spring Training two years ago, but he suffered an elbow fracture at the end of camp and didn't return to game action until the middle of last season. Because he cleared waivers last summer, he is officially New York's property and the Rule 5 Draft rules no longer apply. The Yankees re-added Cabral to the 40-man roster last September to protect him from the 2013 Rule 5 Draft and he impressed in his short MLB cameo, striking out six of nine left-handed batters faced. He's a true lefty specialist with a low-90s fastball and a sweeping low-80s slider, though he will throw the occasional mid-80s changeup. Cabral, who is sneaky big at a listed 6-foot-3 and 250 lbs., will again compete for a bullpen job in camp. He could spend the year as an up-and-down arm.
#29

VIDAL NUNO, lhsp

Born: July 26th, 1987 (Age 26)
Signed: Independent Frontier League, 2011
2013 Level: Triple-A, MLB
2013 Line: 45 IP, 1.80 ERA, 2.88 FIP, 22.5 K%, 4.6 BB%
Nuno's journey from independent ball to the big leagues was completed last summer, when he made five appearances (three starts) for the Yankees before suffering a season-ending groin injury. He healed up in time to pitch in the Arizona Fall League. Nuno, who looks a bit bigger than his listed 5-foot-11 and 195 lbs., is a classic finesse southpaw with a kitchen sink arsenal. He throws three fastballs (four-seamer, sinker, cutter) in the 87-91 mph range and backs them up with changeups and curveballs. Nuno keeps the ball down and can pitch to both sides of the plate, which he needs to do because he lacks a true big league out pitch and isn't overpowering. After pitching well in his limited MLB time last year, Nuno will come to camp with a chance to win a big league job, either as the fifth starter or in the bullpen. A return to Triple-A Scranton is always possible as well.
#28

PETER O'BRIEN, c/3b

Born: July 15th, 1990 (Age 23)
Drafted: 2012 2nd round, Miami ($460k bonus)
2013 Level: Low-A, High-A
2013 Line: .291/.350/.544 (148 wRC+), 22 HR, 506 PA
No player in the organization hit for more power last year than O'Brien, who led the system in homers, doubles (39), and extra-base hits (65). That right-handed pop is his only above-average tool but it's a good one to have. O'Brien can hit absolute moonshots, especially to his pull side, though he does have power to all fields. His swing is rather long and his overall approach needs work, hence the 26.5% strikeout rate and 8.1% walk rate at Single-A despite being drafted as a college senior. O'Brien doesn't really have a home on defense but the Yankees will keep him at catcher full-time after a brief experiment at the hot corner last year. His arm is strong but at 6-foot-3 and 215 lbs., his release is slow and he can be clumsy behind the plate. The power is very real though, and as long as he keeps racking up doubles and homers, O'Brien will continue to get opportunities and have a chance to help at the big league level. He is likely to move up to Double-A to start 2014.
#27

Born: March 26th, 1991 (Age 22)
Drafted: 2012 5th round, Arizona ($206k bonus)
2013 Level: Low-A, High-A
'13 Line: .293/.413/.413 (143 wRC+), 32 2B, 23 SB, 573 PA
Refsnyder has hit everywhere he's played and that was certainly true last summer, when he walked (84) more than he struck out (82) and added six homers to all those doubles and steals. Listed at 6-foot-1 and 205 lbs., the righty-swinging Refsnyder recognizes pitches well and has a knack for barreling up the ball, allowing him to hit line drives to all fields. He doesn't lift the ball all that much though, so nearly all of his power will be into the gaps for doubles than over the fence for homeruns. Refsnyder is a good runner but not a burner, but his speed plays up because he's a heady base-runner. The Yankees moved him back to second base (his high school position) after he played the outfield in college, and while he's athletic with a chance to be a solid gloveman, he lacks experience on the infield and needs work defensively. Even though he lacks power, Refnysder projects to hit enough to be an everyday player who could provide some versatility. A trip to Double-A Trenton is in the cards this year.
#26

Born: November 17th, 1988 (Age 25)
Drafted: 2009 15th round, Daytona Beach CC ($100k bonus)
2013 Level: High-A, Double-A
2013 Line: 154.1 IP, 3.38 ERA, 3.05 FIP, 20.7 K%, 4.5 BB%
No pitching prospect in the organization may have improved his stock in 2013 as much as Greene, who did a much better job of staying in line with the plate and subsequently solved (or appeared to solve) his career-long control problems. His walk rate dropped to 1.7 BB/9 (4.5 BB%) last summer after sitting at 4.37 BB/9 (10.8 BB%) from 2009-12. Greene, who is listed at 6-foot-3 and 200 lbs., sits in the 92-94 mph range with his fastball. A low-to-mid-80s slider is his top secondary pitch, and he also throws a curveball and changeup. After having Tommy John surgery back in 2008, he has stayed healthy and gradually increased his workloads to last year's career-high 154.1 innings. The Yankees added Greene to the 40-man roster after the season to protect him from the Rule 5 Draft and he is headed back to Double-A Trenton to start 2014. If he shows that the improved control is the real deal and not a fluke, he could make his big league debut as soon as the second half.
#25

Born: March 26th, 1992 (Age 21)
Signed: Venezuela, 2008 ($775k bonus)
2013 Level: Double-A
2013 Line: .260/.353/.363 (104 wRC+), 6 HR, 620 PA
I was rather high on Flores last year, ranking him the fifth best prospect in the organization before the season, and he responded with the worst statistical season of his career and continued questions about his long-term power potential. Flores continues to show a very advanced approach and a line drive swing from the left side of the plate, but he doesn't generate much loft and he only shows power when he pulls the ball to right field. It's worth noting that while Arm & Hammer Park in Trenton is death on lefties, he hit better at home (.270/.366/.367) than on the road (.251/.341/.360) last summer. Flores is an adequate outfield defender who can fake center but fits best in left because he doesn't have a strong arm. He is still officially listed at 5-foot-11 and 150 lbs., but that hasn't been right in years. He's closer to 6-foot-0 and 180 lbs. these days. It's easy to forget that Flores is still so very young because it feels like he's been in the organization forever, but he will have to start hitting for some more power soon if he wants to be considered more than a potential platoon/extra outfielder. The Yankees may return him to Double-A this summer because the Triple-A outfield is rather full.
#24

Born: March 2nd, 1995 (Age 18)
Signed: Dominican Republic, 2011 ($750k bonus)
2013 Level: Rookie
2013 Line: .323/.368/.496, 4 HR, 4 SB, 144 PA
A return trip to the Gulf Coast League did wonders for Andujar, who struggled during his pro debut in 2012 but mashed last season. The 6-foot-0, 175 lb. right-handed hitter has premium bat speed and a smooth swing, so he projects to hit for both average and power down the road. He can be a bit of a hacker and will have to improve his plate discipline to reach his offensive ceiling. In the field, Andujar has the quick reactions required for the hot corner, plus his arm is plenty strong for the position. He is still very rough around the edges in pretty much all facets of the game, which is to be expected from a player his age. Andujar is a classic high-risk, high-reward prospect with loud tools in need of refinement. The Yankees figure to hold him back in Extended Spring Training this year before sending him to Short Season Staten Island when the season starts in June.
#23

Born: September 11th, 1989 (Age 24)
Drafted: 2008 50th round, CA HS ($125k bonus)
2013 Level: Double-A, Triple-A
2013 Line: 145 IP, 3.79 ERA, 4.15 FIP, 23.3 K%, 12.0 BB%
It has been a slow and steady climb up the minor league ladder for Turley, who fell in the draft because teams expected him to follow through on his commitment to BYU and eventually go on a two-year Mormon mission. The Yankees rolled the dice and landed a solid southpaw who has gone from throwing in the mid-80s in high school to sitting 88-92 now. Turley's top secondary pitch is a big breaking overhand curveball, which he can throw for strikes or bury in the dirt for swing-throughs. An inconsistent changeup is his third offering, but on its best days it is a put away pitch. Turley has size (listed at 6-foot-4 and 195 lbs.) and good stuff, plus he has been durable throughout his career and gradually increased his workload each season. The Yankees added him to the 40-man roster last winter but Turley will need more time in Triple-A — he only made one spot start there in 2013 — before becoming a viable big league option.
#22

MARK MONTGOMERY, rhrp

Born: August 30th, 1990 (Age 23)
Drafted: 2011 11th round, Longwood Univ. ($65k bonus)
2013 Level: Rookie, Triple-A
2013 Line: 45.1 IP, 3.38 ERA, 3.59 FIP, 29.9 K%, 12.7 BB%
Had he not dealt with shoulder problems last year, there's a good chance Montgomery would have made his big league debut. Instead, the 5-foot-11, 205-pounder missed time and performed poorly, seeing his season end in August. When right, Montgomery offers a low-90s fastball and the best slider in the organization, a wipeout pitch in the low-to-mid-80s that breaks hard and late down and away to righties. His changeup is a very distant third pitch and won't be needed long-term since he's a one-inning reliever. Montgomery has not been mentioned as part of the Spring Training bullpen competition but I suppose he could win a spot. More likely, he'll return to Triple-A Scranton and have to prove he's healthy and back to his 2012 form before getting the call.
#21

ZOILO ALMONTE, of

Born: June 10th, 1989 (Age 24)
Signed: Dominican Republic, 2005 (unknown bonus)
2013 Level: Triple-A, MLB
2013 Line: .279/.342/.386 (105 wRC+), 7 HR, 7 SB, 406 PA
Almonte made his Major League debut last June and got off to a hot start before suffering what amounted to a season-ending ankle sprain in mid-July. He has made a slow yet steady climb up the organizational ladder, not getting out of Single-A until his sixth pro season. Almonte, who is listed at 6-foot-0 and 205 lbs., doesn't have one standout tool but he does a little bit of everything. He is a switch-hitter with decent power and a sound approach who has been better against right-handed pitchers historically. His speed has allowed him to steal double-digit bases just about every year of his career, and his defense in the outfield corners is above-average. Nothing fancy, just a solid all-around player who can help a team on both sides of the ball. Almonte is ready to be an extra outfielder right now but he could wind up back in Triple-A Scranton thanks to the big league logjam. The Yankees added him to their 40-man roster two years ago, so Zoilo is entering his final minor league option year and will have to stick in the show for good in 2014.
#20

DELLIN BETANCES, rhrp

Born: March 23rd, 1988 (Age 25)
Drafted: 2006 8th round, NY HS ($1M bonus)
2013 Level: Triple-A, MLB
2013 Line: 84 IP, 2.68 ERA, 2.69 FIP, 31.3 K%, 12.2 BB%
This is Preseason Top 30 List number eight (!!!) for Betances, who has ranked pretty much everywhere from third to 30th over the years. The Yankees finally stuck him in the bullpen full-time last May and the improvement was immediate, so much so that the move may have saved his career. The 6-foot-8, 260 lb. right-hander is still the same guy he's always been stuff-wise — fastball anywhere from 91-99 mph, hammer curveball, occasional changeup — but he was better able to throw strikes and keep his delivery in check in short relief outings. Betances will head to Spring Training with a legitimate chance to win a big league roster spot for the first time in his career, but he also qualified for a fourth minor league option somehow, so a return to Triple-A Scranton is always possible if things don't work out.
#19

Born: May 2nd, 1996 (Age 17)
Signed: Venezula, 2012 ($1.3M bonus)
2013 Level: Rookie
2013 Line: .241/.348/.299, 1 HR, 204 PA
Torrens spent the majority his amateur career playing third base, but the Yankees stuck him behind the plate full-time after giving him $1.3M and he took to the position exceptionally well. He's a solid receiver and his arm is very strong (threw out 45% of attempted base-stealers last year), plus he moves well and has good footwork. Torrens is still pretty raw behind the plate, don't get me wrong, but he is well ahead of where you'd expect most recent converts to be. Offensively, his right-handed swing is geared for line drives and despite his poor power numbers last summer, he gets some backspin on the ball and projects to hit double-digit homers down the line. Torrens is only 6-foot-0 and 171 lbs., so hopefully he fills out and gets stronger as he gets older so he can handle the rigors of being a starting catcher. The early returns on defense were very promising and his bat is more potential than production at this point. The Yankees will hold Torrens back in Extended Spring Training this year before assigning him to Short Season Staten Island when the season starts in June.
#18

Born: July 30th, 1993 (Age 20)
Drafted: 2012 1st round, OK HS ($1.2M bonus)
2013 Level: N/A
2013 Line: N/A
The Yankees had a terrible run of top draft picks from 2007-12, with poor performance and injury wreaking havoc on their should-be top prospects. Hensley, who had his signing bonus reduced by $400k after a pre-signing physical revealed an "abnormality" in his shoulder, missed all of last season following surgery on both hips. He is fully rehabbed and was on a normal offseason throwing program. When healthy, Hensley offers top notch power stuff, sitting 92-94 with his fastball and holding that velocity deep into games. He has run it up as high as 98 in the past. His hard upper-70s/low-80s curveball is a true out pitch and, before the injury, his low-80s changeup was making nice progress. Command is an issue and needs improvement. Oklahoma has a history of producing physically huge workhorse pitchers and Hensley fits the bill at 6-foot-5 and 220 lbs., though it remains to be seen how the hip surgeries impact his delivery. For what it's worth, Hensley has drawn rave reviews for his work ethic and coachability. He attacked his rehab and even learned to speak Spanish in high school to better communicate with teammates. The Yankees are likely to hold Hensley back in Extended Spring Training at the outset of the season and could assign him to either Short Season Staten Island or Low-A Charleston at midseason.
#17

RAFAEL DEPAULA, rhsp

Born: March 24th, 1991 (Age 22)
Signed: Dominican Republic, 2010 ($500k bonus)
2013 Level: Low-A, High-A
2013 Line: 113.1 IP, 4.29 ERA, 3.26 FIP, 29.9 K%, 10.9 BB%
Visa problems cost DePaula, who is listed at 6-foot-2 and 212 lbs., nearly a year and half before he could officially sign his contract and begin his pro career. He had previously been suspended for falsifying age and identity information. DePaula is a fastball-heavy pitcher and he's got a good one, maybe the best in the system. It sits in the 93-95 mph range with sink and he can reach back for more, which he tends to do whenever he gets into trouble. His slider, changeup, and overall command lag behind his heater and prevent him being an upper-echelon pitching prospect. DePaula lost a lot of crucial development time during his suspension and visa-related hiatus, so his level of pitching experience is not commensurate with his age. The Yankees figure to send him back to Tampa to start 2014 after he got roughed up there following a midseason promotion.
#16

Born: April 19th, 1991 (Age 22)
Drafted: 2009 16th round, NC HS ($800k bonus)
2013 Level: High-A, Double-A
2013 Line: 145.1 IP, 4.71 ERA, 3.35 FIP, 18.6 K%, 9.0 BB%
The more things change, the most they stay the same for Mitchell. The 6-foot-3, 205 lb. righty continued to put up mediocre results in his fourth full season despite explosive stuff, including arguably the best two-pitch combination in the system. His lively fastball sits 93-95 mph and will touch 97, and he has a tendency to fall in love with the radar gun. Mitchell's power curveball sits in the low-80s and is the best breaking ball in the system. It's unhittable when he can command it, which isn't often enough. His changeup is still a work in progress after all these years. The Yankees added Mitchell to the 40-man roster after the season to protect him from the Rule 5 Draft, but he is not particularly close to the big leagues. A return trip to Trenton to start the year is in the cards.
#15

Born: July 27th, 1992 (Age 21)
Signed: Venezuela, 2009 by Mariners ($115k bonus)
2013 Level: Low-A
2013 Line: 87 IP, 3.41 ERA, 2.83 FIP, 21.6 K%, 4.5 BB%
Depending on who you ask, Campos either did or did not suffer a small fracture in his pitching elbow in 2012. Either way, he was limited to only 24.2 innings that year and the Yankees brought him back very carefully last summer, allowing him to complete four full innings of work only a dozen times in 26 appearances. Campos is a pretty big guy (listed at 6-foot-4 and 195 lbs.) and his best pitch is his sinking fastball, which usually sits in the low-90s and will occasionally touch 95-96. His fastball command separates him from most pitching prospects, as he can locate the pitch well to both sides of the plate. An upper-70s/low-80s breaking ball and low-80s changeup are his two offspeed pitches, though neither is all that advanced, especially compared to his fastball. The Yankees put Campos on the 40-man roster after the season because he was Rule 5 Draft eligible — a questionable move in my opinion because he clearly isn't big league ready — so his minor league options clock is ticking. He'll move up to High-A Tampa to start 2014 and the team figures to take the reins off a little bit.
#14

ABI AVELINO, ss

Born: February 14th, 1995 (Age 18)
Signed: Dominican Republic, 2011 ($300k bonus)
2013 Level: Rookie, Short Season
2013 Line: .303/.381/.399 (118 wRC+), 28 SB, 224 PA
Believe it or not, Avelino led the U.S. based part of the farm system with 28 steals (caught only four times) last summer despite not appearing in his first game until June. He also had more walks (20) than strikeouts (17). Despite the stolen base total, the 5-foot-11 and 185 lb. Avelino is not a big-time speedster, instead coupling solid speed with excellent base-running instincts. He is a classic contact hitter who slashes the ball to all fields, with power being his only well-below-average tool right now. Avelino is a standout defender who gobbles up everything at shortstop and has an above-average throwing arm, plus there are no concerns he might outgrow the position. His baseball acumen and overall approach is outstanding for a teenager and why the whole is greater than the sum of the parts. Because he is so refined and baseball smart, the Yankees may be aggressive and push Avelino to Low-A Charleston in 2014, where he would be one of the youngest regulars in the South Atlantic League.
#13

GOSUKE KATOH, 2b

Born: October 8th, 1994 (Age 19)
Drafted: 2013 2nd round, CA HS ($846k bonus)
2013 Level: Rookie
2013 Line: .310/.402/.522 (171 wRC+), 6 HR, 4 SB, 215 PA
Katoh had, by far, the best statistical debut of the Yankees' draft class last summer. He was also the rare high school second baseman who was a legitimate prospect — the best high school athletes tend to play short and most big league second baseman are failed shortstops. Katoh, who is listed at 6-foot-2 and 180 lbs., has almost all the tools defensively, including a quick first step and soft hands, but he lacks the arm strength to play on the left side of the infield. At the plate, the self-taught left-handed hitter (he is a natural righty but learned to hit lefty at a young age because he idolizes Ichiro Suzuki) has a line drive swing geared for the opposite field. He doesn't pull the ball all that much and his power is limited even though he's stronger than his wiry frame suggests. Katoh knows the strike zone and he's quick on the bases but not a burner. The Yankees are expected to hold him back at Extended Spring Training before sending him to Short Season Staten Island when the season opens in June, and they may give him some time at shortstop just to see what happens. Katoh is a good prospect, probably better than he got credit for before the draft, but the huge pro debut may have raised expectations unreasonably high.
#12

Born: January 21st, 1990 (Age 24)
Signed: Dominican Republic, 2007 (unknown bonus)
2013 Level: Double-A, Triple-A
2013 Line: 73.2 IP, 3.67 ERA, 4.62 FIP, 25.8 K%, 11.9 BB%
With each passing season, it looks more and more likely Ramirez will wind up in the bullpen long-term. He has not been able to hold up under a starter's workload throughout his career, with shoulder fatigue and an oblique problem sending him to the DL in 2013. Elbow and lat problems are in his past as well. When healthy though, Ramirez brings the pain from his slender 6-foot-3, 190 lb. frame. He is the hardest thrower in the system in terms of consistently showing the same velocity each time out, sitting 92-94 with a fastball that touches 97-98 and bores in on right-handed batters. A low-80s slider was his second best pitch when he signed but it has since been surpassed by a power upper-80s changeup that dives down and away from lefties. Ramirez has improved his mechanics over the years but there is still some herky jerky-ness in his delivery. His command won't ever be much of an asset. If the Yankees decide to pull the plug on starting and stick Ramirez in the bullpen, he could make the team out of Spring Training. If not, he'll return to Triple-A Scranton and likely have to settle for making his big league debut later in the season.
#11

Born: November 9th, 1992 (Age 21)
Drafted: 2011 5th round, CO HS ($1.1M bonus)
2013 Level: Low-A
2013 Line: .288/.428/.511 (170 wRC+), 20 HR, 573 PA
No player in the organization had a better statistical season than Bird in 2013, his first as a full-time first baseman after a back issue ended his days behind the plate. Freed from the rigors of catcher development, Bird's left-handed bat blossomed last year as he showed power to all fields and an ultra-patient approach — his 107 walks last season were the most by a Yankees' prospect since Nick Johnson way back in the day — that allows him to let the ball travel deep in the zone before attacking. His swing doesn't qualify as short or particularly pretty, but it is effective. Bird, who is listed at 6-foot-3 and 215 lbs., is close to a bat only prospect. He's still learning the ropes around the first base bag and he isn't expected to ever be a standout defender. He will have to hit his way to the show and continue to hit to stay here. The Yankees will bump Bird up to High-A Tampa and may keep him there all year.
#10

Born: March 13th, 1991 (Age 22)
Signed: Mexico, 2008 (~$450k bonus)
2013 Level: N/A
2013 Line: N/A
Banuelos made only six starts in early-2012 before suffering a bone bruise in his elbow that wiped out the rest of his season. He tore his UCL during rehab and needed Tommy John surgery in October 2012, which kept him on the sidelines for all of last year as well. Prior to the injury, Banuelos showed a lively low-90s fastball that occasionally touched 96, and he backed it up with a knockout low-80s changeup. His inconsistent upper-70s curveball can be devastating when it's on, giving the southpaw two put away offspeed pitches on his best days. Although he showed above-average command earlier in his career, Banuelos' ability to locate took a step back in 2011 and 2012, before the elbow problems. He was not a finished product before his elbow gave out two years ago and there figures to be quite a bit of rust to shake off early in 2014. Banuelos, who is listed at only 5-foot-10 and 180 lbs., is fully rehabbed from elbow reconstruction and is likely to open the season with Triple-A Scranton, where he spent the 2011-12 campaigns.
#9

Born: April 26th, 1992 (Age 21)
Drafted: 2013 1st round, Fresno State ($1.8M bonus)
2013 Level: N/A
2013 Line: N/A
The second of the last year's three first round picks was the only one not to play after turning pro. Judge held out for an above-slot bonus until the signing deadline, then suffered a quad injury during a workout and was shut down for the season. The guy is a behemoth, standing 6-foot-7 and 255 lbs., which makes him larger than every non-Frank Howard outfielder in baseball history. That size comes with enormous power potential, the most in the system and legitimate 40+ homer stuff if he can iron out his swing and learn to put some more loft on the baseball. Judge has a surprisingly short and compact swing, but because he's so tall and sets his hands up high, he's prone to swings and misses and will always strike out a bunch. He won't be some kind of complete all-around hitter, he'll hit for a .250-ish average with 150+ strikeouts and a bunch of dingers if everything works out. Judge is a very good athlete and a swift runner who played center at Fresno State, but he'll likely move to right field as a pro, where his arm will be more than enough. Simply put: he's a freak. Guys this size usually aren't this athletic or quick. Judge is a classic high-risk, high-reward prospect. It's unclear if he will open the season with Low-A Charleston or High-A Tampa.
#8

Born: February 14th, 1995 (Age 18)
Drafted: 2013 1st round, CA HS ($1.65M bonus)
2013 Level: Rookie
2013 Line: 5 IP, 10.80 ERA, 9.80 FIP, 16.0 K%, 16.0 BB%
Considering their history is littered with high-end left-handers, the Yankees have had an alarmingly small number of quality left-handed pitching prospects in recent years. Clarkin is only the third lefty the team has selected in the first or supplemental round since taking Brien Taylor first overall in 1991, joining Eric Milton (1996) and Jeremy Bleich (2007). His pro debut was delayed after he rolled an ankle during a workout, but he got healthy in time to throw a total of five innings across three short appearances late in the season. Clarkin is listed at 6-foot-2 and 186 lbs., and he is the rare high school prospect who already throws three pitches. His power mid-70s curveball breaks more 11-to-5 than traditional 12-to-6, and when he has command of it he can throw it for called strikes or bury it in the dirt for swings and misses. He sets the yakker up with a low-90s fastball and will also throw fading changeup. Clarkin has a very high leg kick and a long stride, which not only makes it hard for hitters to pick up the ball, it also makes consistently throwing strikes a challenge. The Yankees will have to work with him to iron out his mechanics and location. He's likely to be held back in Extended Spring Training before being assigned to Short Season Staten Island when the season begins in June.
#7

Born: February 20th, 1994 (Age 19)
Signed: Dominican Republic, 2011 ($225k bonus)
2013 Level: Rookie, Low-A
2013 Line: 44 IP, 2.45 ERA, 1.92 FIP, 29.6 K%, 5.6 BB%
The Yankees had several international signees come over to the U.S. last summer, and none were as impressive as Severino. The 6-foot-0, 195-pounder brings huge stuff to the table, including 92-94 mph fastballs that will run as high as 98 on his best days. The ball jumps out of his hand, though he will get radar gun happy at times and overthrow. Severino's top secondary pitch is a fading low-to-mid-80s changeup that he developed after turning pro. A hard mid-80s slider is his third best pitch (formerly second best) and rather inconsistent. All of his pitches play up because he throws strikes and keeps the ball out of the middle of the plate. Severino is a little on the small side but he already has two above-average pitches with a chance for a third. He's slated to return to Charleston to start the season and there is some serious breakout potential here. Like top 50 prospect in baseball potential.
#6

Born: August 21st, 1991 (Age 22)
Drafted: 2010 4th round, FL HS ($1.45M bonus)
2013 Level: High-A, Double-A
2013 Line: .245/.304/.337 (83 wRC+), 4 HR, 15 HR, 537 PA
A year ago Williams was in contention for the top spot. Then he showed up to camp in something less than peak physical condition and reportedly looked disinterested on the field for most of the season, which was pretty terrible statistically. Williams has loads of athleticism in his 6-foot-1, 180 lb. frame and he continues to be ranked highly because of his impressive tools, the best of which is his defense. He runs down everything in center thanks to his speed and strong reads off the bat, and his arm is above-average. His offensive style is more slash-and-dash from the left side than anything, which works well because he makes easy contact and doesn't have much power. Williams can be prone to bouts of extreme plate indiscipline because he gets the bat on the ball so often. The potential to be a All-Star leadoff man is there, but Williams needs to mature a bit and work on his approach at the plate. I wouldn't necessarily call 2014 a make-or-break year for him, but he will be eligible for the Rule 5 Draft next winter and needs to improve this season to earn a 40-man roster spot. Tools only go so far.
#5

Born: May 17th, 1992 (Age 21)
Drafted: 2013 1st round, Notre Dame ($1.84M bonus)
2013 Level: Rookie, Short Season
2013 Line: .264/.376/.451 (152 wRC+), 6 HR, 229 PA
The Yankees used their first pick in last summer's draft to select Jagielo, making it the first time they took a college position player with their top pick since taking John-Ford Griffin way back in 2001. Jagielo signed quickly and impressed with Staten Island in his relatively brief pro debut after missing some time with a minor hamstring problem. He's a left-handed hitter who fits the Yankees' mold of power and patience, with a swing geared for hard contact to all fields. Jagielo is a big guy (listed at 6-foot-3 and 215 lbs.) and he isn't quick, but he has worked hard on his defense. Most believe he will be able to remain at the hot corner long-term, though he's never going to be a Gold Glove caliber defender or anything like that. Left field could be an alternative down the road but a move isn't imminent. Jagielo owns one of the most advanced bats in the organization and he'll hop on the fast track this summer, likely opening the year with High-A Tampa.
#4

Born: September 6th, 1991 (Age 22)
Drafted: 2010 13th round, GA HS ($130k bonus)
2013 Level: Rookie, Double-A
2013 Line: .265/.351/.378 (103 wRC+), 6 HR, 373 PA
A wrist injury sabotaged Austin's follow-up to his dominant 2012 season. He suffered a bone bruise in April and tried to play through it before eventually landing on the DL for more than a month at midseason. The Yankees sent him to the Arizona Fall League for extra at-bats but the wrist flared up after only four games, so the team sent him home to prepare for 2014. When he's healthy, Austin makes loud and hard contact with his easy right-handed swing, though he doesn't generate a ton of backspin and he might be more of a doubles guy than a homerun hitter. He's a big guy at 6-foot-2 and 220 lbs. and he's not especially quick (despite impressive stolen base totals and rates), so his right field defense isn't expected to be anything special. The Yankees have said they intend to work him out at first and third bases this year, where he spent some time earlier in his career. We never did see the real Austin last summer because of the wrist and he will be eligible for the Rule 5 Draft next winter, so this upcoming season will be a pretty important one for him. He'll likely return to Double-A Trenton to at least start the year, but a promotion could come quickly if he rakes.
#3

SLADE HEATHCOTT, cf

Born: September 28th, 1990 (Age 23)
Drafted: 2009 1st round, TX HS ($2.2M bonus)
2013 Level: Double-A
2013 Line: .261/.327/.411 (104 wRC+), 8 HR, 15 SB, 444 PA
For the first time in five professional seasons, Heathcott managed to play in more than 80 games in 2013. His 444 plate appearances easily surpassed his previous career-high (351 plate appearances in 2010), though his season ended in mid-August due to a minor knee injury that required a clean-up surgery in the offseason. Heathcott, who stands 6-foot-0 and 195 lbs., has the best set of tools in the organization, with high-end athleticism and a chaotic all-out style of play. His left-handed swing has some holes and is best suited for slashing line drives, but his raw strength suggests there is some power coming. Because he doesn't recognize offspeed pitches well, Slade is prone to striking out and extended slumps. Heathcott is a ballhawk in center field who runs down everything from gap-to-gap and his arm remains strong even after a pair of shoulder surgeries. That aggressive playing style has led to several injuries and hindered his development. He needs to learn to turn it down a notch for his own safety. The Yankees added Heathcott to a 40-man roster after the season to protect him from the Rule 5 Draft and it's unclear if he will open next year back with Trenton or with Triple-A Scranton. The knee procedure might leave him a bit behind other position players in Spring Training.
#2

Born: May 13th, 1991 (Age 22)
Drafted: 2009 2nd round, FL HS ($1.25M bonus)
2013 Level: Double-A, Triple-A, MLB
2013 Line: .269/.347/.426 (117 wRC+), 12 HR, 484
Murphy started last season in Trenton and ended it in the Bronx. The 5-foot-11, 195-pounder set several career-highs in the minors — plate appearances (484), hits (111), doubles (29), homers (12), walks (47), total bases (176), OBP, SLG, and wRC+ — before making a brief (and unproductive) big league cameo in September. Murphy doesn't have the raw athleticism or sexy tools of other guys on this list, but he stands out because he does almost everything well. His right-handed swing is gearing for line drives to all fields and he has enough power and a sound enough approach to produce upwards of 15 homers annually down the road. Murphy has made huge strides defensively these last two years and is now a no doubt long-term catcher. He threw out a career-high 37% of attempted base-stealers in the minors last summer, and his overall receiving and ability to manage a game are big league ready. I'm high on Murphy because there are very few holes in his game and catchers who can hit while being solid or better defenders are exceedingly rare. I wouldn't necessarily say there is star potential here, but the tools to be an everyday catcher within a year or two are. Murphy is slated to open the year back with Triple-A Scranton and should be the first called up if there's an injury.
#1

Born: December 2nd, 1992 (Age 21)
Signed: Dominican Republic, 2009 ($3M bonus)
2013 Level: High-A, Double-A
2013 Line: .253/.324/.412 (109 wRC+), 15 HR, 509 PA
No change at the top of list, unsurprisingly. Sanchez was promoted to High-A Tampa at midseason in 2012 and he returned there to start 2013, hitting .254/.313/.420 (108 wRC+) with 13 homers in 399 plate appearances before another midseason promotion, this time to Double-A Trenton. He hit .250/.364/.380 (113 wRC+) with two homers in 110 plate appearances for the Thunder and set career highs in games (117), plate appearances (509), and walks (41).
Listed at 6-foot-2 and 220 lbs., Sanchez is very clearly a bat first prospect. His right-handed swing is smooth and he has easy power to all fields, though he does the most damage when pulling the ball. He continued to improve his plate discipline and overall approach last summer, which is evidenced in his strikeout numbers: 27.1% in 2011, 22.4% in 2012, and 17.1% in 2013. Defensively, Sanchez has a rocket arm (threw out a career-high 44% of attempted base-stealers last year) but is still working on his overall receiving and getting in front of balls in the dirt. Part of the reason the Yankees held him back in Tampa for most of the summer was so he could learn to catch premium velocity since guys like Mitchell and the since-traded Black were on the staff.
Sanchez took a more mature approach to the game last season — there were no reports of immaturity or insubordination in 2013, unlike previous years — and improved on both sides of the ball. The Yankees added him to the 40-man roster after the season to protect him from the Rule 5 Draft, but he still has quite a bit of work to do before being a legitimate big league option, especially on defense. Sanchez is easily the team's best prospect and their best hope for a homegrown impact position player within the next few years. He'll return to Trenton to start the season.
* * *
Just to be clear, I do not consider Masahiro Tanaka a prospect and ruled him ineligible for the list. Yes, he is technically rookie-eligible this year, but I'm not going to rank him on any kind of prospect list after throwing over 1,300 innings with the Rakuten Golden Eagles in Japan. That's kinda silly.
Among players who left the organization over the last year, neither Santana nor Mesa would have made this year's Top 30. I don't think Claiborne would have either had he not recorded that one extra out. Marshall likely would have fit in the 26-30 range somewhere — he had a brutal 2013 season and a lot of his flaws were exposed in Triple-A — but Black would have ranked rather high, likely 12th behind Bird and ahead of Ramirez. He's got a huge arm and he made some big strides last year, enough that he now looks like a starter long-term.
I do think there is a lot of untapped potential in the farm system right now, so the Yankees could shoot up the various rankings if some things come together in 2014. If they don't, I would expect some personnel changes to be made after the season. The plan to get under the $189M luxury tax threshold by this year failed primarily because the system did not produce enough help in recent years. That can only go on so long.