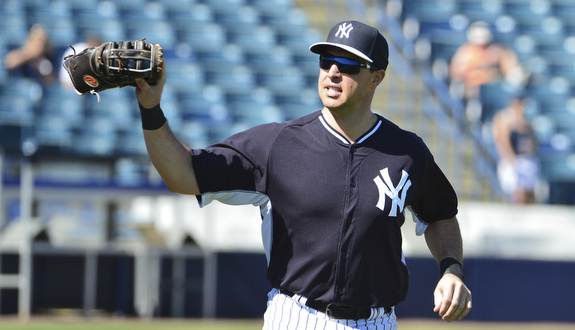 Does anyone honestly want to hear a recap of the 2013 Yankees injury situation? From the revelation that Alex Rodriguez would miss at least half the season, to Brett Gardner's strained oblique in September, injuries buried the team.
What hurt the 2013 team could make the 2014 team stronger. Two key players who missed almost all of the 2013 season appear to be healthy in 2014.
Mark Teixeira
How much did losing Teixeira hurt the Yankees in 2013? His relatively weak 2012 campaign might obscure his overall impact. Particularly in terms of power output, losing Teixeira hurt badly.
The Yankees went from an AL-leading .188 ISO in 2012 to a third-lowest .133 in 2013. A good portion of that loss came from free agent departures. Eric Chavez, Raul Ibanez, Andruw Jones, Nick Swisher, and Russell Martin were the Nos. 4 through 8 power producers on the team.
Not only was Teixeira the No. 3 power source on the 2012 team, but he ranked No. 23 (out of 143) in all of MLB. In a season when the Yankees needed their power guys more than ever, they lost almost all of them to injury.
Getting a healthy Teixeira in 2014 could provide the lineup with the power boost that it needs. (Particularly at first base, where they had the worst OPS in the AL in 2014.) Yet the question remains: what will Teixeira look list after serious wrist surgery?
The closest comparison is Jose Bautista, who did experience a power dip in 2013, after suffering a similar injury in 2012. Yet there are two mitigating factors here:
1) Bautista underwent his surgery almost two months later in the season than Teixeira, so Teixeira could be further along in the healing process.
2) Bautista did still produce quality power numbers in 2013, producing the eighth-highest ISO in the majors. That's a drop-off from his No. 1 mark in 2011, but by no means a cliff dive.
There is no way Teixeira can be worse than Lyle Overbay and the 2013 cast of first-base misfits, so his return will be welcome regardless of actual outcome. At the same time, his return to form as a middle of the order bat will go a long way in powering the 2014 Yankees lineup.
Derek Jeter
Ladies and gentlemen, it feels so good to be back — only it didn't. Each time Jeter returned last season he struggled physically. It honestly came as no surprise, at least in hindsight.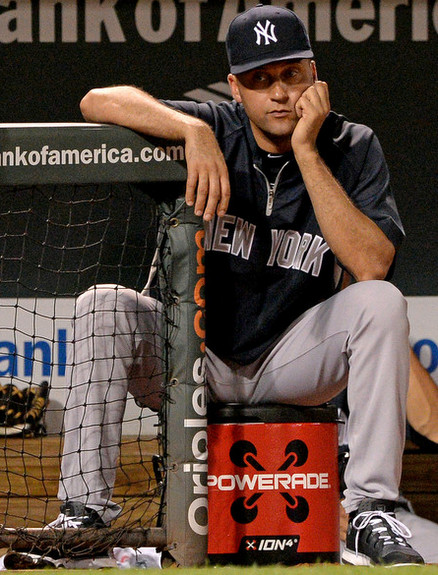 Baseball players rely on their lower halves. A novice observer might see the upper body central in every baseball movement; the ball and bat sit in our hands, after all. But everything that sets great players apart comes in the lower half. Swinging, throwing, and defensive range all rely on strong hips and legs.
Coming into 2014, Derek Jeter's lower half was probably the weakest of his career. The ankle injury that ended his 2012 season prevented him from strengthening his hips and legs during the off-season. Sure, physical therapy got him to a certain base of strength, but that base is hardly enough to power a pro baseball player.
Jeter, unused to such physical limitations, pushed himself too hard and reinjured his ankle. Again, that meant rest and no opportunity to strengthen his lower half. Why did he injure his squad, then his calf, and then his ankle again in 2013? Because his legs were weaker than ever.
A full off-season to build strength should benefit Jeter. It's tough to expect much of him this year, his final season, one during which he will turn 40 years old. At the same time, he is Derek Jeter. With physical strength behind him, perhaps he could come close to the .316/.362/.429 line he produced in his last fully healthy season.
As with Teixeira, it's difficult to see Jeter not improving on last year's shortstop production, which ranked 14th out of 15 AL teams.
Brian Roberts
Seeing as he's the best second baseman in the league, the Yankees had no chance of replacing Robinson Cano's production this off-season. What they did, instead, was reinforce other areas of weakness in hopes that they can spread Cano's production among many positions.
The man tasked with actually replacing Cano has not been known for his reliability in recent years. After three straight years of more than 700 PA, Brian Roberts has managed just 809 in the last four seasons combined. Worse, his combined numbers during that span are worse than any single season he's produced since 2003.
Getting a relatively healthy 2014 from Roberts will go a long way for the Yankees. It's tough to expect him to repeat his last fully healthy season, considering that was four full years ago. He did get better as last season progressed, though, so perhaps a healthy Roberts can still be a productive player.
The bet is a long one, as we all know. If the Yankees win, they get a slightly below average hitter at 2B (which would be above average for the position) for a low cost. If they lose, they have to replace Roberts from within, which means that the best among Eduardo Nunez, Dean Anna, or Corban Joseph gets the spot. (Or it could be Kelly Johnson with one of the above, or Scott Sizemore at third.)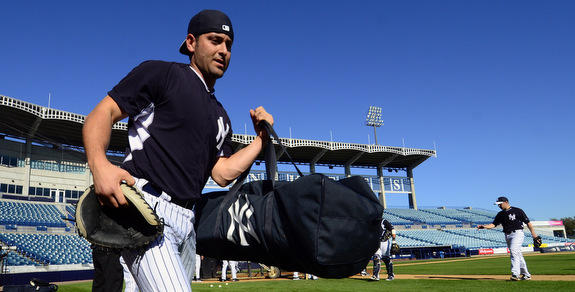 Francisco Cervelli
In 2013 Cervelli got his big chance. With Russ Martin gone and no other surefire starting catcher candidate on the roster, he could get some consistent playing time. He responded well early, producing a .877 OPS in 61 PA.
Then he got hit with a foul ball and broke his hand. Before he came back he suffered an elbow problem that kept him on the shelf longer. Then he got suspended for his involvement in Biogensis. Now he's sitting behind Brian McCann, one of the best-hitting catchers in the league, on the depth chart.
Given his lack of minor league options and his relative experience, Cervelli figures to get the backup job. His return from injury can help prevent the catcher spot from being an offensive black hole when McCann takes days off. He might also make it easier to give McCann days at DH, limiting the wear and tear on the starter.
Most of all, a successful return from injury could raise Cervelli's trade value. The Yankees will absolutely need help at the trade deadline. A healthy catcher who still has a few years of team control remaining could prove a valuable bargaining chip. With John Ryan Murphy and even Austin Romine ready at AAA, they can certainly afford to part with Cervelli.
What hurt in 2013 can help in 2014. The Yankees will get back a number of players whose absences hurt them immensely. Combined with the new guys, and we could see significant improvement this time around.