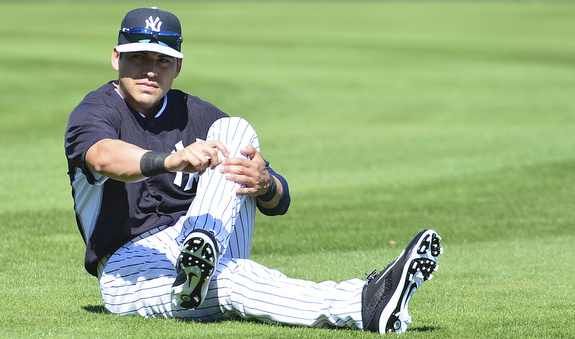 It has been an easy to overlook part of their game, but the Yankees have been one of the most prolific base-stealing teams in baseball over the last decade. They've swiped 100+ bases in seven of the last eight seasons and their 1,117 steals since 2004 are the fourth most in the game. No one thinks of the Yankees as a base-stealing team but they've been among the best in recent years.
Of course, there is more to base-running than bulk stolen base totals. A lot more, really. Advancing on a ground ball, scoring from first on a double, going first-to-third on a single, all of that is important as well. Players don't even need to be fast to be good base-runners, though speed sure does help. Between the incumbents and the players brought in over the winter, New York has a number of guys who can make plays on the bases if not flat-out cause chaos.
Jacoby Ellsbury
When the Yankees signed Ellsbury to that massive $153M contract back in December, they added arguably the best base-runner in the world to their roster. He led baseball with 52 steals last year and was only caught four (!) times, a 93% success rate that was easily the best among players who attempted at least 25 steals. Ellsbury has one 70 steal season (2009) and two other 50+ steal seasons (2008, 2013) to his credit. His career success rate is 84%, well above the current break-even point of 66-68%.
Over the last three seasons, Ellsbury has taken the extra base (first-to-third on a single, etc.) 49% of the time, which again is well above the 39-40% league-average. It's worth noting that he took the extra base only 42% of the time last season, his lowest rate in five years. That doesn't necessarily mean Ellsbury is slowing down or anything like that, we're talking about a sample of 74 extra-base opportunities. The difference between 42% and 49% is five extra bases, that's all. Ellsbury just turned 30 in September and there is little reason to think he will be anything but a base-running monster in 2014. If he stays healthy, 40+ steals and tons of extra bases taken feels like a lock.
Brett Gardner
I know I'm not the only one who was disappointed in Gardner's stolen base total last summer. After stealing 96 bases (81% success rate) during his previous two healthy seasons from 2010-11, he dropped down to only 24 steals (75% success rate) in 2013. My hypothesis is that because their offense was so weak, the Yankees gave Gardner the red light a bunch of times last year in an effort to make sure there were runners on base for Robinson Cano. Maybe I'm crazy, who knows.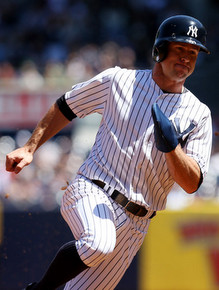 Gardner's rate of taking the extra base is very similar to Ellsbury's: 45% in 2013 and 48% from 2011-13. I think the thing that has kept both guys from being truly elite extra-base takers like Mike Trout (career 61%) has been their ballparks. Yankee Stadium and Fenway Park are small parks, so the outfielders can play a little shallower and get to balls hit in front of them a little quicker. It doesn't take much to stop a guy from taking those extra 90 feet on a base hit.
Anyway, Gardner turned 30 about two weeks before Ellsbury, so he's still relatively young and should continue to be a threat on the bases in 2014. Hopefully he gets back to being a 40+ steal guy because that's when he's at his best. Only once in their history have the Yankees had two 40+ stolen base players in one season (Steve Sax and Roberto Kelly in 1990), but Gardner and Ellsbury have a very real chance of doing it this summer.
Alfonso Soriano
Man, remember how exciting Soriano was when he first came up? He was this wiry little guy who hit for power and ran like the wind, hitting 95 homers and stealing 119 bases from 2001-03, his three full years with the Yankees. That was a baseball lifetime ago and 40+ steals are a thing of the past, but Soriano can still do some damage on the bases.
After swiping a total of 22 bases from 2009-12, Soriano rebounded to steal 18 bags last season, including eight in 58 games with New York. He wasn't terribly efficient though, getting caught nine times total and four times in pinstripes. That 67% success rate is right on the break-even point. Soriano has also taken the extra base 38% of the time the last three years (41% in 2013), so he's basically league average in that regard.
I'm not exactly sure what we can expect from the 38-year-old Soriano on the bases this coming season. Could he steal 10-15 bases with a 67% success rate while taking the extra base a league average amount of time? That seems very possible but I'm not sure he could do much better without a huge contract year push. I'd bet against one at his age. Soriano isn't a Gardner/Ellsbury level base-runner, but he can steal the occasional bag and score from first on the occasional double.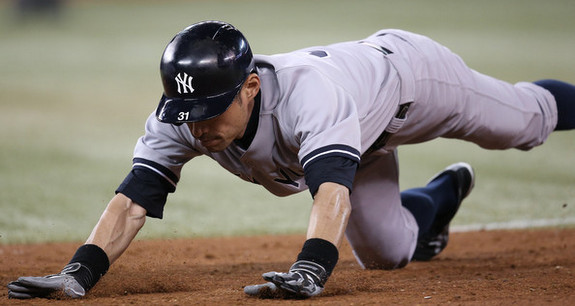 Ichiro Suzuki
Ichiro, 40, stole 20 bases in 24 attempts last year, second most on the team behind Gardner. His bulk stolen base total has gradually declined over the years but he remains highly efficient, with an 83% success rate both last year and over the last three years. He took the extra base 38% of the time last season and 40% over the last three seasons, so more or less league average.
The additions of Ellsbury and Carlos Beltran have pushed Ichiro into a fifth outfielder's role, but he should still get plenty of chances to have an impact on the bases as a pinch-runner/spot starter. He keeps himself in phenomenal shape and even though he has clearly lost a step over the years, Ichiro is still a smart base-runner who picks his spots well. I think experience can be very valuable for a bench player and when it comes to running the bases in the late innings of a close game, few would be a better option than Ichiro. Running the bases is something he still does very well, it's just a question of how often he'll get to do it.
Derek Jeter
In the past, the Yankees could always count on their captain for stolen bases and smart base-running decisions, but following last season's leg injury filled nightmare, it's unclear if he'll be of any value on the bases in 2014. Even when he was healthy in 2012, Jeter only stole nine base (in 13 attempts) while taking the extra base 38% of the time. What will he be able to do on the heels of a twice-fractured ankle and various leg muscle problems? The smart money is on not much.
It would be awesome is Jeter got back to being a threat on the bases this summer, but that should be the very least of his and the team's concerns. He should focus on staying healthy and being productive at the plate, first and foremost. Those are the most important things in his final season. Any base-running value Jeter gives the team this year is icing on the cake. It just isn't much of a priority at this point of his career.
* * *
Kelly Johnson has stolen 37 bases over the last three years but he only went 7-for-11 (64%) last season, and he took the extra base at a well-below-average 29% over the last three years. He might steal 10-15 bases this summer, but his history suggests he won't be all that efficient on the bases. Beltran's knees don't allow him to run much anymore but Eduardo Nunez is always good for double-digit steals, even as a part-timer, and he took the extra bag at a league average rate from 2011-13.
Gardner and Ellsbury will clearly be the stars of the Yankees' base-running show this season, and they have some nice support in Ichiro, Soriano, Nunez, and maybe Jeter. It feels like a foregone conclusion that they'll again top 100+ stolen bases as a team this year and they should improve on their overall extra-base taken rate, which was the second worst in the game at only 35% last year.