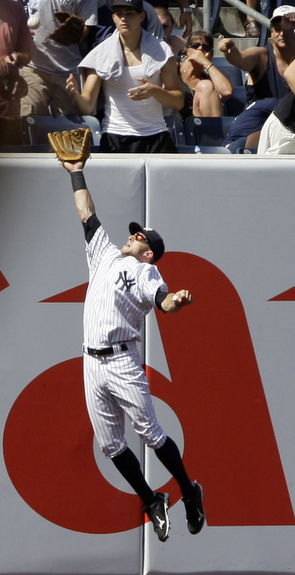 Over the last three months, the Yankees have committed 12 contract years and $210.6M in guaranteed money to Jacoby Ellsbury and Brett Gardner. That's a lot of cash and a lot of years for a pair of defense-first outfielders who will steal a bunch of bases but not hit for much power. Years ago, these two guys wouldn't sniff that kind of money, but teams now better understand and value players who contribute in less obvious ways.
Having both Ellsbury and Gardner signed for at least the next five years impacts the Yankees in a lot of ways. First and foremost, they don't have to worry about fly balls all that much because those two will track down almost anything. They also don't need to sweat finding a leadoff man in the post-Derek Jeter era because they now have two of them. Having two-thirds of the starting outfield signed long-term makes life a bit easier, no doubt about it.
On the other hand, having both Ellsbury and Gardner signed for the next half-decade also creates some problems. Well, not to much problem. Just things to consider. They are two very similar players and that makes them somewhat redundant, especially offensively. Don't get me wrong, guys who get on base and steal bases can be very dangerous, but there also needs to be some diversity to the lineup. The power is going to have to come from somewhere, and with two outfielders signed long-term, it will have to come from the infield.
The good news is that the Yankees have a clean slate on the infield, or close to one anyway. Mark Teixeira is signed to play first base for another three years but Derek Jeter is retiring after the season and both Kelly Johnson and Brian Roberts are on one-year contracts. The team has a lot of flexibility when it comes to building their future infield, and that's great. At the same time, holy crap they need to build three-fourths of an infield next winter. That's a big deal and it's a lot of work.
The Yankees' best infield prospects (Eric Jagielo, Abi Avelino, etc.) are still years away from the big leagues and future free agent classes are pretty terrible. Next year's class will get even worse as players sign extensions, most notably Hanley Ramirez. He recently said he wants to spend the rest of his career with the Dodgers and they have the money to keep him around that long. Hanley would be a great fit as a power-hitting infielder, though others like J.J. Hardy, Chase Headley, and Pablo Sandoval would make sense as well.
There aren't many power-hitting infielders out there — only 13 non-first base infielders have had at least 40 extra-base hits in each of the last three seasons — so finding two or three of them won't be easy in the coming years. The Yankees are going to have to dig up a few guys like that though, that is unless they plan on becoming a speed-first team despite playing in a tiny ballpark in the AL East. The Gardner and Ellsbury deals mean New York will have to target some infielders who can rake for the coming years.