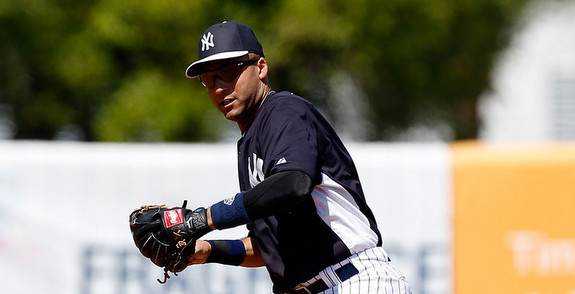 We're only six days away from pitchers and catchers reporting to Tampa for the start of Spring Training. Here are some injury updates in the meantime, courtesy of Kevin Kernan, Andrew Marchand, Wally Matthews, Matt Ehalt, and the Associated Press.
So far, so good for Derek Jeter (leg). He just completed his third week of baseball activities and everything is holding up well. "I feel good," he said. "I've been working hard, and I've had a complete offseason to work out and strengthen everything … It's been fun, but it's been difficult because you're starting over from scratch."
Mark Teixeira (wrist) has started taking batting practice against live pitching. He has gradually worked his way back from surgery, first by taking dry swings and then by hitting off a tee and soft toss. "There's plenty of guys that come back from injuries come back way too fast and get reinjured," he said. "That's not in my plans this year."
Scott Sizemore (knee)  feels good as he works his way back from his second torn left ACL in the last two years. "I'm feeling pretty good, getting back on the field feels great and I haven't had any issues with the knee," he said. "Obviously, two serious knee injuries, doubts crept into my mind if I was ever going to be able to play again. Nothing's given."
Manny Banuelos (elbow) is completely rehabbed from Tommy John surgery and on a normal throwing program right now. "[The elbow] feels normal, just like before surgery. I feel ready to go," he said.