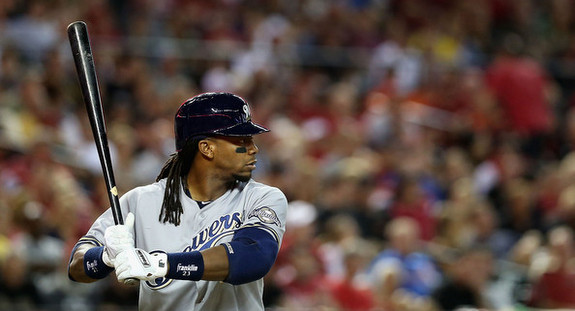 The Yankees are reportedly done signing Major League free agents, but that doesn't mean trades for established big leaguers are off the table. According to George King, the team will monitor second baseman Rickie Weeks, who could lose his starting job with the Brewers to youngster Scooter Gennett these next few weeks.
Weeks, 31, was limited to 104 games last season by a severe hamstring injury that required season-ending surgery in August. The 23-year-old Gennett took his spot in the lineup and hit .324/.356/.479 (131 wRC+) with six homers in 230 plate appearances down the stretch. Weeks has hit .222/.320/.384 (94 wRC+) with 31 homers and 23 steals these last two years, a far cry from his 2009-11 peak.
The Brewers would presumably love to shed Weeks and the $11M they owe him this season. This is not another Vernon Wells situation though; the elder Weeks brother has not been a total disaster the last two years. Below-average, yes, but not a Wellsian disaster. Trading a prospect and picking up that $11M tab would be tough to swallow with Stephen Drew still unsigned, but he is a name to keep in the back of your mind.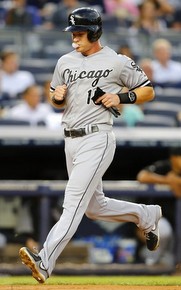 In other news, King says the White Sox are seeking catching help and had a scout on hand for yesterday's game against Florida State. Frankie Cervelli, John Ryan Murphy, and Gary Sanchez all played in the game. "There has been no dialogue … I wouldn't comment on interest," said Brian Cashman when asked about a potential deal with Chicago.
The Yankees are prioritizing infield and bullpen help this spring, to no one's surprise. The ChiSox could offer perennial disappointment Gordon Beckham or free agent flop Jeff Keppinger, who New York showed some interest in at the trade deadline last year, according to King. The 33-year-old hit .253/.283/.317 (60 wRC+) last summer and is owed $9.5M through 2015. Beckham, 27, managed a .267/.322/.372 (88 wRC+) line last year, his best season since 2009. He's owed $4.175M this year and is under team control in 2015 as well.
Beckham was much more interesting a year or two ago, when he on the right side of 25 and still had some of that top prospect shine. We now have nearly 2,500 big league plate appearances saying this guy is a below-average Major League hitter and there have been no signs of improvement in recent years. As badly as they need infield help, I think the Yankees have to be careful not to overrate their catching depth. It can disappear in a hurry.