I've got six questions for you this week. The Submit A Tip box in the sidebar is the best way to send us anything, as you probably know.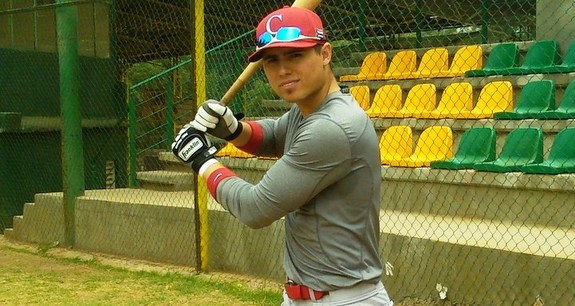 Many people asked: What about Aledmys Diaz?
Diaz, 23, will be eligible to sign next Wednesday after being suspended for a year because he lied about his age. Believe it or not, he tried to pass himself off as older than his actual age so the international spending restrictions wouldn't apply to him, allowing him to receive a much larger bonus. How about that? A Cuban player trying to trick people into thinking he was older than he really is.
Anyway, the suspension ends next week and he can indeed sign for any amount now that he is 23. The Yankees had a "large presence" at one of his workouts last year and they were among the teams to scout him just yesterday, says Jon Morosi. Their interest level is unknown but if they're still on him, they probably like him. Here's a scouting report from Ben Badler, dated last January:
Age questions and unblocking issues aside, scouting reports on Diaz's talent remain modest. Though Diaz has played shortstop in Cuba, scouts have said he doesn't have the lateral range, quickness or footwork to stay at the position. Diaz has shown some ability with the bat, hitting .315/.404/.500 in 313 plate appearances for Villa Clara in his final season in Cuba, albeit in a high-offensive environment in which he ranked 30th in the league in OBP and tied for 20th in slugging.
That's everything I know about Diaz right there. I don't know if he is ready to step right into the big leagues but I assume he will need some time in the minors. Most guys do. (Yoenis Cespedes is the only big name Cuban player to jump straight into MLB in recent years). The Yankees need long-term help at both second base and shortstop, and Diaz is as good a candidate to plug one of those holes as anyone. As always, his asking price will be a factor.
Jamie asks: 5th starter competition: of Vidal Nuno, Adam Warren, David Phelps and Michael Pineda, none of these guys threw more than 86 IP last year. Can we really expect 150 innings out of any of these guys in 2014? Isn't that kind of an IP jump from one season to the next a big stretch?
Pineda is the one I worry about the most because of his injury. The Yankees will have to watch him very carefully. I'm not worried about the other guys at all though. For starters, they aren't particularly young. Warren is the youngest and he'll turn 27 in August, so these aren't 22 or 23-year-old kids. Secondly, all three threw at least 120 innings (postseason included) in both 2011 and 2012, plus both Warren (2011, 2012) and Phelps (2009, 2010) have multiple 150+ inning seasons to their credit. I don't know if the Yankees can run these guys out there for 200+ innings this summer, but I wouldn't sweat 150 innings at all.
Dominik asks: Now that Alex Rodriguez has been suspended, will he be drug tested during his suspension? Are there still increased testing protocols for once he gets reinstated and do they apply during the suspension if he is tested? Thanks!
Oh yes, he will absolutely continue to be drug tested. In fact, he will be tested even more now that he's been suspended for violating the Joint Drug Agreement. That continues even after he is reinstated. Even if the Yankees plan to release A-Rod at some point, they won't do it during the suspension because he could potentially fail a test and be suspended again, saving them an even bigger chunk of his contract.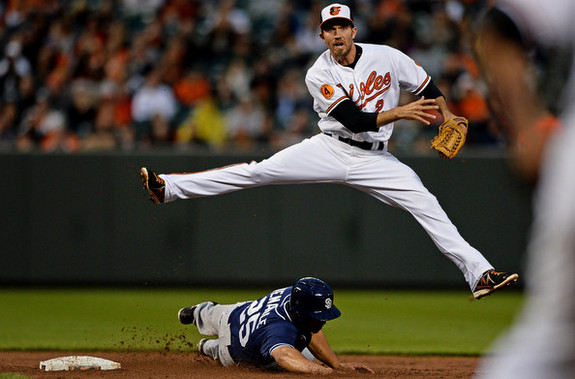 Christopher asks: Should the Yankees pass on Stephen Drew this year and look to replace Derek Jeter with next year's bountiful crop of Hanley Ramirez, J.J. Hardy, Jed Lowrie, and Asdrubal Cabrera?
They could do that but it would be really risky, not to mention it doesn't help the 2014 team at all. There is no guarantee those guys will actually hit free agency, and Hardy is the only true shortstop of the bunch. The other three are terrible defenders and that figures to be even more evident after another season. Hanley's bat makes his defense less of an issue, but he recently said he wants to be a Dodger for life. The Yankees could, conceivably, sign Drew now and still add Ramirez (third base) or Lowrie (second) next winter. (Asdrubal is pretty bad and has been trending down for several years now.)
Gilbert asks: Instead of just basing how good of a contact hitter someone is by their batting average, is there a stat like keeps track of the percentage of pitches a batter sees that he makes contact with (in play or foul)? This way we can say "He makes contact 47.1% of the time."
Definitely. Thanks to PitchFX we have all sorts of neat information and most of it is easily available. Here is the contact rate leaderboard from 2011-13, courtesy of FanGraphs:

So, over the last three years, Marco Scutaro has made contact on 95.2% of his swings, the most in baseball. O-Contact% is contact rate on pitches out of the zone, Z-Contact% is contact rate on pitches in the zone. Pretty simple, right?
Ichiro is 15th in baseball with a 89.6% contact rate since 2011 while Brett Gardner is 18th at 88.9%. On the other end of the spectrum, Mark Reynolds is dead last with a 66.7% contact rate over the last three years. Ryan Howard (67.0%) and Giancarlo Stanton (67.3%) are second and third worst. Batting average can fluctuate wildly from year-to-year — Robinson Cano is a career .309 hitter, but he hit .342 one year and .271 another — but contact rates tend to be very steady. It is important to remember that not all contact is created equal though. Some guys simply hit the ball harder than others.
Matt asks: If teams usually sign Japanese players from the posting system for six years, since they would be under team control for six years anyway, and would be only arbitration eligible at the end of the contract if they only signed for say, four years. Why is this working differently for Masahiro Tanaka's opt-out clause? It seems if he opts out, of the contract, he should still be under team control for the remainder of the six years.
This is just a courtesy MLB extends to veterans of the Japanese leagues. Rather than maintain the full six years of team control, they're treated as regular free agents, guys who have already accrued that much service time. Hideki Matsui became a free agent when his original three year contract expired following the 2006 season, for example. Yu Darvish's contract works the same way as Tanaka's. He can opt-out after the fifth year and become a free agent. I think it's fair and a good thing. Those guys have served their time.