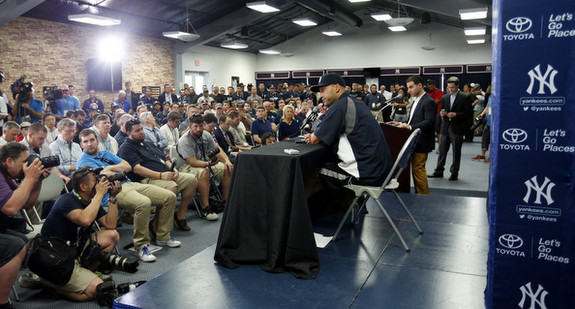 Position players reported to Spring Training today, but the day was all about Derek Jeter. He discussed his plan to retire following the season during a press conference this morning. You can watch the video right here if you haven't seen it yet. Jeter said exactly what he wrote in his initial statement: things that used to come easy are a little more difficult, and he's looking forward to starting the next chapter of his life. Here's the rest from Tampa.
As always, Chad Jennings has the day's mound assignments. David Robertson, Matt Thornton, and David Phelps threw bullpen sessions while Manny Banuelos and Shawn Kelley were among those to face hitters in live batting practice. Adam Warren had been on the same schedule as Phelps, but he didn't throw today and will instead throw live batting practice tomorrow. Seems like they are being lined up for some early Grapefruit League starts.
From what I can tell, all the position players reported today with no issue. No visa holdups or anything like that. The first full squad workout is tomorrow but Eduardo Nunez was already out taking ground balls at third base. [Bryan Hoch]
And, just in case you were wondering, Joe Girardi confirmed everyone has made it through Spring Training healthy so far. It has only been a week, but still. Health is good. [Jennings]
This is your open thread for the evening. Both the Knicks and Nets are playing, plus the Olympics are still on as well. You folks know how these things work by now, so have at it.