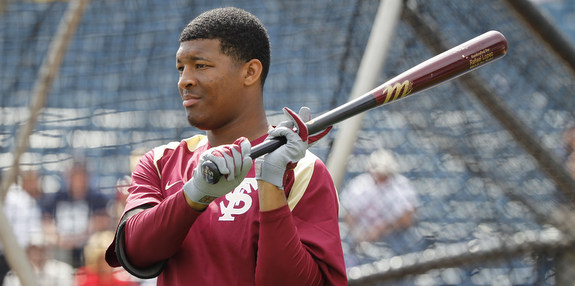 The Yankees played their first exhibition game of the year this afternoon, beating Florida State 8-3. Back-to-back doubles by Zoilo Almonte and Brendan Ryan created the first run while a Gary Sanchez sacrifice fly drove home the second. The sac fly was actually a foul pop-up near the on-deck circle, but no one bothered to cover the plate so the runner came home. Spring Training baseball against a college team, y'all.
The box score is right here. Vidal Nuno struck out three in two scoreless innings while Brett Gardner (infield single), Frankie Cervelli (5-4-3 double play), and Kelly Johnson (strikeout looking) got one at-bat apiece. Ramon Flores hit a solo homer, Dean Anna doubled once, and John Ryan Murphy doubled twice. Shane Greene allowed all three runs in his two innings of work. Heisman Trophy winner Jameis Winston (above) went 0-for-2 with a strikeout and a ground out to second. Here is everything else from Tampa.
This your open thread for the evening. None of the hockey or basketball locals are in action, so you're on your own for entertainment. Talk about anything your heart desires right here. Have at it.