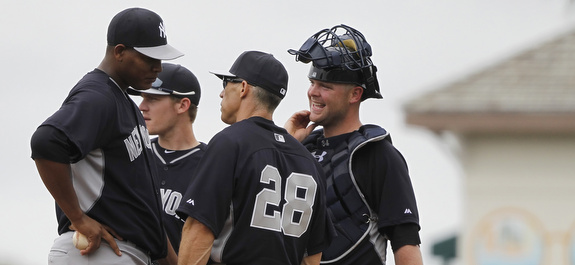 The Yankees officially opened Grapefruit League play with a 6-5 loss to the Pirates this afternoon. Season over, obviously. Jacoby Ellsbury was the headliner on offense, beating out an infield single and drawing two walks. Carlos Beltran went hitless in three at-bats (one strikeout) while Brian McCann singled and struck out in his two at-bats. Bench candidate Yangervis Solarte had a nice game, going 2-for-3 with a homer.
The box score is right here. Ivan Nova allowed two runs on two hits and two walks in 1.1 innings before hitting his pitch limit. Dellin Betances struck out a pair in two scoreless innings as he tries to make a case for a bullpen job. Chase Whitley and Preston Claiborne combined to allow four runs in the seventh, blowing the team's three-run lead. Cesar Cabral retired both lefties he faced, one on a strikeout. Here's the rest of the day's news from Tampa.
Here is your open thread for the night. The Nets are playing and later tonight MLB Network will re-air this afternoon's Dodgers-Diamondbacks game, if you're jonesin' for some baseball. Talk about those games or anything else right here.