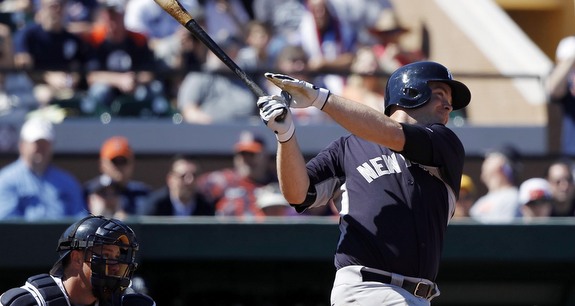 The losing streak is over! The Yankees won their first Grapefruit League game in three tries on Friday, beating the Tigers by the score of 7-4. Brian McCann and Gary Sanchez each hit a solo homer within the first three innings — the team's catchers hit eight dingers all of last season — and both Jose Pirela and Yangervis Solarte went deep as well. It was Solarte's second homer in as many games. He's the early favorite for the "random guy tears the cover off the ball in camp and everyone says he should make the team" award.
The box score is right here. Adam Warren allowed two hits and two walks in two scoreless innings, then Shawn Kelley, Mark Montgomery, Danny Burawa, Fred Lewis, Chase Whitley, and Preston Claiborne followed his scoreless frames of their own. Brian Gordon took one on the chin, allowing all four of Detroit's runs in his inning of work. Zoilo Almonte and Ramon Flores threw runners out at the plate. The trio of Jacoby Ellsbury, Eduardo Nunez, and Carlos Beltran went a combined 0-for-7 with a walk (Ellsbury). Here is your daily update on the rest of Spring Training.
This is the open thread for the night. The Knicks are playing and MLB Network will have a Spring Training game on tape delay later tonight. Not sure what teams, but it won't be the Yankees. Talk about whatever you want right here. Have at it.