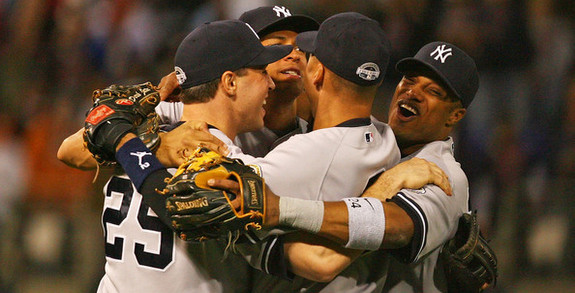 By their own admission, the Yankees are heading into the season with some serious question marks on the infield. Derek Jeter and Mark Teixeira are both coming back from what amount to lost seasons while Brian Roberts has been battling injuries for almost a half-decade now. Kelly Johnson is a solid player but nothing more, yet he is the surest thing on the infield at the moment.
It wasn't all that long ago that the infield was the strongest part of the Yankees' roster. Jeter has been anchoring the infield (and the entire team, really) since 1996 and he's had some truly great teammates over the years, so strong infield units are nothing new to New York. In fact, only five teams have had a 4+ WAR player at the four infield positions throughout baseball history, and a recent Yankees squad is one of them. Here's the list:
Fifty-nine teams have boasted three 4+ WAR players on a single infield (most recently the 2013 Rangers), but only five teams have managed four such players. That's it. It's happened once in the last 30 years and three times in the last century. The Yankees, of course, had that one infield full of 4+ WAR players just five years ago, during their 2009 World Championship season. Let's look back at their performances.
1B Mark Teixeira – .292/.383/.565 (141 OPS+), 43 2B, 39 HR, 5.1 WAR
Teixeira's first year in pinstripes was his best by a not small margin, as he led the league in both homers and runs driven in (122). He finished second to Joe Mauer in the AL MVP voting but, in reality, he wasn't even the best player on the Yankees' infield. We'll get to that in a bit. Following his typically slow start to the year — he was sitting on a .191/.328/.418 batting line as late as May 12th — Teixeira was a monster all summer, hitting .315/.396/.597 with 32 homers in the team's final 129 games of the season. He just straight mashed that year. What a beast.
2B Robinson Cano – .320/.352/.520 (121 OPS+), 48 2B, 25 HR, 4.5 WAR
Man, remember how awful Robbie was in 2008? He hit .271/.305/.410 (86 OPS+) and was worth 0.2 WAR during that miserable campaign, which landed him in plenty of trade rumors. I'm sure you haven't forgotten about all the Cano for Matt Kemp talk. My favorite part of that was signing then-free agent Orlando Hudson to take over at second. That would have been a disaster given the player Cano developed into. That 2009 season was Robbie's first step towards joining the game's elite, but on a rate basis, he was the least productive player on his own infield. Bananas.
SS Derek Jeter – .334/.406/.465 (125 OPS+), 27 2B , 18 HR, 30 SB, 6.6 WAR
Remember when I said Teixeira was not even the best player on the infield? That's because Jeter was. The Cap'n was a monster from the leadoff spot, hitting for average, getting on base, stealing bases (30-for-35!), and, believe it or not, playing solid defense. The various metrics all say Jeter was above-average with the glove that year (+3 DRS, +6.3 UZR, +4 Total Zone), and while you can't trust one season's worth of defensive stats, I definitely remember believing he was playing better defense that year based on what I saw. Know how I always say you need unexpected contributions if you want to win the World Series? Jeter's defense was an unexpected contribution in 2009. His bat was pretty awesome as well. What a season that was.
3B Alex Rodriguez – .286/.402/.532 (138 OPS+), 17 2B, 30 HR, 14 SB, 4.2 WAR
When the 2009 campaign opened, Cody Ransom was the starting third baseman. A-Rod was scheduled to miss the first few weeks of the season due to hip surgery, a surgery that kept him out until early-May. He famously hit a three-run homer on the very first pitch he saw in his first game back, then proceeded to hit (almost) like vintage A-Rod for the remainder of the summer. He and Teixeira were the most devastating 3-4 combination in the game for this one year. Rodriguez also managed to extend his record streak of consecutive seasons with 30+ homers and 100+ RBI to twelve thanks to a two-homer, seven-run batted inning in the final game of the regular season.
* * *
Know what is really amazing about this infield? These four guys combined to play 594 of 648 possible games (91.7%) even though A-Rod missed the start of the year with the hip issue. They were awesome when they were on the field and they were on the field pretty much the entire season. The Yankees didn't just have the best infield in baseball back in 2009, they legitimately had one of the best infield units in baseball history. It was the centerpiece of the championship team — everyone else was part of the supporting cast.