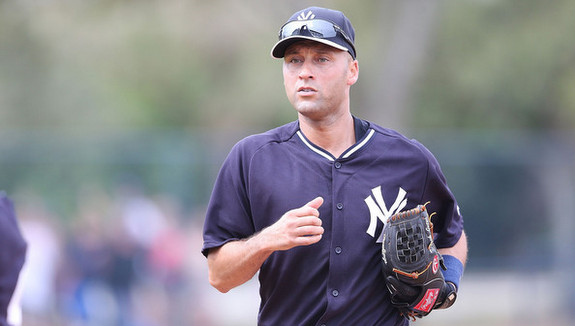 One hundred and fifty days after their disappointing 2013 season ended unceremoniously with an extra-innings wins over the Astros, Yankees baseball returns this afternoon. Well, it actually returned on Tuesday, but today's game is the first one we will be able to watch live thanks to the magic of television. It's a good day.
Spring Training games are generally meaningless but today is no ordinary Spring Training game. Derek Jeter will start at shortstop, his first game action since being shut down with continued leg problems last September. He is coming back from a twice-fractured ankle and various leg muscle problems, all of which limited him to only 17 games last year. Jeter says he feels great and he has reportedly been moving well during workouts, but that and a couple bucks will get you on the subway. Today we'll get to see him in action for ourselves.
The Pirates are making the short trip up from Bradenton for today's game after beating the Yankees in yesterday's Grapefruit League opener. Pittsburgh sent a skeleton crew lineup for the road game, but top prospect Gregory Polanco is playing center field and batting second. He's a stud. Former Yankees Chris Dickerson and Chris Stewart are also in the starting lineup and righty Charlie Morton will be on the mound. Here is Joe Girardi's lineup, for the first few innings anyway:
LF Brett Gardner
SS Derek Jeter
RF Ichiro Suzuki
2B Brian Roberts
C Frankie Cervelli
3B Kelly Johnson
DH Austin Romine
1B Russ Canzler
CF Mason Williams
And on the mound is RHP David Phelps, who is making his first appearance of the spring. He's competing for the team's fifth starter's spot.
Available Pitchers: RHP Jim Miller, RHP Chris Leroux, RHP Mark Montgomery, RHP Robert Coello, and RHP Yoshinori Tateyama are all scheduled to pitch. RHP Brandon Pinder, RHP Brett Gerritse, and LHP Jeremy Bleich are also available if needed.
Available Position Players: C J.R. Murphy, 1B Jose Gil, 2B Corban Joseph, SS Brendan Ryan, 3B Zelous Wheeler, LF Jose Pirela, CF Ramon Flores, and RF Adonis Garcia will all come off the bench.
It's cloudy with temperatures in the low-60s in Tampa, and it's supposed to rain later this afternoon. Hopefully it holds off until the end of the game, but even if the doesn't, the regulars should all be done by time it arrives. First pitch is scheduled for 1:05pm ET and you can watch the game live on YES and MLB.tv or listen on WFAN. Enjoy.
Update: I have been informed that today's game is MLB.tv's free game of the day, so you can watch online even without a subscription.